Dr. Frances Kelsey resisted intense industry pressure to approve thalidomide; the drug was the cause of severe birth defects in over 10,000 infants in other countries.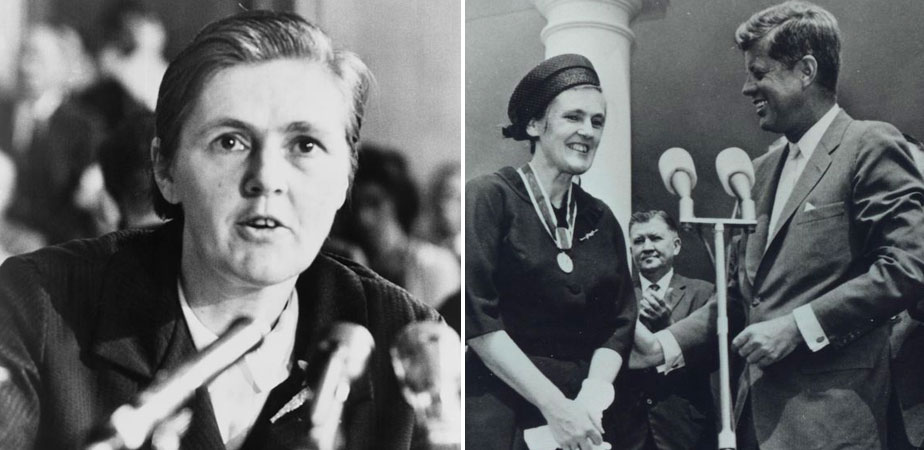 When pharmacologist Dr. Frances Oldham Kelsey started working at the U.S. Food and Drug Administration (FDA) in 1960, one of the first files to cross her desk was an approval request for thalidomide. The drug had already been prescribed widely in Europe and other countries as a treatment for morning sickness in pregnant women, but Kelsey wasn't convinced it was safe. Her refusal to approve the drug, despite intense pressure from its manufacturer, likely saved tens of thousands of babies in America from devastating birth defects. "Representatives for the company thought I was crazy because it was such a popular drug in Europe, and they were losing money by my pigheadedness," asserted Kelsey in a later interview. "I held my ground. I just wouldn't approve it."
Born in Cobble Hill, British Columbia on July 24, 1914, Kelsey's early love of science led her to study pharmacology and she earned bachelor's and master's degrees at McGill University. After graduating in 1935, a professor encouraged her to contact the noted researcher Dr. Eugene Geiling, who was setting up a new pharmacology department at the University of Chicago. Geiling offered her a research position — but the letter was addressed to Mr. Oldham. "My conscience tweaked me a bit," she wrote later. "Should I write and explain that Frances with an 'e' is female and with an 'i' is male? [My supervisor] said, 'Don't be ridiculous. Accept the job, sign your name, put Miss in brackets afterwards, and go!'" Still, she often thought about that mistake: "to this day, I do not know if my name had been Elizabeth or Mary Jane, whether I would have gotten that first big step up."
"Representatives for the company thought I was crazy because it was such a popular drug in Europe, and they were losing money by my pigheadedness... I held my ground. I just wouldn't approve it."
In Chicago, Kelsey had her first experience working with the FDA, assisting on a research project that showed that 107 deaths of people who had taken a sulfonamide were caused by use of an improper solvent in the medication's manufacture. In 1938, she received a PhD in pharmacology at the University of Chicago and joined the faculty. While researching cures for malaria, she discovered that some medications could cross the placental barrier in pregnant women. She continued her studies and was awarded her MD in 1950.
In 1960, after becoming a dual citizen of the U.S. and Canada, Kelsey was hired by the FDA in Washington, DC as one of only seven full-time employees and four part-time physicians examining drug approvals. When she started working at the FDA, she was part of a new generation of scientists who wanted to ensure that drugs were proven safe and effective before being marketed to the public. At the time, the FDA did not have the authority to enforce these requirements and pharmaceutical companies often engaged in minimal safety testing. It was even a common practice for companies to send new or experimental drugs to doctors for them to try out on their patients.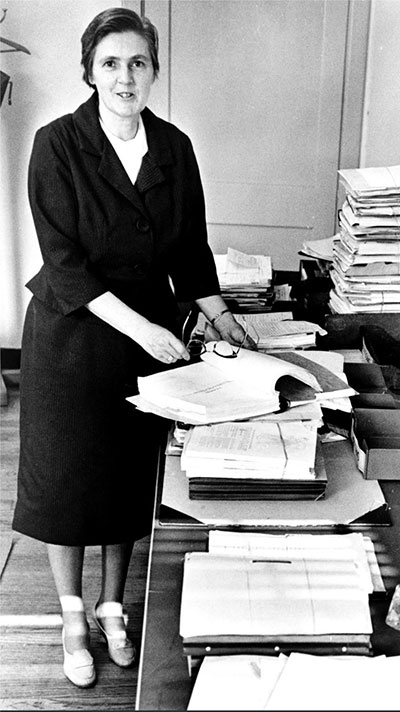 During her first month at her new job, one of Kelsey's first assignments was to review the application from the Richardson-Merrell Company for approval of thalidomide. The company expected a fast approval since the drug was already in use in numerous countries including Germany, the UK, Canada, and Australia. Distrustful of the information provided by the company and, as she later explained, feeling that its representatives were "at no time being wholly frank with me" about the drug's safety, Kelsey told the company further tests were needed. Over several months, the company continued to submit their application and Kelsey continued to reject it citing the need for additional tests.
Throughout this period, the company complained to her supervisors, contacted her repeatedly, and, as written in a 1962 Washington Post story, she "[lived] the while with insinuations that she was a bureaucratic nitpicker, unreasonable — even, she said, stupid." Kelsey's determined stance was vindicated eight months after the company's initial filing when evidence from Europe showed that thalidomide was the cause of severe birth defects including children born with missing limbs or flipper-like limbs, malformations of the heart, and deafness and blindness. In Germany alone, between 5,000 and 7,000 children were affected, of which only 40% survived, and thousands of cases emerged in other countries. In the US, fewer than 100 babies were born with thalidomide-related birth defects; the drug was never licensed in the US due to Kelsey's efforts however a small number of pregnant women were exposed to it through samples provided to doctors from the drug company.
After news of the thalidomide disaster broke, there was huge public outcry for better drug testing and the U.S. Congress unanimously passed the Kefauver Harris Amendment in 1962 to strengthen drug regulations and gave the FDA enforcement authority. Kelsey was selected to help write the rules governing clinical trials — rules that have since been adopted throughout the industrialized world — and then oversee their enforcement as the director of the FDA's Investigational Drug Branch.
On August 7, 1962, Kelsey became the second woman ever to receive the country's highest civilian honor when President John F. Kennedy awarded her the President's Award for Distinguished Federal Civilian Service. Kelsey's far-reaching impact on science and drug testing was described by Harvard historian Daniel Carpenter as follows: "She had a huge effect on the science that we all take for granted today... She and the F.D.A. had a huge role in determining the terms and sequence of what is now modern clinical science."
Kelsey retired from the FDA at the age of 90 in 2005 after 45 years of service.  In 2010, the FDA presented her with the first Drug Safety Excellence Award and then named it in her honor; announcing that the Dr. Frances O. Kelsey Award had been established to "celebrate courage and scientific decision-making." This determined scientist, whose courageous actions helped save the lives of countless people, passed away in 2015 at the age of 101.
Books And Resources About Women in Science
Creatures all over the forest are getting sick, and Charlotte the bunny scientist is determined to figure out why! The stumped doctors and scientists are dismissive of her efforts, but she holds firm to her beloved grandfather's assertion that she will "make a real difference in the world." After some patient interviews and a few samples from the outhouse, Charlotte realizes that all the sick animals have been munching on carrots contaminated by 'Funky Forest Fungi.' A quick clinical trial later, and Charlotte has saved the tummies of all her friends! This delightful sequel to Charlotte the Scientist Is Squished celebrates the ability of determined girls to change the world.