By Elizabeth Alarid, A Mighty Girl Senior Research Intern
We are thrilled to launch our new blog series on "A Mighty Girl Creators" with our interview with Newbery Honoree Ingrid Law, author of Savvy and Scumble. Savvy, A Mighty Girl Top Pick book, is the story of 13 year old Mississippi "Mibs" Beaumont and her extraordinary family, all who possess a "savvy", a special ability akin to a super power, that can range from raising mountains to controlling the weather to hearing the thoughts of others.
A moving and hilarious coming of age tale, Savvy follows Mibs on a rollicking adventure aboard a bus as she grieves for her hospitalized father, has her first kiss, makes new friends, and transitions into her teenage years. Though Mibs discovers her savvy along the way, she comes to realize that each person has their own special strengths that make them exceptional, even if it's a normal kind of special ability, like being caring, resilient, or nurturing. Filled with adventure, humor, and delightfully playful language, "Savvy" is a book that celebrates the strength, perseverance, and tolerance housed within each individual, magical or otherwise.
Savyy's author, Ingrid Law, is a New York Times bestselling author whose books have been placed on over 25 state reading lists, and have earned multiple awards, including a Newbery Honor citation, a Boston Globe - Horn Book honor, and the Lamplighter Award. Her work has received accolades from Publisher's Weekly, Oprah's reading list, the Today Show's Al Roker's Book Club for Kids, and Smithsonian. Ingrid lives in Colorado, where she writes full time and is currently working on her next novel. You can find her on her website and on Facebook.
A Mighty Girl's Interview with Ingrid Law
1. In Savvy, you feature a strong female protagonist of the type that we showcase on A Mighty Girl. Is it important to you to feature such characters in your writing and, if so, why?
Law: Strong female characters are important to me, as is showing that strength can come in many forms, and be quite individual. Young readers admire and emulate the characters they connect with through books and television and film, making girl-protagonists who find the courage to stand up for what is right -- right for themselves, and right for the world -- essential.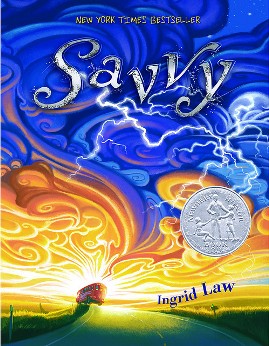 2. In your opinion, what makes for a "strong" girl character? How does Mibs, your lead character in Savvy, fit this criteria or, in other words, how is Mibs a Mighty Girl?
Law: Being strong does not mean being emotionless or without fear. In Savvy, Mibs has tearful moments, moments when she is embarrassed or feels awkward, moments when she is sad and afraid. But it is the ways in which she weathers those moments that make Mibs a Mighty Girl -- a girl trying to come into her own power in her own way and in her own time, despite the many challenges she must face.
3. Some commentators have argued that the common modern portrayal of girl characters as sidekicks, such as in the Harry Potter series, is common because girls will read books with male protagonists but boys won't read books starring girls. What do you think about this? Have you found there to be a difference in how girls and boys respond to Savvy and its female protagonist?
Law: While my main character in Savvy is a girl, the 'boy energy' in the book came into it quite naturally. I hoped to strike a good balance. I do find some boys prefer my second savvy-family book, Scumble, because it is told from a boy's point of view. But there is always a spectrum. I have girls who write to tell me they are just like Mibs's brother Fish, because, like Fish, they have trouble controlling their temper, or because they like to look out for their younger siblings. And I've had the occasional boy write to tell me how much he liked the hint of romance between Mibs and Will Jr.
When it boils to it, I simply try to create human, heart-centered characters. Characters that both boys and girls can enjoy and relate to. Characters that help young readers tap into their own vulnerabilities and their own strengths, helping them learn that they too are talented and good and kind… and Mighty.
4. What were your favorite Mighty Girl stories as a child?
Law: When I was in the second and third grades, I read the Nancy Drew books, and I most certainly thought of Bianca, from The Rescuers and Miss Bianca, as a mighty girl; she was elegant and very feminine, yet still held an important and adventuresome job as a member of the Rescue Aid Society. I can still remember where those books were shelved in my elementary school library. Yet, I wasn't an avid independent reader until the fifth grade, when Alice's Adventures in Wonderland became the first book to glue me to the sofa.
After that, I fell in love with Anne Shirley, of Green Gables. And Emily, of New Moon -- my teacher imported the Emily books from Canada, just for me. I was a huge Star Wars fan as well -- a huge Princess Leia fan, really -- and so I also read Star Wars novels, and loved Splinter in the Mind's Eye, because in that book, Princess Leia gets to fight Darth Vader with a light saber! When I was a teen, I started reading more and more fantasy and science fiction. Anne McCaffrey's Pern novels were some of my favorites, and were filled with strong female characters, like Menolly, Lessa, and, my very favorite, Moreta.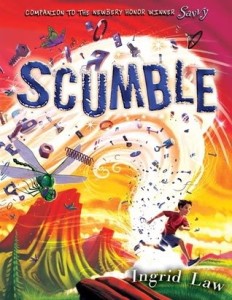 5. One of the things we love most about Savvy was how deeply relatable Mibs is. Where did you draw inspiration for her character?
Law: Mibs took on a life of her own very quickly. But I didn't fully understand her character's connection to my own process as a writer until after I'd finished the book. While I was writing Savvy, I worked very hard to ignore all of the (oh, so constant) voices inside my head that were telling me things like: "maybe this book is too silly" and "what if a pink bus is dumb" and "you're not good enough to get published." In Savvy, Mibs has to learn to deal with the savvy voices she hears inside her own head -- to control what she hears, and how she lets it in. I think we all struggle with that to some extent.
6. How did you come up with the idea for the special abilities of the family in Savvy?
Law: The most important abilities in the book could really be thought of as metaphors in disguise. That's what I love about fantasy! Fantasy lets writers and readers to explore ideas through the sometimes safer-feeling guise of make-believe. Sometimes we feel so upset, we feel like there is a hurricane brewing inside us. Sometimes we feel like we zap and shatter everything we touch. Sometimes we can't get other people's voices out of our heads.
Some of the other savvy abilities in the book are just everyday special talents exaggerated. My grandmother was always canning things -- jam, peaches, things she grew in her garden. So, when it came to creating a savvy grandmother, I thought of her, then put a magical spin on the process of canning: Grandma Dollop cans radio broadcasts.
7. What savvy would you have chosen for yourself at Mibs' age? What would you choose now?
Law: When I was Mibs's age, I would have wanted a savvy that allowed me to fly every time I put on my roller skates. I loved to roller skate, and I was absolutely certain I'd be a famous roller skater when I grew up -- or fashion designer, creating gowns for Princess Diana; or a firefighter.
Nowadays, I wish that I could have a savvy that would let me clone myself. That way, three of me could be writing (think of all the books I'd publish!), two of me could be at the movies, ten of me could be traveling to schools all across the country, talking with awesome kids, and at least one of me could be home, washing the dishes and doing the laundry (that would be the me who drew the short straw).
8. Is your opinion, what are the three must-read novels for young readers starring Mighty Girls?
Law: Chains, by Laurie Halse Anderson. Breadcrumbs, by Anne Ursu. Winterling, by Sarah Prineas.
9. Do you have any new books in the works? Will we see more strong girl protagonists from you?
Law: Yes! I am working on one. My next book will star Mibs's younger sister, Gypsy Beaumont. Gypsy is definitely a Mighty Girl, one who is also an imaginative, toe-wiggling, flower-loving twirly-girl. I love her a lot. I hope readers do too.
I wish I had a title and a publication date, but I don't yet. I'll be sure to post something on Facebook, and my website, as soon as I do. I can't wait to share my newest Mighty Girl!