A Mighty Girl's top picks of Amazon Prime Day Deals for Mighty Girls!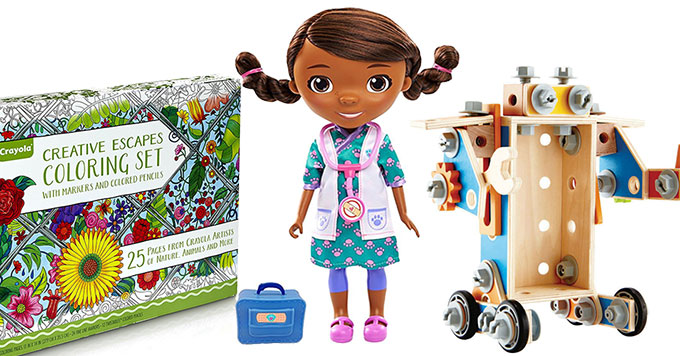 With Amazon offering over 100,000 deals for this year's Prime Day, it can be challenging to find the best deals for the Mighty Girls in your life. To help make it easier, we've sorted through all of the options to find fifty of the most empowering and high quality toys and gear for kids of all ages. From building sets to arts & crafts to pretend-play toys, there's something that every Mighty Girl will love!
As always, you'll need to be an Amazon Prime member to take advantage of the Prime Day deals. You can sign up for a 30-day free trial if you'd like to access the deals featured below.
And, for Prime Day deals for people of all ages, check out the deals in Prime Video, Prime Music, Audible, and Kindle Unlimited.
A Mighty Girl's Top Picks for Prime Day
Slumber Buddies Projector and Musical Soother
Prime Day Deal: 20% Off Below Price
Soothe her to sleep with this cuddly friend who plays gentle sounds and projects a starry sky onto the ceiling! This Slumber Buddy from Summer Infant, Inc. can play meditative music or nature sounds, and projects lights in blue, green, amber, or shifting colors. A variety of animals are available and parents can set three different volume levels and a 15, 30, or 45 minute shutoff. It's a sweet, friendly addition to your bedtime routine.
My Discovery House
Prime Day Deal: 30% Off Below Price
Push, slide, open, close, turn, and explore with My Discovery House from LeapFrog! This colorful house has five play areas that can generate over 75 responses, teaching kids opposites and daily routines, as well as encouraging them with fun songs and stories. As kids play, parents can connect to the online LeapFrog Learning Path for learning insights tailored to your child's exploration, as well as for more suggestions on how to play and learn together.
Duck Family Pullalong
Prime Day Deal: 30% Off Below Price
Walk along with this cheerful duck family from Janod! Vibrant colors entice kids to play, and they'll love how these ducks' feet waggle and wobble as they pull on the string. New walkers will love experimenting with cause and effect over a couple of steps, while veteran toddlers can see if the ducks will keep up with their new speedy pace.
Super Scoop Bath Toy Organizer
Prime Day Deal: 20% Off Below Price
Keep your bath toys organized — and properly dried out — with this handy organizer from Munchkin that even comes with 16 bath squirters! The wide mouth makes it easy to scoop up the toys, while the mesh ensures that all the water easily drips out. The cute fish-shaped hook lets you hang it up on the bathroom wall for drying and storage. It's sure to be a hit for bathtime with both kids and parents.
Alphabet Educational Rug
Prime Day Deal: 20% Off Below Price
Create an inviting place to sit while learning the alphabet with this colorful rug from ECR4KIDS!  This high-quality rug is durable enough for use by dozens of kids, but soft and comfortable too. It's skid resistance for safety and treated to resist stains, mold, odor, and more. It's a wonderful way to add some playful color to a home or classroom.
Power Wheels Thomas the Train
Prime Day Deal: Now $94.99, Was $131.18
Fans of Thomas will love this moving, talking Thomas that they can actually ride! The push-button control switches are easy for even young toddlers to use. Start them out on the included track until they've got some practice, then let them go "off road" indoors or out. Just make sure you keep the battery well charged; this Really Useful Engine is going to be busy!
Duck Family Stacker
Prime Day Deal: 30% Off Below Price
Have fun and learn colors and numbers with this cheerful duck stacker toy from Janod. Colorful pieces allow you to build four different-sized ducks on the stacker pegboard. The numbers and colors on the rings help you sort the pieces correctly to create your ducks, but you can also mix and match for plenty of stacking fun! Sturdy construction makes this perfect for multiple kids to get years of use from this twist on a classic toy.
Smart Wheels Ultimate Amazement Park Playset
Prime Day Deal: 30% Off Below Price
Race and learn with this awesome vehicle playset from VTech! Navigate obstacles and race through features like a 360 degree loop, a spiral, and a ramp, all while triggering fun phrases and music. Best of all, this set is compatible with other Smart Wheels toys and sets from VTech, so you can make her vehicle world as big as you please!
Match 'n' Stack Animals Building Set
Prime Day Deal: 30% Off Below Price
Kids can build animal pairs with this fun set from Mega Bloks! Fifty pieces allow you to build animal parents and babies, including lions, elephants, monkeys, and crocodiles, as well as a natural environment for them to play. These chunky bricks are designed to be easy to grasp and safe to use for toddlers, so even the littlest kids can join in on the building fun.
Green Toys Dump Truck
Prime Day Deal: 20% Off Below Price
This durable dump truck is hiding a secret: it's eco-friendly! Green Toys are made from 100% post-consumer recycled plastic, dyed in bright, cheerful colors with eco-safe dyes. Kids will love the functioning dumper, while parents will love that it's dishwasher safe for cleanup time! For three other great Green Toys products on sale today, check out the Green Toys Train (age 2 - 5), the Green Toys Helicopter (age 2 - 8), and the Green Toys Rescue Boat with Helicopter (age 2 - 6).
Frozen Toddler Bed
Prime Day Deal: 25% Off Below Price
Get her ready for the switch from crib to bed with this Frozen-themed toddler bed from Delta Children! This wooden bed includes a slatted base and fits a standard crib mattress. With vibrant Frozen-themed graphics, she'll love the look of this bed — and thanks to the high wooden sides, parents don't have to worry about a tumble in the middle of the night.
Little People Loops 'n Swoops Amusement Park
Prime Day Deal: 30% Off Below Price
Cars can zip, zoom, and spin with this awesome set from Fisher-Price's Wheelies collection! At two feet tall, cars build up plenty of speed on the two roller coaster ramps — enough to spin a star, go around a loop-the-loop, and more! This set is compatible with other Wheelies cars, so kids can add their existing collection of vehicles to the fun.
Sand Play Set with Stacking Cups
Prime Day Deal: 30% Off Below Price
These sand toys are great to play with at the beach — and good for the Earth! This set from Green Toys includes a sand bucket, rake, shovel, and six stacking cups, perfect for plenty of sand and water play — and like all Green Toys, they're made in the US from 100% post-consumer recycled plastic. Parents will love how durable they are, while kids will love the cheerful colors!
Magic Stacking Tree
Prime Day Deal: 30% Off Below Price
Stack and explore with this colorful set from Janod! Each of the nested round elements features vibrant images on the sides and a number on the top. Use the number as a guide to stack a tall tower; when they're all stacked, the images create a giant climbing tree, complete with kids, animals, and other details. When playtime is done, flip the rounds over and they nest together for easy storage.
Touch and Learn Activity Desk
Prime Day Deal: 30% Off Below Price
She can learn and create with this fun activity desk from VTech! An interactive desktop allows her to explore four different double-sided cards with themes like numbers, letters, animals, and more. When learning time is done, flip the desktop up and it becomes a handy easel with a chalkboard for creative arts and crafts! To get even more use out of your activity desk, you can purchase a wide variety of expansion packs of cards, including Get Ready For Preschool and Get Ready For Kindergarten sets.
Kids' Wooden Tool Box Set
Prime Day Deal: 30% Off Below Price
She can fix and build anything with this 72-piece wood toolbox set from Hape! Classic hand tools like a vice, wrench, and screwdriver are included, plus a build-on toolbox and enough screws and wood pieces to make some of her own creations. This toy is great for inspiring a love of STEM and for building skills like fine motor coordination, problem-solving, and planning, and parents will love the durable and child-safe construction and finishes. For added fun, the set even converts into a robot!
Vehicles Magnetibook
Prime Day Deal: 30% Off Below Price
This packable game will give kids hours of fun as they build their own vehicles in this set from Janod! 18 laminated picture cards challenge kids to use the 50 magnetic pieces to build the vehicles in the pictures. When that's done, see what designs you can come with on your own! All the pieces store inside the sturdy box, which also provides a magnetic surface for play on the go.
Doc McStuffins Pet Clinic
Prime Day Deal: 55% Off Below Price
The Doc is here to take care of all your boo-boos with this fun Pet Clinic set! Doc can take light-up X-rays, give her toys a bath, or use her other doctor's tools to check on her patients. The doll says several phrases and even sings a song! This set comes with Doc, Lambie, Findo, and the Pet Clinic and tools.
Primary Science Lab Set
Prime Day Deal: 20% Off Below Price
Get the youngest scientists hands on with this set of real science tools perfectly sized for little hands! The set includes lab staples like a beaker, a flask, a large test tube with a stand, and a magnifying glass. It even comes with a set of goggles so you can teach lab safety from the beginning! Ten double-sided activity cards complete the set, ensuring that you can spark an interest in science from a young age.
Matchbox Treasure Truck
Prime Day Deal: 30% Off Below Price
You can dig for real-life treasure with this truck with a working metal detector from Matchbox! Pushing the antenna down activates a signal that helps you find hidden treasure. Once you hear the signal change, grab the sifter scoop and use it to uncover your surprise. Ten diecast cars are included for kids to bury, hunt, and excavate indoor and out.
Caterpillar Bits and Pieces Math Manipulatives Kit
Prime Day Deal: 20% Off Below Price
Kids can have fun and learn math basics with this fun kit full of colorful caterpillar pieces! This set from ECR4Kids includes 160 colorful pieces that snap together to create caterpillars — or whatever your kids' imagination suggests. Sort by color or shape or craft patterns while practicing planning and construction skills. The whole set comes in a clear plastic bin with a carrying handle, perfect for use at home or in the classroom.
Junior Kip Bar
Prime Day Deal: 20% Off Below Price
Your budding gymnast can practice skills like kips and back hip circles with this kip bar from Tumbl Trak! The new and improved design of Tumbl Trak's Jr. Kip Bar features a 1-1/2" diameter solid maple bar and two additional cross supports, offering much more stability than other models. The bar adjusts in height and the base is high enough to put a 4" mat underneath for safety. This kip bar is available in a choice of three colors.
Hardwood Building Blocks
Prime Day Deal: 20% Off Below Price
Unit blocks have been a favorite toy with kids for generations! This high-quality rubberwood set of building blocks from ECR4KIDS will let your Mighty Girl build something amazing. 48 pieces in eleven different shapes, including columns, arches, keystones, and more, provide plenty of inspiration for building. A hardwood tray is included to pack everything up for easy storage.
Moana Island Adventure Playset
Prime Day Deal: 30% Off Below Price
Moana of Oceania is off on an adventure to save her home of Motonui! With this playset, kids can play out land and sea adventures with the Moana figure, playset base featuring palm trees, volcano, hammock, and more. A turtle friend and, of course, Moana's necklace complete the set. For more product featuring this popular character, visit our Moana Collection.
Let's Go Fishing Magnetic Game
Prime Day Deal: 30% Off Below Price
Catch colorful fish with this magnetic fishing game from Janod! Each rod as a magnet at the end of its line. Compete to catch the most fish, but be careful — if players bump into one another, both of their catches could get off the hook. Two fishing rods, ten fish, and one shark allow you to play a variety of games that encourage counting, fine motor control, and hand-eye coordination.
Junior Power Tools Workshop
Prime Day Deal: 30% Off Below Price
She'll feel like a real carpenter with this Black and Decker workshop with pretend tools that look just like the real thing! This fun playset features actions, sounds, and more, and comes with 50 accessory pieces — including parts she can use to "build" her own toolbox. A drill press, vise, and mitre saw that move add to the realism as she builds alongside Mom or Dad.
Calico Critters Camping Set
Prime Day Deal: 23% Off Below Price
Susie Silk Cat is ready for a fun day of camping! She has a cozy sleeping bag and a comfy tent, perfect for a night under the stars. When it's time to eat, she can cook some fish kebabs, corn, and potatoes on the campfire grill, or enjoy refreshing melon slices. And she's got enough plates and cutlery to make sure her friends can enjoy, too! This fun camping playset is great for encouraging pretend play, and coordinates with a wide range of other Calico Critters sets so the world can be as big as your Mighty Girl's imagination.
Gymnastics Training Beam
Prime Day Deal: 20% Off Below Price
The Addie training beam from Tumbl Trak lets budding gymnasts practice skills at home with ease! The Addie beam is only 8 feet long, but it's a standard competition width, and the synthetic suede cover and stable legs give it a realistic feel underfoot as kids practice wolf turns, back walkovers, cartwheels, and more.
Fire HD 8 Kids' Tablet
Prime Day Deal: Now $89.99, Was $129.99
Let kids play with confidence thanks to the Fire HD 8 tablet made just for kids! This full-featured tablet comes in a kid-safe case that keeps it safe from drops and bumps, but don't worry: even if it does get damaged, it comes with a 2-year worry-free guarantee against accidental damage. The Fire also comes with a one year subscription to FreeTime Unlimited, Amazon's library of over 15,000 apps, games, books, and videos that parents can tailor to their child's age. Plus, the 12 hour battery life and 32 GB of internal storage ensure the fun can go with her!
Fire Tablet - Kids' Essentials Bundle
Prime Day Deal: Now $102.97, Was $147.97
You can get her a durable, high-performing tablet that's just right for kids in this handy bundle! The Fire HD 8 tablet is a full-featured tablet with an HD display and 32 GB of internal memory. It comes with one year of FreeTime Unlimited, a subscription service that gives your kids access to thousands of apps, games, books, videos, and more, all easily set to the appropriate age level with the parental controls. This bundle includes a NuPro zippered sleeve and screen protector for your tablet, and it even comes with a 2-year guarantee against accidental damage, so you can let them play worry-free.
Kindle for Kids Bundle
Prime Day Deal: Now $69.99, Was $99.99
Thousands of books are at your kid's fingertips with this easy-to-use e-reader package! The Kindle is an e-reader only, which minimizes distractions during reading time; plus, since it has no backlight, you can use it at bedtime without the lighting disturbing her sleep rhythms. Built-in tools like Vocabulary Builder and Word Wise help kids learn new words and boost their literacy skills, while the parental controls available in FreeTime ensure she's getting only titles suitable for her age level. Best of all, this bundle includes a cover and a 2-year, worry-free guarantee against accidental damage, so she can take it with her wherever she goes!
Frozen Inspiration Art Case
Prime Day Deal: 30% Off Below Price
Enjoy hours of Frozen-themed art with this terrific portable at studio! Crayons, colored pencils, and markers provide a rainbow of options for your budding artist, while 30 coloring pages featuring characters from Disney's hit movie give her some inspiration to get started. Everything tucks neatly into a sturdy art case that also features fun characters and scenes. For more products featuring characters from this popular film, visit our Frozen Collection.
Blokus: Trigon
Prime Day Deal: 30% Off Below Price
The strategy game Blokus gets a triangular twist in Blokus: Trigon! Just like in the original Blokus, players try to cover as much of the board as possible with their color tiles — except this time, the board is hexagonal and the pieces are triangular. Each new tile must touch a tile of the same color that's already been placed, but only at the corners. It's a colorful and challenging strategy game that kids and adults will love!
Dive Rings
Prime Day Deal: 25% Off Below Price
Kids can build swimming skills and have a ball with these colorful weighted dive rings from Aqua Leisure! Toss these 6" rings into the pool, wait for them to sink, then jump in after them. The rings rest upright on the bottom of the pool, making them easy to grab. Each package includes six rings in a selection of colors so kids can challenge themselves to find the right ones on the bottom.
Osmo Genius Kit
Prime Day Deal: Now $74.99, Was $99.99
Osmo is a unique combination of physical play and video game! Set your tablet up in the Osmo stand and it will "read" the objects in front of it. Then, use one of the Osmo games to play fun, educational games! This kit includes fives games: Numbers (free form math), Tangram (visual thinking), Words (puzzle form spelling), Masterpiece (drawing skills), and Newton (creative engineering and problem solving). Kids will be fascinated by the combination of online and real-world elements!
Scrabble
Prime Day Deal: 30% Off Below Price
The classic word game gets an update that makes it easier to play on the go with this Deluxe Edition from Hasbro! The board now folds into a convenient carrying case, complete with drawers to hold the wooden letter tiles and the tile holders. It also has recessed spaces that allow you to firmly place the tiles, so a bump doesn't shake your words loose! Rubber wheels on the base of the game board allow you to rotate the board easily so you can view your next move from every angle. It's a new design that makes it easy to enjoy classic Scrabble fun.
Creative Escapes Coloring Book and Marker Art Activity Set
Prime Day Deal: 30% Off Below Price
Coloring doesn't have to be for kids — and in fact, many tweens, teens, and adults find coloring elaborate designs a great way to relieve stress and boost creativity. This set from Crayola will get you started doing just that! Twenty-five 11 by 14 inch sheets provide elaborate, detailed pictures to color, from nature scenes to geometric designs. A set of Twistables colored pencils and fine line markers give you plenty of tools to create beautiful art.