A Mighty Girl's top picks of books, toys, and gear to inspire young astronomers -- and introduce them to the women who helped us understand the stars.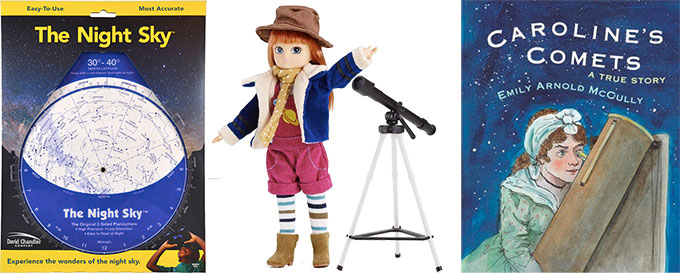 On August 21, people across North America will get the chance to witness a once-in-a-lifetime astronomical event: a solar eclipse! It's the first total eclipse in the continental US since 1979, and for central US states, the first total eclipse since 1918. Even for those not in the zone of totality, partial eclipses will be visible in many places. So it's no wonder that there is so much excitement brewing — and with it, a surge of interest in astronomy and all things space!
If the upcoming eclipse has your kids clamoring to learn more about astronomy, this is the perfect time to pursue their interest — and to share stories of the little-known women who have made enormous contributions to the field. In this blog post, we're providing a selection of books to talk about the eclipse itself and gear to view the eclipse safely,  as well as a variety of toys and science kits to support an interest in astronomy, and books about female astronomers throughout history. It's a great way to show kids of all ages that the sky doesn't have to be the limit!
Preparing for the 2017 Eclipse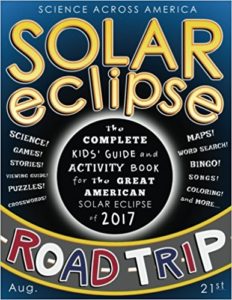 To whet your child's appetite to view the eclipse, make sure you check out some good books on the topic! The Ready to Read book Looking Up!: The Science of Stargazing (ages 6 to 8) lets newly independent readers learn all about interesting astronomy facts, and includes a section in the back with details specifically about the 2017 eclipse.  Filled with hands-on, interactive activities and helpful illustrations, When the Sun Goes Dark (ages 8 to 12) uses a narrative about a girl whose grandparents teach her and her younger brother about solar and lunar eclipses, sunspots, and more, and also help them prepare to view an eclipse safely. If you'll be hitting the road to visit a place inside the path of totality, make sure you check out Solar Eclipse Road Trip: The Complete Kids' Guide and Activity Book for the Great American Eclipse of 2017 (age 6 to 11) which includes everything from maps of the eclipse's path to car games, word searches, puzzles, and more.
And, of course, don't forget to pick up a set of eclipse glasses! Whether you're in the path of totality or will be watching a partial eclipse, looking directly at the sun during an eclipse is dangerous for your eyes. While some people will use an indirect method of viewing like making a pinhole projector, there's nothing that compares with being able to watch it directly. NASA has published safety recommendations for the 2017 eclipse that include a list of certified and safe eclipse glasses from five recommended manufactures. One such brand is American Paper Optics whose Solar Eclipse Glasses are available in a 5-pack. However you order your eclipse glasses, though, make sure that they have certification information with a designated ISO 12312-2 international standard; the manufacturer's name and address are printed somewhere on the product; and the lenses are not scratched or wrinkled.
Toys and Science Kits to Encourage Young Astronomers
Stargazer Lottie Doll
The weather may be cold, but that's not going to stop Lottie from doing some stargazing! Lottie Dolls are based on the body of a 9-year-old girl and come with accessories that support a wide range of interests. Stargazer Lottie comes with a space-themed outfit, books about space, and even her own telescope! This 7.5" doll is just the right size to join kids on all their adventures.
Green Kids Crafts Outer Space Discovery Box
Kids can build problem solving skills and learn STEM with these great craft kits from Green Kids Crafts! This set has an outer space theme, and includes supplies for projects like a moon calendar, a planetarium, and even balloon rockets. When you finish the crafts in the kit, go online for additional activities to expand the fun and learning. It's a great way to include the arts in your outer space fun and turn STEM into STEAM.
The Magic School Bus: Secrets of Space
Join Ms. Frizzle on the Magic School Bus for a wild ride into space! With this kit, young scientists can build a constellation box and draw constellation cards, recreate the phases of the moon, make a model of a solar eclipse, assemble a working telescope, and more! Plus, kids will love the included interactive space poster with sheets of planet and star stickers, perfect for customizing their own astronomical decoration for their space.
Moon in My Room
Some might say the moon was the original nightlight! This moon replica includes rows of lights that glow behind a detailed lunar surface. As you adjust the time of month with the remote, the lights turn on and off to show the phases of the moon; you can change them manually or set them to change in sync with the actual lunar cycle. For budding young astronomers, there's no nicer way to drift off to sleep.
The Night Sky Star Wheel
This easy-to-use star wheel will help you figure out what stars you can see at any time of night or year! At 8" in diameter, this planisphere makes it easy for stargazers to identify which constellations and major stars are above the horizon. This version is for 30 to 40 degrees of latitude, covering the southern half of the US, North Africa, and the Middle East; stargazers in the northern US and Europe can check out the 40 to 50 degree latitude star wheel, while other versions cover other latitudes.
Night Sky Playing Cards
Play your favorite card game and study the constellations at the same time! This full set of playing cards features a different constellation on each card; each suit represents a different season, so you can also remember when to expect to find the stars on the card. It's a unique way to practice identification or just to bring some astronomical flair to your card games. Fans of this set can also check out these Astronomy Playing Cards which include images of galaxies, nebulae, and more.
Solar System Planetarium
With this fun kit, kids can build a solar system with planets that can really orbit around the sun! The planet models include textured details, making them easy to paint, and the base's moveable planet stands will allow kids to see how planets circle the sun and how their orbits come together in conjunctions before separating again. It even comes with a teeny set of rings for Saturn! It's a fun hands-on way to learn more about the planets.
TK1 Telescope and Astronomy Kit
Get your budding astronomer started with this entry-level kit from Thames and Kosmos. This high-quality 140X refractor telescope features coated glass optics and includes plenty of accessories to get your observations started, including a stand and a variety of eyepieces for different purposes. The included guide teaches you how to properly care for and view through your telescope. For another telescope for young beginner astronomers, check out the Celestron PowerSeeker telescope for ages 5 and up.
Stars In Their Eyes: Books About Female Astronomers
Look Up! Henrietta Leavitt, Pioneering Astronomer
When Henrietta Swan Leavitt was hired by the Harvard College Observatory, it wasn't to observe the skies herself: instead, she was hired as a human "computer," and set to studying photographic plates that male colleagues had taken at the telescope. She spent years measuring star positions and sizes and, over time, discovered that certain stars had a fixed pattern to their changes — a discovery that allowed astronomers to understand the true size of the universe and brought Leavitt recognition as a pioneer of astronomical science. Award-winning artist Raul Colon's illustrations particularly shine in this appealing picture book biography.
Caroline's Comets: A True Story
Caroline Herschel was the youngest child in a family where nobody expected girls to amount to much — especially once she ended up scarred by smallpox and stunted by typhus. Her family used her as a scullery maid, but her brother William saw something different in her, so when he left for England, he took her with him. Together, the astronomy-loving brother and sister built the greatest telescope of their age, which Caroline used to discover fourteen nebulae and two galaxies. She even became the first woman to discover a comet — and the first woman officially employed as a scientist. This picture book biography of the groundbreaking astronomer will inspire kids with her spirit of curiosity and resilience.
Annie Jump Cannon, Astronomer
When Annie Jump Cannon first began working at the Harvard Observatory, it wasn't to look though the telescope — women weren't allowed to use it. Instead, she was hired as a "computer," analyzing and studying the data that men found when using the telescope. Cannon was assigned a challenging task: figuring out how to classify the many stars that newer telescopes and better cameras were able to spot. Cannon's classification is still use today — and she set a record for the number of stars identified and classified that stands to this day! This picture book celebrates Cannon's love of the stars and decades of hard work.
Finding Wonders: Three Girls Who Changed Science
A gorgeously written novel in verse about three girls in three different time periods who grew up to become groundbreaking scientists. Maria Merian was sure that caterpillars were not wicked things born from mud, as most people of her time believed. More than a century later, Mary Anning helped her father collect stone sea creatures from the cliffs in southwest England. Intrepid and patient, she eventually discovered fossils that would change people's vision of the past. Across the ocean, Maria Mitchell longed to discover a new comet and after years of studying the night sky, she finally did. Told in vibrant, evocative poems, this stunning novel celebrates the joy of discovery and finding wonder in the world around us.
Women in Science: 50 Fearless Pioneers Who Changed the World
This charmingly illustrated and educational book highlights the contributions of fifty notable women to the fields of science, including important astronomers from the ancient to the modern world. Full of striking, singular art, this fascinating collection includes profiles of Hypatia, Wang Zhenyi, Cecilia Payne-Gaposchkin, and Vera Rubin. Additional infographics provide scientific timelines and lots of other interesting information for budding scientists! This book celebrates the achievements of the intrepid women who have paved the way for the next generation — including, perhaps, your own Mighty Girl.
Maria Mitchell: The Soul of an Astronomer
In the mid-1800s, a young woman with a passion for the stars became America's first female professional astronomer. Despite many obstacles to her education and practice, Maria Mitchell would become famous for discovering a comet by telescope in 1847, for which she became the first woman and American to receive one of King Frederick VI of Denmark's gold medals. Author Beatrice Gormley sets the stage by talking about 19th century Nantucket, Mitchell's home, and her life and career as an adult, so that pre-teen readers can more easily understand just how unusual Mitchell's life really was. Complete with multiple pages of photographs, this is a unique biography of a unique woman.
Headstrong: 52 Women Who Changed Science - And The World
Too often, women's contributions in science are neglected or downplayed. Rachel Swaby was inspired to write this book after reading an obituary of rocket scientist Yvonne Brill that spent the first paragraph focusing on her beef stroganoff recipe and her family life. Within it, she provide capsule biographies of 52 women scientists, including female astronomers like Maria Mitchell and Annie Jump Cannon, with useful context about how their discoveries changed the scientific world. This fascinating book for both teens and adults is sure to get your Mighty Girl looking at the sky and wondering what she might discover!
Miss Leavitt's Stars: The Untold Story of the Woman Who Discovered How to Measure the Universe
When aspiring astronomer Henrietta Swan Leavitt took on the role of a "human computer" for the Harvard Observatory, she worked for a wage similar to what she would make working at a textile mill, despite the expertise and talent necessary. Leavitt was assigned to study variable stars, but her calculations allowed her to discover something truly remarkable: a means to measure the distance to astronomical features like galaxies and nebulae, and a new sense of how large the universe truly is. This true story of the woman who changed the way we see the night sky is an inspiring read not to be missed.
The Glass Universe: How the Ladies of the Harvard Observatory Took the Measure of the Stars
As photography began transforming astronomy, the women who worked as "human computers" would revolutionize our understanding of the universe. "The glass universe" included over half a million photographic plates, pictures of different fields of stars, and the women who studied them — including Williamina Fleming, Annie Jump Cannon, and Dr. Cecilia Helena Payne — would discover novae, design stellar classification systems, and determine what stars were made of. This fascinating story of the hidden history of astronomy celebrates the women whose contributions made our current understanding of the stars and the space they inhabit possible.