A Mighty Girl's top picks of books, toys, and gear to inspire young astronomers -- and introduce them to the women who helped us understand the stars.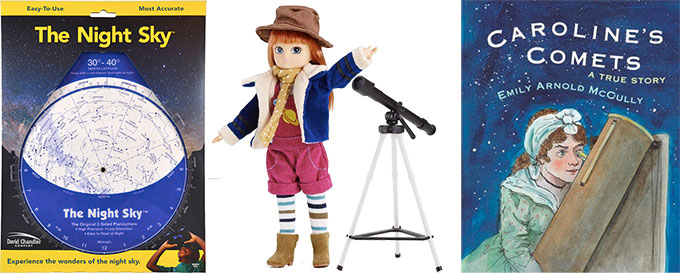 On August 21, people across North America will get the chance to witness a once-in-a-lifetime astronomical event: a solar eclipse! It's the first total eclipse in the continental US since 1979, and for central US states, the first total eclipse since 1918. Even for those not in the zone of totality, partial eclipses will be visible in many places. So it's no wonder that there is so much excitement brewing — and with it, a surge of interest in astronomy and all things space!
If the upcoming eclipse has your kids clamoring to learn more about astronomy, this is the perfect time to pursue their interest — and to share stories of the little-known women who have made enormous contributions to the field. In this blog post, we're providing a selection of books to talk about the eclipse itself and gear to view the eclipse safely,  as well as a variety of toys and science kits to support an interest in astronomy, and books about female astronomers throughout history. It's a great way to show kids of all ages that the sky doesn't have to be the limit!
Preparing for the 2017 Eclipse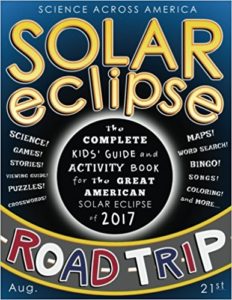 To whet your child's appetite to view the eclipse, make sure you check out some good books on the topic! The Ready to Read book Looking Up!: The Science of Stargazing (ages 6 to 8) lets newly independent readers learn all about interesting astronomy facts, and includes a section in the back with details specifically about the 2017 eclipse.  Filled with hands-on, interactive activities and helpful illustrations, When the Sun Goes Dark (ages 8 to 12) uses a narrative about a girl whose grandparents teach her and her younger brother about solar and lunar eclipses, sunspots, and more, and also help them prepare to view an eclipse safely. If you'll be hitting the road to visit a place inside the path of totality, make sure you check out Solar Eclipse Road Trip: The Complete Kids' Guide and Activity Book for the Great American Eclipse of 2017 (age 6 to 11) which includes everything from maps of the eclipse's path to car games, word searches, puzzles, and more.
And, of course, don't forget to pick up a set of eclipse glasses! Whether you're in the path of totality or will be watching a partial eclipse, looking directly at the sun during an eclipse is dangerous for your eyes. While some people will use an indirect method of viewing like making a pinhole projector, there's nothing that compares with being able to watch it directly. NASA has published safety recommendations for the 2017 eclipse that include a list of certified and safe eclipse glasses from five recommended manufactures. One such brand is American Paper Optics whose Solar Eclipse Glasses are available in a 5-pack. However you order your eclipse glasses, though, make sure that they have certification information with a designated ISO 12312-2 international standard; the manufacturer's name and address are printed somewhere on the product; and the lenses are not scratched or wrinkled.
Toys and Science Kits to Encourage Young Astronomers
The weather may be cold, but that's not going to stop Lottie from doing some stargazing! Lottie Dolls are based on the body of a 9-year-old girl and come with accessories that support a wide range of interests. Stargazer Lottie comes with a space-themed outfit, books about space, and even her own telescope! This 7.5" doll is just the right size to join kids on all their adventures.
Stars In Their Eyes: Books About Female Astronomers