A Mighty Girl's top picks of programming toys & games for kids of all ages!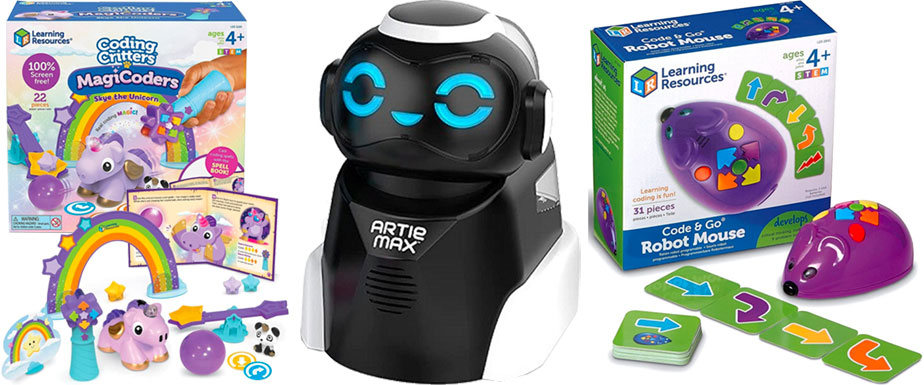 Computers and technology are all around us at both work and play — which means that knowing the ins and outs of programming is an ever more essential skill! While in the past kids could only start learning about programming when they were ready for text-based computer languages, today they can get started from with board games, color-coded programming languages, and much more, encouraging kids to see themselves as programmers from an early age.
At the same time, sexism and stereotypes about computer programming can still pose obstacles to girls and women interested in getting into the technology industry. Although women were some of the first programmers in the world, today men outnumber women by a substantial margin, with only 19% of computer science degrees being awarded to female graduates in the United States. So now, more than ever, we need to show girls how programming fits into their lives — and teach them about the many contributions that women have made to the field!
With that goal in mind, in this blog post, we're showcasing a selection of our favorite resources to encourage girls with an interest in technology — and to introduce coding to girls who may have never even considered the possibility. In the first part, we provide an array of toys and kits that teach kids the basics of programming logic and coding, and show them the amazing possibilities that come along with computer know-how. While in the second part, we share a selection of books for all ages featuring female programmers and coding pioneers. Together, we can raise a new generation of savvy Mighty Girl coders!
Toys and Kits that Teach programming
With the Code 'n Learn Kinderbot from Fisher-Price, kids use simple coding to control their robot friend! This interactive robot teaches kids early math concepts, colors, shapes, and more, all while kids explore the secret code book and four machine accessories. As they follow the coding challenges and explore the secret code book, they'll develop their undersatnding of cause and effect, logic, and more. It's a fun way for kids to try out experiments and learn the basics of engineering and robotics.
Buy:
Amazon.co.uk
(Unavailable)
Books About Girls and Women in Technology
Additional Recommended Resources