A Mighty Girl's top picks of books about women in technology and toys & games that introduce kids of all ages to coding!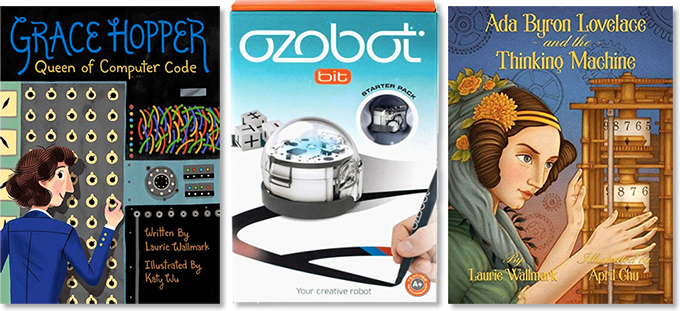 Computers and technology are all around us at both work and play — which means that knowing the ins and outs of programming is an ever more essential skill! While in the past kids could only start learning about programming when they were ready for text-based computer languages, today they can get started from with board games, color-coded programming languages, and much more, encouraging kids to see themselves as programmers from an early age.
At the same time, sexism and stereotypes about computer programming can still pose obstacles to girls and women interested in getting into the technology industry. Although women were some of the first programmers in the world, today men outnumber women by a substantial margin, with only 19% of computer science degrees being awarded to female graduates in the United States. So now, more than ever, we need to show girls how programming fits into their lives — and teach them about the many contributions that women have made to the field!
With that goal in mind, in this blog post, we're showcasing a selection of our favorite resources to encourage girls with an interest in technology — and to introduce coding to girls who may have never even considered the possibility. In the first part, we share a selection of books featuring female programmers, including a few exciting new offerings from the non-profit Girls Who Code. While in the second part, we provide an array of toys and kits that teach kids the basics of programming logic and coding, and show them the amazing possibilities that come along with computer know-how. Together, we can raise a new generation of savvy Mighty Girl coders!
Books About Girls and Women in technology
Grace Hopper: Queen of Computer Code
Grace Hopper was a software tester, a creative inventor, and a top-notch mentor — but she was also a famous rule-breaker, risk-taker, and sometimes a real trouble-maker! In this riveting picture book biography of the woman nicknamed "Amazing Grace," author Laurie Wallmark captures the determination and cleverness of the woman who invented the COBOL computer language, allowing people to "talk" to computers with typed commands. Fun anecdotes — like the time she found a literal bug in the computer — provide a glimpse into the extraordinary life of this accomplished woman, who famously knew that it's always better to ask forgiveness than permission...and that quick thinking and insatiable curiosity were the key to pushing a (sometimes reluctant) world forward!
Ada Byron Lovelace and the Thinking Machine
Thanks to her mathematically talented mother, Anne Isabella Byron, young Ada had the opportunity to develop her remarkable intelligence. Years later, when she met Charles Babbage, the inventor of the first mechanical computer, he named her the Enchantress of Numbers for her astounding mathematical skills. Little did either of them know that, when she designed an algorithm for Babbage's Analytical Engine, she would be making history — by writing the world's first computer program! With vivid artwork and intriguing anecdotes about Lovelace's genius, this picture book biography pays homage to a little-known but deeply influential figure in computing history — the world's first computer programmer. Ada's story is also told in two more delightful new picture books, Ada's Ideas and Ada Lovelace, Poet of Science.
Women Who Launched The Computer Age
Meet the women who programmed the first all-electronic computer and built the technological language kids today can't live without in this fascinating, nonfiction Level 3 Ready-to-Read book! In 1946, six brilliant young women programmed the first all-electronic, programmable computer, the ENIAC, part of a secret World War II project. They learned to program without any programming languages or tools, and by the time they were finished, the ENIAC could run a complicated calculus equation in seconds. But when the ENIAC was presented to the press and public, the women were never introduced or given credit for their work. Learn all about what they did and how their invention still matters today in this story of six amazing young women everyone should meet!
The Friendship Code
In this first volume from the new Girls Who Code fictional series, which is being described as "The Babysitters Club" for the tech era, Lucy is super excited about the new after-school coding club. She has big plans for an app that will help someone very important to her. But when Lucy gets put in a work group with girls she barely knows, her enthusiasm dims. Then Lucy starts receiving cryptic coding messages — messages which take her whole workgroup to decipher. Along the way, she might discover that friendship, just like coding, takes time, dedication, and a good sense of humor!
Girls Who Code: Learn to Code and Change the World
The non-profit Girls Who Code has taught over 40,000 girls to code — and now, you can learn too! This inspiring book is full of exciting illustrations and accessible explanations of coding principles. Real-life stories of girls and women in programming will show you the incredible range of careers and possibilities that coding provides, while information about the next steps you can take will get you ready to jump into your coding adventure!
Women in Science: 50 Fearless Pioneers Who Changed the World
This charmingly illustrated and educational book highlights the contributions of fifty notable women to the fields of science, technology, engineering, and mathematics from the ancient to the modern world. Full of striking, singular art, this fascinating collection profiles well-known figures like primatologist Jane Goodall, as well as lesser-known pioneers such as Katherine Johnson, the African-American physicist and mathematician who calculated the trajectory of the 1969 Apollo 11 mission to the moon. Women in Science celebrates the achievements of the intrepid women who have paved the way for the next generation of female engineers, biologists, mathematicians, doctors, astronauts, physicists, and more!
Headstrong: 52 Women Who Changed Science — And The World
For every famous name like Marie Curie and Jane Goodall, there are dozens or hundreds of women whose work in science is little known — and even when it is, their contributions are often minimized or forgotten. Rachel Swaby was inspired to write this book after reading an obituary of rocket scientist Yvonne Brill that spent the first paragraph focusing on her beef stroganoff recipe and her family life. Within it, she provide capsule biographies of 52 women scientists whose stories need to be told. Broken down into categories like medicine, physics, biology, math and technology, and invention, this book shows the innumerable ways in which women have advanced our scientific understanding. Fascinating for both teens and adults, it's sure to get your Mighty Girl thinking about what she might grow up to discover!
Toys and Kits that Teach programming
Cubetto
Coding gets a friendly face with Cubetto, the wooden robot who allows kids to learn coding without ever looking at a screen! With this Montessori-approved coding toy, kids use colorful blocks in a tangible programming language; how they order the blocks affects how Cubetto moves. Through a series of maps and stories, kids learn to guide Cubetto through a variety of adventures — and build an understanding of basic coding logic and cause-and-effect along the way. It's a great way to get kids starting on coding through hands-on play.
Robot Turtles
Programming is going to be a key skill in the future, and this game teaches programming fundamentals to kids aged 4 and up. By using a system similar to the Logo programming language, kids write a program with playing cars so the adult "turtle mover" can direct their turtle through a maze to claim a jewel. As they progress, mazes get trickier, introducing longer code strings and functions — and, of course, if things don't go as planned, kids will have to debug! This clever game was a hit on Kickstarter, and it'll be a hit with your family too.
Think and Learn Code-A-Pillar
Learn the basics of coding with Fisher-Price's friendly Code-A-Pillar! With 9 easy-to-connect segments, each of which provides a different instruction, kids can direct their Code-A-Pillar to move, wiggle, dance, or pause. Kids will love swapping around the segments to create interesting new moves. You can even get expansion packs that provide additional basic moves, more complex moves, silly sounds, and more!
Code and Go Robot Mouse
You can explore coding in a playful way with this set from Learning Resources! Build a maze, put the cheese block at the end, then use coding cards to teach your mouse the path. 10 double-sided Activity Cards provide suggested mazes to build, while 60 double-sided Coding Cards provide plenty of steps to get you through almost any list of twists and turns. You can even get a second mouse (sold separately) to create a multi-player maze challenge.
Dash Robot
This clever little robot can do amazing things — with a little help from you! Dash is a fully-assembled robot that perceives the world with sensors, so she can hear sounds, observe objects, and sense if you are moving her. Using the Android and iOS compatible apps, kids can develop technology skills, beginning with simple controls, then learning to draw a path around obstacles, and finally learning the basics of coding logic with an easy-to-learn coding system. You'll be amazed at how quickly kids will learn to program this kid-friendly robot.
Osmo Coding Jam
With Osmo, learning the basics of programming gets hands on — literally! Kids combine the blocks into patterns and sequences to transport their characters into different worlds and play some awesome music. This open-ended game encourages kids to experiment and explore with the coding blocks, creating their own unique sounds and combining them to create rhythms and melodies. Please note: This expansion requires the Osmo Base for your tablet, which is available in several packs, including the Osmo Genius Kit.
Ozobot Bit 2.0 Starter Kit
This is one of the world's smallest programmable robots — only 1" in diameter! — but it offers some big fun. Ozobot uses an easy to understand, color-based programming language, so kids can start out by drawing their programs on paper or on a tablet screen, then set their Ozobot down to watch it follow their commands. You can also download the free compatible apps so kids can create custom maps, challenge friends to games, or even make their Ozobot dance to music! Parents and educators alike will appreciate the free lesson plans and workshops available so kids get the most out of this tiny robot.
Piper Craft a Computer Kit
Aspiring young techies will love this set that allows them to craft a real computer! By following the included blueprint, kids will build a Raspberry Pi computer in a beautiful wooden case, then run a custom Minecraft Pi adventure that will get them building and programming more electronic modules using buzzers, lights, sensors, and more. This unique set, with its combination of physical building, engaging storyline, and Minecraft gameplay, is a great way to use an interest in video games to prompt an interest in coding and computer engineering.
Sphero SPRK+ Robot
Get on the ball with programming with Sphero's unique app-controlled, ball-shaped robot! The SPRK+ builds on Sphero's previous robots by providing a clear, scratch-resistant, waterproof shell, so young robotics fans can experiment with programming without worrying about the bumps and crashes. The Lightning Lab app, which is compatible with both Android and iOS devices, uses a C-based visual block programming language, is simple enough for beginners to use, but the robot is sophisticated enough for veteran programmers to enjoy too. With up to 60 minutes of use from a single charge, you'll love getting to explore all the possibilities in this little bot.
Raspberry Pi Ultimate Set
Imagine building your own real computer for under $100! Raspberry Pi's Ultimate Set includes everything you need to build your own processor, including a case, a power supply, and an SD cards with New Out Of Box Software (NOOBS) to get you started. Once you've built your computer, connect it to a screen and an input device and you can dive into programming. An active online community and flexible design make this a great option for would-be computer engineers.
Sparki: The Easy Arduino DIY Robot
This is a fun and easy to use introduction to programming, electronics, and robotics. This open-source robotics kit will teach you how to build a robot that can avoid an edge, follow a line, navigate a room, and draw shapes... and that's just the beginning! A wide array of components are included, and you can also connect Sparki to and Arduino or Raspberry Pi computer. Accessible to beginners and feature-packed for experts, everyone will love Sparki! To explore more Arduino programming, check out the Arduino Starter Kit.
LEGO Mindstorms EV3
Combine the versatility of LEGO with robotics and programming thanks to this enormous kit! Build one of a variety of different robot models — or come up with your own — and then use the intuitive icon-based programming language to direct your robot. You can use the enclosed remote to control your creation, or download the app to control it from your tablet. There's an active, exciting community of Mindstorms fans just waiting to share ideas with you — and to hear yours!
Additional Recommended Resources