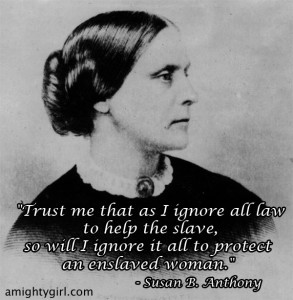 By Lili Sandler, A Mighty Girl Senior Research Intern
On this day in Mighty Girl history, Susan B. Anthony, one of the most well-known women in the battle for women's suffrage in the U.S., was born in 1820. Although she did not live long enough to enjoy the right to vote, she was tireless in her dedication to the cause for over fifty years.
Born to a Quaker family in Massachusetts, Anthony was the second of seven children. All seven were raised to value equality and justice, and Anthony was no exception. She encountered many injustices as a young social activist, all of which paved the way for her work on women's rights.
As a young adult, she worked as a teacher, earning one-quarter what her male counterparts were earning. Like most Quakers, Anthony and her family were against slavery and worked diligently against it. With the end of the Civil War and slavery, her dedication to women's rights became her central focus.
In 1852, at the third annual National Women's Rights Convention, Anthony made her first public speech for women's rights and soon became a prominent voice of the Women's Rights Movement. In 1866, along with fellow anti-slavery and women's rights advocate Elizabeth Cady Stanton, Anthony established the American Equal Rights Association. The duo also created and published "The Revolution," a weekly newspaper whose motto was "Men their rights, and nothing more; women their rights, and nothing less." In 1869, Anthony, again in collaboration with Stanton, founded the National Woman Suffrage Association.
In 1872, Anthony voted illegally in the presidential election. She was arrested and tried by a biased judge who refused to let her testify on her own behalf, ordered the jury to find her guilty, and sentenced her with a $100 fine (the equivalent of almost $2,000 today). Anthony told the judge "I shall never pay a dollar of your unjust penalty" and she never did.
Sadly, Susan B. Anthony passed away only 14 years before American women were finally granted the right to vote. But she never gave up fighting for that undeniable equal right. Just one year before she died, she met with then President Theodore Roosevelt to attempt to convince him to pass an amendment to give women the right to vote.
In 1920, the 19th Amendment to the U.S. Constitution was passed, finally giving all women the right to vote. One cannot help but wonder how much longer it would have taken to reach that point without the dedication and passion of one of America's most important heroines, Susan B. Anthony.
Reading Recommendations:
Browse our Susan B. Anthony Character Collection with books for all ages, activity books, a movie, and a Susan B. Anthony finger puppet.
For more books on the Suffrage Movement, visit our Women's Rights History section.
For more inspiring stories of Mighty Girl Role Models, visit our Biography section.