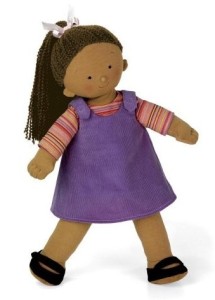 By Lili Sandler, A Mighty Girl Senior Research Intern, and Katherine Handcock, A Mighty Girl Communications Specialist
Nearly every child, girl and boy alike, loves to play with dolls in one of the many forms a doll can take. One child might prefer an action figure, or paper dolls, while another may choose a baby doll to care for and cuddle. Some children prefer a whole family of dolls to act out scenarios in a doll's house, while others might like a doll designed to portray a favorite character, fictitious or historical. Regardless of what kind of doll a child likes best, one thing is certain: every child should have the opportunity to play with a doll that looks just like her.
And so, in this A Mighty Girl Spotlight post we're highlighting dolls representing girls of African descent as part of our celebration of Black History Month. That said, there's bound to be a doll in this list or in our main doll collection that would appeal to any Mighty Girl, from birth to adulthood, regardless of ethnicity!
From the time they can walk, toddlers love to tote around a baby doll, giving it kisses, feeding it, and putting it to bed. This baby doll is just right for any toddler who wants her very own baby. She is soft, but realistic, and comes with a removable sleeper, a toy, and a headband.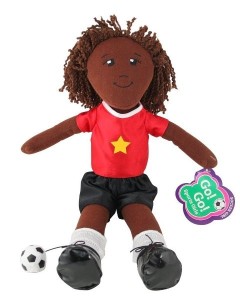 For a contemporary take on the traditional "rag doll", consider this sweet and adorable doll for your 2-7 year-old. The Rosy Cheeks Doll has a soft, jersey knit body, yarn hair, and embroidered facial features. Her clothes and shoes are removable, which is sure to make doll play even more fun.
Dress-up dolls are another popular toy, offering both the fun of playing parent and a little practice for getting dressed. The Dress Up Wendy doll (age 2 - 5) has a soft jersey body, embroidered features, and curly yarn hair, and her clothes include a stretchy hairband, a belt buckle, boot laces for tying, and a removable button vest with a zipper pocket. This 15" doll is even machine washable, so she can join your Mighty Girl on all her adventures.
Another soft-bodied doll line that represents diverse girls is the Go! Go! Sports Girl Dolls (age 3 - 7); each character represents a particular sport and comes with accessories and a secret inspiring message on her tummy. You can check out Anna the Soccer Girl or Taye the Basketball Girl, both of whom come with backpacks, towels, and a ball. As with all of the Go! Go! Sports Girl Dolls, 5% of the profit from the purchase of Anna is donated to Girls, Inc, a nonprofit organization dedicated to inspiring all girls to be strong, smart, and bold.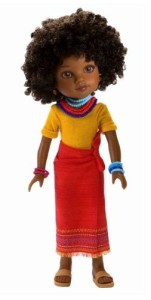 To learn a bit about geography while playing with a doll, consider one of the Hearts For Hearts Girls. These 14" dolls with removable clothing are suitable for ages 6 to 12, and provide a great way to talk about the lives of girls around the world. For example, Rahel is from Ethiopia, and comes with a story about her life. You can also get an accessory set, School Time for Rahel, which includes a school uniform, school supplies, and a soccer ball. When you buy a Hearts For Hearts Girls doll, a portion of the purchase price is donated to children's causes through World Vision, a global humanitarian organization.
Or, check out the Small World Kenyan Doll or the Travel Friends Kenyan Doll for two more dolls representing African Mighty Girls (both age 3 - 8). The Small World doll is inspired by Disney's It's A Small World ride; dressed in traditional garb, she sings the song in both English and Swahili. Madame Alexander's Travel Friends doll wears contemporary clothing inspired by traditional prints. Both dolls will get your Mighty Girl thinking about her broader global community.
The American Girl Dolls are well-known for their high quality, historically accurate depictions of girls in American history. Lesser known are the miniature versions of these popular dolls. Addy Walker, a former slave, is a strong and intelligent girl living in Philadelphia in the midst of the Civil War. Learn all about her story by reading the book that accompanies this mini-sized American Girl Doll, which is 6.5 inches tall, and recommended for ages 6 and up.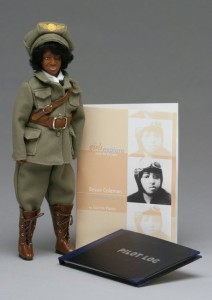 You can also pay tribute to the great women of history during playtime! Girls Explore LLC makes a line of dolls of historical women for ages 8 and up; these dolls come with short biographies so that girls can learn more about these groundbreaking figures. Their line includes Bessie Coleman, the first black woman to receive her pilot's license, and Harriet Tubman, the legendary Underground Railroad conductor. In addition to the biographies, both dolls come with an accessory for your Mighty Girl to remind her of their inspiring stories.
The fashion-conscious doll-lover might like the Autumn Mist doll from Madame Alexander. Dressed in a green jersey top, black denim skirt, and hoodie, this 18-inch doll is ready for a day on the town! This high-quality doll is suitable for ages 3 to 12.
The hit TV show Doc McStuffins provides a great role model: a 6-year-old girl who wants to be a doctor like her mother. If your Mighty Girl loves Doc, she'll love having a Doc doll! We particularly recommend the Doc McStuffins plush doll, which is 12" tall and features embroidered features and plush detailing, or the Talking and Singing Doc McStuffins, which is 11" tall and comes with doctor's tools and Lambie and Stuffie figures to take care of, both for age 3 - 6. Or, for more products featuring this popular character, visit our Doc McStuffins Collection.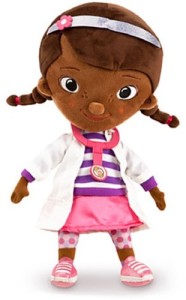 There are many options available for those interested in an entire family of dolls. This doll family for age 3 - 8 comes complete with three generations -- grandparents, parents, and children! Made from sustainable wood sources, these dolls have wooden hands, feet, and heads, and flexible arms and legs, allowing them to be arranged in a variety of poses. They're a perfect set for any dollhouse!
Sometimes it's fun to have a doll that goes with a good book. This is easy to accomplish with the book One Love, by Cedella Marley, and the accompanying soft doll! Marley, eldest child of legendary musician Bob Marley, adapted his famous song for this book about a little girl who enlists her community to improve her neighborhood. With or without the book, this whimsical 9" doll for ages 2 to 5 is sure to put a smile on your face.
This is just a small sampling of the nearly 300 dolls and action figures featured on A Mighty Girl. To find the perfect special companion for your Mighty Girl, visit our Doll / Action Figure collection.