Mighty Girl classics beloved by generations of young readers!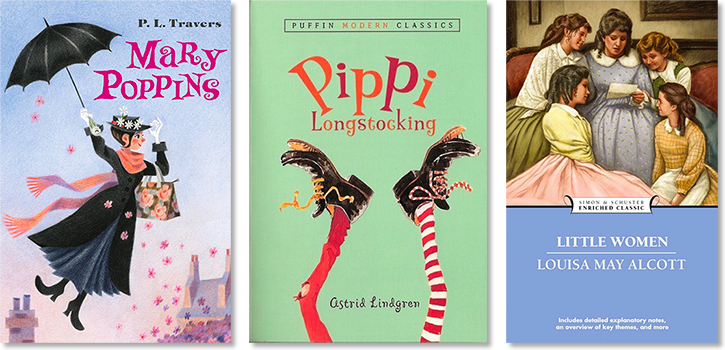 While hundreds of wonderful new Mighty Girl books are published every year, there are also many girl-empowering stories that have been passed down for decades! Times may have changed, but these classic characters still speak to the girls of today just as they did to their mothers, grandmothers, and great-grandmothers! With that in mind, we're showcasing our favorite classic Mighty Girl stories in this blog post. These are books that you're likely to remember from your own childhood — in fact, you may have even been first introduced to them because an adult you know loved them as as child!
In the first section, we've highlighted classic stories written before 1950, many of which remain immensely popular decades after their publication. In the second section, we've featured modern classics written between 1950 and 1990. These modern classics show the changes in the way Western culture viewed girls and women with the Mighty Girls in these pages tackling difficult social issues, going on hitherto unimagined adventures, and daring to define themselves in daring ways. And, more and more, girls being portrayed in strong leadership roles is no longer considered unusual — that's just the way Mighty Girls are!
So take a look at our collection and see if your favorite Mighty Girl book from your own childhood is on here. One way or another, it's sure to spur you to share a few with the Mighty Girls in your life. After all, one of the great joys of a beloved book is having the opportunity to share it with a new generation!
Of course, the books featured in this post are only a handful of the many Mighty Girl books available. To browse our collection of over 3,000 girl-empowering books for children and teens, sortable by recommended reading age and theme, visit our Books section.
Loved for Generations: Mighty Girl Classics
In this classic Mighty Girl picture book, a little girl named Sal heads out with her mother to pick blueberries — right around the time a little bear cub and his mother do the same! Thanks to a pair of youngsters who are paying more attention to the sweet blueberries than to where they're going, the two families get mixed up, and soon it's Sal tailing the mother bear and the bear cub following Sal's mom. Fortunately, in the end two children — with very full tummies — end up in their homes where they belong. This Caldecott Honor book has been a favorite since 1949, so it's perfect for introducing to yet another generation.
Carrying On The Tradition: Mighty Girl Modern Classics
Additional Recommended Resources