By Lili Sandler, A Mighty Girl Senior Research Intern
As a final tribute in our celebration of Black History Month this year, we're sharing ten of our favorite picture books featuring little Mighty Girls girls of color for the youngest readers. This is only a sampling of what's available on the site; there are so many fabulous picture books for babies, preschoolers, and beyond with diverse protagonists that we couldn't possibly highlight them all in one blog post!
It's never too early to share a love of reading with little ones, and going to the library is one of the best ways to accomplish that goal! With Anna McQuinn's book, Lola at the Library, your little one will learn to look forward to visiting the library just like Lola does. With bright, vibrant illustrations courtesy of Rosalind Beardshaw, this book is not only a delight to read, but a delight to look at as well.
Another book sure to be a hit with babies and toddlers is Rachel Isadora's Peekaboo Morning. Every toddler loves to play peekaboo, and they'll have such fun following the active and adorable protagonist of this story going through her morning, playing peekaboo with her mommy, her daddy, her puppy, and more! This is one of those books your child will want to read again and again.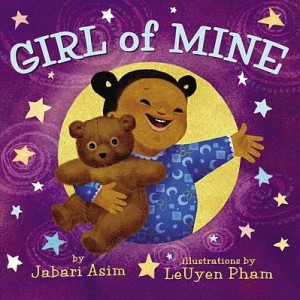 From filmmaker Spike Lee and producer Tonya Lewis Lee is a sweet and funny story that captures the joys, challenges, frustrations, and laughter that come with raising a toddler! Illustrated by Kadir Nelson, the book Please, Baby, Please starts in the morning with the plea "Go back to bed, baby, please, baby, please," and we continue to hear this refrain throughout the book. A silly take on a "day in the life" story, this is the type of book that is loads of fun to read aloud thanks to the rhythm and pacing, and also a joy for children to listen to.
Girl of Mine, by Jabari Asim, is a lovely bedtime story about a little girl and her daddy. The text, inspired by "Rock-a-bye baby", is engaging and loving, coupled with the whimsical and peaceful illustrations by LeUyen Pham provide for a fantastic bedtime -- or anytime -- story.
Norton Juster and Chris Raschka won a Caldecott Medal for their picture book The Hello, Goodbye Window, and for good reason. A beautiful and engaging book, it tells the story of a biracial little girl and her relationship with her grandparents, with a magical and wondrous feel throughout. A tribute to the joys of childhood and the special relationship between grandchild and grandparents, The Hello, Goodbye Window is a treat.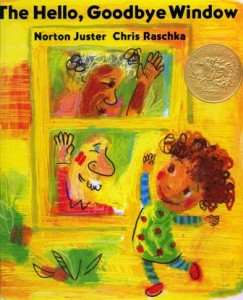 Winner of the Coretta Scott King Award, Just Us Women explores another familial relationship, this time between aunt and niece. Recommended for ages 3 - 7, the text sometimes reads like poetry, but always reads as a celebration of the independence of a little girl and her aunt as they set out on a road trip to North Carolina. The illustrations reflect their excitement while preparing for their journey, and their enjoyment of their trip. Just Us Women will encourage you to look for adventure, whether on a road trip or otherwise.
Also recommended for ages 3 - 7, Eve Bunting's Flower Garden tells the story of a little girl and her dad planning a birthday surprise for her mom in the form of beautiful flowers. Told in sweet, rhyming verse, we are along for the ride as the girl and her dad travel through an urban landscape to buy a window box, as they plant the flowers, light the candles on the cake, and surprise her mom as she returns home. A wonderful celebration of family, this story is perfectly complimented by the warm and lush illustrations.
In Natasha Anastasia Tarpley's I Love My Hair!, we meet the first-person protagonist Kenaya, a little girl with a big imagination. She tells us all about how her mom does her hair, and all the wonderful and different ways she can wear her hair. A tribute to black girls' hair, this story will make every girl wish she could have the same kind of hair!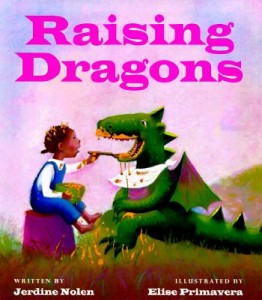 Recommended for ages 4 - 8, Raising Dragons, by Jerdine Nolen manages to perfectly create the real and the fantastical at the same time. A little girl has learned to care for creatures on her parents' farm, and so it is no surprise that she has a knack for raising... dragons. The vibrant illustrations perfectly accompany the matter-of-fact text, and will have every little girl wanting her very own dragon to raise!
Also best for ages 4 - 8, award-winning author Karen Hesse's Come On Rain will make you wish for a respite from the heat regardless of the weather outside your window! A swelteringly hot summer day -- after many such days -- a little girl waits and waits for the rain to cut through the heat. When it finally does, it is such a welcome relief that even the mamas come out to dance and play in the rain. The beautiful watercolors courtesy of Jon J. Muth perfectly compliment this delightful story.
While there are many fabulous picture books for preschoolers -- and beyond -- featuring girls of color, we hope you enjoy this selection as much as we do! Happy reading, and happy Black History Month from A Mighty Girl to you!
For more fiction books starring African-American Mighty Girls, please visit our African-American section within Multicultural Fiction.
If your Mighty Girl is a fan of dolls, you might also enjoy our Spotlight post on Celebrating Diverse Dolls during Black History Month.