These Mighty Girls are national finalists in the premier science competition for middle schoolers!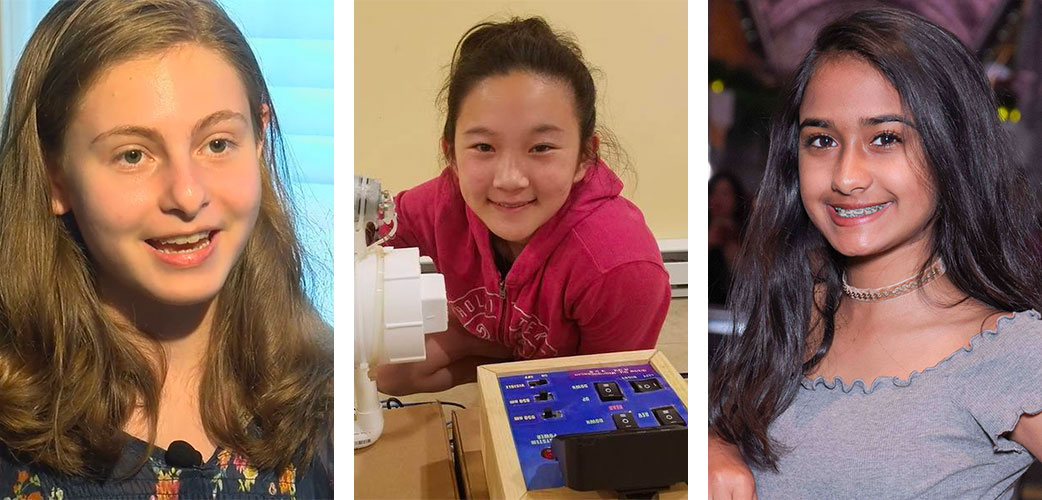 The Discovery Education 3M Young Scientist Challenge is the premier science competition in the U.S. for middle school kids and, like every year, the Mighty Girls in the competition continue to astound! The event challenges kids in 5th through 8th grades to use their scientific know-how to come up with an invention or solution that addresses an everyday problem. Whether it's an issue that affects themselves, their family, their community, or the whole world, they get to turn their ingenuity and drive towards making a difference — and every year, it's amazing what these young scientists think up!
This year, three of the national finalists are Mighty Girl scientists! These Young Scientist finalists will be spending their summers working with mentors to develop their visions into a more polished prototype, and we can't wait to see the results at the finals in October, where they'll be vying for a $25,000 prize and the title of "America's Top Young Scientist" for 2018.
In this blog post, we introduce you to these clever and creative Mighty Girls and their incredible projects. From using infrared light to detect microplastics in ocean water to designing a water-saving toilet flushing system to using alginate gel to relieve dental pain, these Mighty Girls' inventive solutions to everyday problems will inspire science lovers of every age!
To encourage your Mighty Girl to see herself as a scientist, just like these finalists, check out our blog post, Ignite Her Curiosity: 60 Books to Inspire Science-Loving Mighty Girls.
The 2018 Mighty Girl young Scientist Finalists
Mehaa Amirthalingam: Saving Fresh Water With Every Flush
With only 3% of the world's water being suitable for household use, 13-year-old Mehaa Amirthalingam from Sugar Land, Texas, knows that it's important to make efficient use of every drop. Toilet flushing uses gallons of water every day, but Mehaa wondered if there was a way to make use of grey water — water that's already been used in sinks, baths, and appliances, but is still relatively clean — to prevent so much fresh water from going into sewage and septic systems. She developed a toilet flushing system that automatically balances the amount of fresh and grey water used in every flush, and determined that up to 85% of the water in each flush can be substituted by grey water. "This system is completely mechanical and does not require any electricity at all," she says. "More importantly, when there's no grey water available, you don't have to do anything; it will work just fine with the fresh water alone." Her simple system could save anywhere from 1.4 to 4 gallons of water per flush, depending on the size of a toilet's tank. "I cannot wait to see this product in every home," asserts the aspiring young engineer.
Anna Du: Removing Microplastics From Ocean Water
12-year-old Anna Du knows that "8 million metric tons of plastics are being dumped into the ocean every year" — and she's determined to change that. The 6th grader from Andover, Massachusetts knows that microplastics, small pieces of plastic debris that occur as discarded plastic breaks down, are hard to clean up; plus, since they can be consumed by fish, they travel through the food chain and pose serious environmental and health risks to humans. In order to prevent this from happening, organizations need to be able to identify microplastics and differentiate them from other small objects like rocks and organic debris. Moreover, because microplastics can sink to the bottom, they have to able to identify such microplastics at depth. To tackle this problem, Anna invented a remote operated vehicle (ROV) which uses infrared light to detect the location of plastics. By finding these microplastics on the ocean floor, Anna's prototype ROV can help guide cleanup efforts. And she has big plans for future development of her idea: "with the data I collect this year, I hope to make an autonomous underwater vehicle... [and create] a plan to safely and efficiently remove microplastics from our oceans."
Julia Gelfond: Soothing Dental Pain With Alginate Gel
12-year-old Julia Gelfond from Chevy Chase, Maryland, wants to help people who need teeth pulled suffer from less pain and reduce the risk of infection. The 7th grader was inspired after having to have some of her own teeth pulled; she wanted to find a way to seal the wound left by extracted teeth in order to reduce the risk of bleeding, irritation, and infection. She came up with the idea of using an alginate gel, which is a natural product extracted from seaweed. By adding a few drops of sodium alginate to calcium lactate, she created alginate beads that can easily be inserted into the hole left by an extracted tooth. There are other advantages to her gel, too: "you can easily add flavors, pain medication, or antibiotics to the gel," Julia explains, "so that the patient is completely protected." With her gel, the aspiring materials scientist hopes that the millions of people who have teeth extracted each year will find the often painful process a little easier and help speed their recovery.