A team of volunteers provides women and children escaping domestic violence everything they need to have a beautiful, comfortable new home — for free!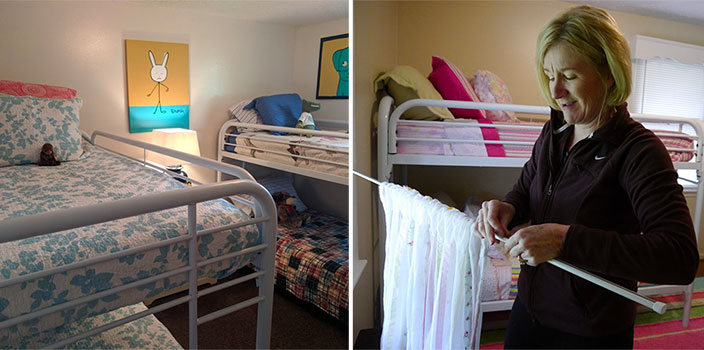 Photos: YWCA Nashville & Middle Tennessee
In Nashville, Tennessee, a unique program provides women and children escaping domestic violence everything they need to have a beautiful, comfortable new home — for free! Re-New at the YWCA, which is run entirely by volunteers, has furnished nearly 200 homes for over 400 survivors of violence, allowing them to make a fresh start. Before the families move in to the homes, volunteers come to decorate, move in furniture, and stock bathrooms and kitchens with necessary supplies; they even provide a crock-pot simmering with the family's first meal in their new home. "It's an invaluable experience for a woman who's gone through brutal abuse," says Christan Lyons, one of the women who received a Re-New home last year. "It felt like a reward for having the courage to walk away."
The program works in conjunction with YWCA Nashville's Weaver Domestic Violence Center, which provides a year of transitional housing for women leaving the shelter. Since many women leaving an abusive relationship start over with nothing, prior to the launch of the Re-New program, it was often months before they could furnish their new homes. In 2010, Julie Davis, a high-end interior designer in Nashville, learned how many women in such situations struggle to rebuild their lives and realized that she could make a difference. She thought of all the furnishings that her wealthy clients no longer needed and realized that they could be a tremendous gift to a woman restarting her life after abuse. "The YWCA had the women and children, but they did not have the furniture they needed," explains Davis. "Being a designer, I had access to furniture, so it was a perfect match."
Davis, who founded Re-New with her friend Cheryl Hays, says that the project aims to "make a difference one home at a time." As it grew, they attracted more and more volunteers and donations, quickly outgrowing their garage into a warehouse filled with donated furniture. The soon-to-be tenants, who are welcome to keep all the furnishings when they move out, tell Davis what color schemes they like and what their needs are, and she puts together a custom-designed plan. Volunteers then do everything from painting and cleaning to moving in furniture and stocking kitchen cupboards and pantries with food and refrigerator staples in preparation of the family. Local businesses have also been very supportive, including a gardening store that provides a welcome mat for each new home and another that provides fresh flowers on move-in day.
After they finish their work, Davis says that they add one last special touch: "We leave a note for each family explaining that over 20 volunteers and generous individuals have come together to provide a safe and inviting home. We want the women to feel our gift of unconditional love. We hope to break the cycle of violence one home at a time." Lyons knows just how powerful an impact that makes: it took multiple police visits and orders of protection before she got up the courage to leave her husband, and she was nearly bankrupt when she entered the shelter.
When she first saw the newly furnished home for her and her daughters, she was blown away: "A new crib for the baby, bunk beds for the girls, my very own chest of drawers! Re-New has done SO much for my family. It's simply overwhelming!" A year later, she's planning to become a therapist to help other women like herself. For Davis, that is most important aim of Re-New: "We want them to feel like somebody cared, and we want to feel like they have hope. The biggest thing is hope."
To make a donation or to volunteer, visit the Re-New at the YWCA website. To read the full story, visit NPR.
Watch a video of volunteers preparing Re-New's 100th home below.
Recommended related Resources
Eleven-year-old Brittany wants a better life, but has no idea how to get there. Her mother's boyfriend is physically abusive and forbids her from working, leaving the family desperately short of money. At the same time, Brittany's beloved great-grandmother has dementia and is rapidly declining. School provides Brittany with an escape into reading and writing, a friend to support her, and a teacher who introduces the idea of "plan B." And when Brittany realizes there may be someone they can reach out to for support, maybe she and her family can find the courage to leave Jack's abuse behind. While this book takes an unflinching look at serious issues including abuse and poverty, its ultimate resolution is hopeful, reminding readers that a better life is worth reaching for.