"The mean-girl thing is happening much sooner than everyone realizes."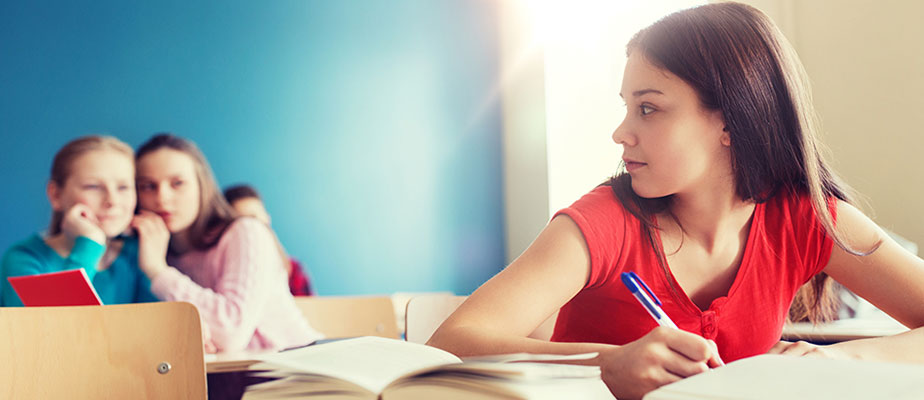 Parents often think that relational aggression — including social rejection, manipulation, and exclusionary cliques — starts in middle school. For writer Carol Kaufman's daughter, it started in the fourth grade, these types of bullying often start at even younger ages. "The mean-girl thing is happening much sooner than everyone realizes," her elementary school's counselor told her.
Bullying in childhood can have a lasting impact, says Catherine Bagwell, a professor of psychology at Emory University who studies children's social development: it is "associated with depression and anxiety and social withdrawal and low self-esteem and academic problems." So it's important to tackle the problem early on, whether your daughter is the one being targeted or excluded, the one leading the pack, or one of the bystanders who's not sure how to handle the situation.
According to one survey of 12,000 children in elementary and middle school, 41 to 48 percent of girls reported experiencing relational aggression in a typical month, with 4 to 6 percent saying it happened daily. From the age of 8 to 12, mocking and teasing are the most common ways girls bully, and it's often based on appearance. "Any way they look 'different' is a potential target," observes Cosette Taillac, a child and adolescent therapist at Kaiser Permanente, in The Washington Post.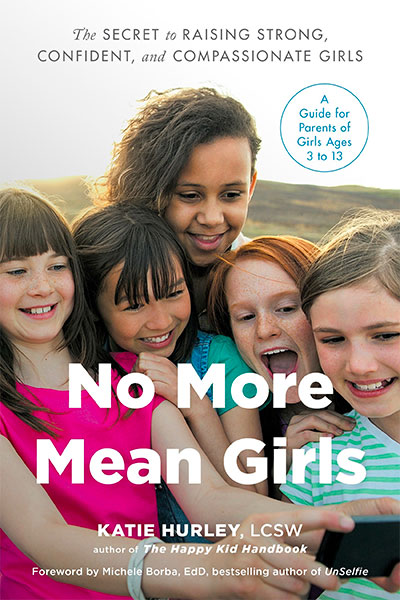 "This goes beyond weight — it can also be about being taller or shorter, skin color, or even about things like having freckles or pimples." Those who make such comments will often say they're "just joking" as "a way of avoiding responsibility, blaming others and demeaning the reaction if the victim is starting to show she's upset or if others seem disapproving." Meline Kevorkian, a dean at Nova Southeastern University in Fort Lauderdale, adds that "many of these behaviors, such as spreading rumors, saying mean and nasty things... verbally or online, are discrete and hard to detect."
To find out what's going on in your daughter's social groups, "listening is initially a better strategy than asking many questions since she will probably shut down with the questioning," advises child psychologist Jane Timmons-Mitchell at Case Western Reserve University. However, "If you are concerned about her behavior" — for instance, if she's displaying warning signs of being bullied such as becoming withdrawn, having trouble sleeping, changing her eating habits, or resisting going to school — "you should let her know that."
While you're listening, keep your ears open for signs that your daughter may be contributing to the exclusion of another child; those who have experienced relational aggression can turn those same tactics on another person. Beth Rogowsky, a member of the curriculum advisory board at Kiddie Academy, observes that "self-reflection is key, and our young girls are not often taught to look within themselves," so make sure you gently ask her to consider how her actions and words may have made others feel.
Together, you can act out or plan for different scenarios: "Teach [girls] to be assertive," encourages Bagwell. "Practice not reacting to the bully so the bully doesn't get the emotional reaction she's seeking." Encourage them to think about the social interactions they see: "Ask questions such as: Who did you sit with at lunch? Who played together at recess?... Do you think anyone felt left out today?" It's also beneficial to help girls find structured, confidence-building activities they can be involved in. "By participating in activities such as a team sport, music groups or social clubs, your daughter will develop new abilities and social skills, and learn what is appropriate and inappropriate behavior," says Samira Armin, a pediatrician at Texas Children's Hospital. Moreover, when girls discover how good it feels to be part of a supportive social group, they will "soon learn to surround themselves with positive influences."
Most importantly, remind her that she can make a difference, both by refusing to be part of social drama and by standing in support of excluded peers. "Activating bystanders and getting them to intervene in an appropriate way is a key to reducing bullying," says Bagwell. By modeling kindness and healthy relationships, girls can spread empathy throughout their social group, and feel empowered to be a positive influence in their community. While tweens' social worlds will likely always be complex, with a little parental guidance, Kaufman says that girls can have an easier path through these socially complicated years and that "is worth the effort."
Bullying Prevention Resources For Mighty Girls
Bullying can be so subtle that kids don't understand what's happening. Monica and Katie have been friends for years, but now, Katie embarrasses or excludes Monica in front of their classmates. Monica is hurt and confused — why would her friend do such a thing? Fortunately, with some help from her supportive mother, Monica learns that Katie is deliberately being unkind, and that this behavior isn't appropriate from a friend. With a few strategies to handle Katie, Monica feels confident again. One of the few books for younger children that addresses more subtle relational aggression, this book firmly drives home the message that no one deserves to be the target of this behavior.