Six extraordinary women who deserve the "Hidden Figures" film treatment.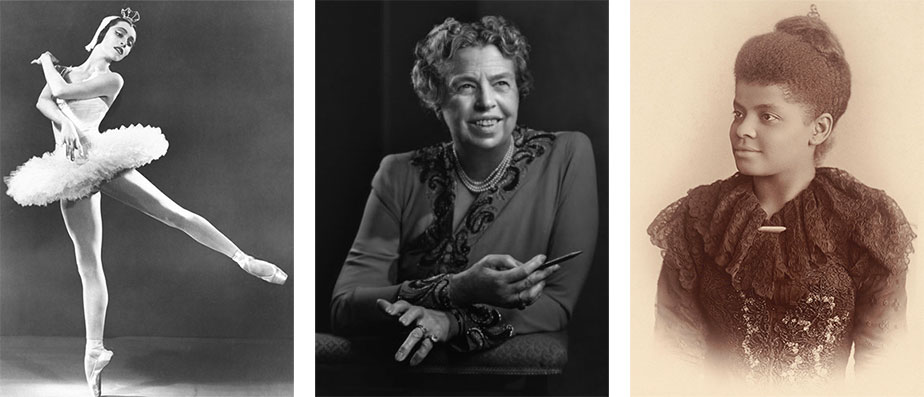 A few years ago, the names of Katherine Johnson, Dorothy Vaughan, and Mary Jackson were little known — but thanks to the blockbuster movie Hidden Figures, millions of people around the world could tell you the story of these groundbreaking African American mathematicians and the way they changed the history of American space travel! But, of course, NASA's "human computers" are just the tip of the iceberg of inspiring women of history... there are thousands of 'hidden' women whose stories would astound and inspire audiences, just like Hidden Figures did.
When we share stories of inspiring women on A Mighty Girl's Facebook page or our blog, our supporters frequently ask, "Where's her movie?" So in this blog post, we're sharing the stories of six women who we think would be right at home as the focus of the next big biographical drama that breaks records on the big screen. These women smashed through boundaries, defied convention, and even risked life and limb in pursuit of their goals — and while some of them have been featured in older films, documentaries, or made for TV movies, none of them have been the focus of a modern big-screen feature film that would bring their stories to a wider audience. By the end of this post, we'll confident you'll be wondering where their movies are too.
Fortunately, there are growing numbers of films about mighty women from history, though many more are needed. To view a selection, visit our Documentary / Biography Film Collection — or browse our entire collection for more girl-empowering films.
Six Women Who Deserve A Feature Film Of Her Own
Ida B. Wells (1862 - 1931)
American journalist Ida B. Wells was born into slavery — President Lincoln's Emancipation Proclamation freed her family when she was a year old — so it's not surprising she was politically active for women's and civil rights from a young age. As a young woman, Wells was dragged off a train in Memphis when she refused to give her seat to a white man and move to the "Jim Crow" car. She then took the unheard of action of hiring an attorney and suing the railroad; she won her case in the local court though the Tennessee Supreme Court eventually overturned it. Tragedy focused her activism after three of her friends were killed by a lynch mob. Now a well-known journalist, Wells launched a global anti-lynching campaign to raise awareness of the social injustice.  She was also one of only two African American women to sign "the call" to form the National Association for the Advancement of Colored People (NAACP) in 1909 and worked tirelessly throughout this period for women's suffrage. In 1930, during the final years of her life, she ran for the Illinois State Legislature, becoming one of the first black women to run for public office in the United States. In her writing, she even gave us the perfect title for her movie: she would sign off her articles, "Yours for justice, Ida B. Wells."
Eleanor Roosevelt (1884 - 1962)
While many people know Eleanor Roosevelt as a First Lady and the wife of Franklin D. Roosevelt, her life and activism are deserving of celebration on their own! Born to a socialite family, childhood tragedy and a belief that she was the "ugly duckling" of the family made her prone to depression, but she found purpose in public service. Without her, Franklin would not have made it through the illness that paralyzed him, nor would he have pursued his plans for a political career. Roosevelt worked before, during, and after her time in the White House for causes including women's rights, labor rights, and racial equality. After her husband's death, she urged the United States to join the United Nations — and served as the United States' first delegate. Then, as the first chair of the UN Commission on Human Rights, she was integral to the creation of one of its key documents: the Universal Declaration of Human Rights. In fact, President Harry S. Truman's nickname for her would be the perfect title for her movie: "First Lady of the World."
Rachel Carson (1907 - 1964)
When American marine biologist Rachel Carson published Silent Spring, she helped launch the modern environmental movement. A rare woman in science at the time, Carson began her career in the U.S. Fish and Wildlife Service, but after her articles and books about ocean life became extremely popular, she became a full-time science writer. When Silent Spring was released in 1962, Carson stood strong against intense criticism from the chemical industry, despite a simultaneous battle against breast cancer that was outpacing her treatments. However, even after Carson's death in 1964, her book fueled public interest in environmental and public health issues, and, within a few years, the Nixon Administration formed the Environmental Protection Agency. Much of the EPA's early work focused on issues raised by Carson's work such as a 1972 law regulating pesticides and a US ban on the agricultural use of DDT. Today, Carson's book Silent Spring is considered one of the twentieth century's most influential works of non-fiction and, in 2006, the editors of Discover Magazine named it one of the 25 greatest science books of all time. For her many contributions to environmental conservation, President Jimmy Carter posthumously awarded her the Presidential Medal of Freedom.
Nancy Wake (1912 - 2011)
The New Zealand-born British secret agent Nancy Wake has a story that's better than any spy film! After running away from home at 16 to become a nurse and a journalist, Wake traveled to New York, London, and Paris, then settled in Marseilles with her husband. When Germany invaded France, she immediately became a courier for the French Resistance. By 1943, the Gestapo had nicknamed her the White Mouse for her ability to elude capture and declared her their most wanted person, with a five million franc bounty on her head. When the local resistance network was betrayed, Wake trekked across the country to escape to Britain through Spain — but she wasn't done yet. She joined the Special Operations Executive and parachuted back into France in 1944 to help the Resistance prepare to assist in the Allied invasion. With her help, a group of 7,500 Resistance guerrillas successfully engaged with over 22,000 Nazi soldiers. After the war, Wake became the Allies' most decorated servicewoman with honors from the United States, Australia, Great Britain, and France — and she did become the subject of a made-for-TV movie in 1987. However, she didn't feel the portrayal did her justice, particularly scoffing at a scene of her cooking breakfast: "For goodness sake, did the Allies parachute me into France to fry eggs and bacon for the men?" she asked. "There wasn't an egg to be had for love nor money, and even if there had been, why would I be frying it when I had men to do that sort of thing?"
Maria Tallchief (1925 - 1966)
As a child growing up on the Osage reservation in Oklahoma, Maria Tallchief began studying music and dance; although tradition said that women were not permitted to dance, her parents supported her gifts and even moved the family to California so she could pursue lessons. By the time she was 12, she had her sights set on a career in ballet, so after she graduated high school, she went to New York and joined the Ballet Russe de Monte Carlo. At the time, it was a common practice for American dancers to adopt Russian-sounding stage names, and many people suggested that Tallchief could easily be adapted into Tallchieva, but Tallchief refused: "Tallchief was my name, and I was proud of it." Her star began to rise when she started working with renowned choreographer choreographer George Balanchine, who cast her in multiple important solo roles. In 1948, she became the first prima ballerina of the newly formed New York City Ballet, where Balanchine created one of her most famous roles: the lead of "The Firebird." Her newfound fame allowed her to speak out against stereotypes about Native Americans, and she remained firmly proud of her Osage heritage throughout her life. As one of America's most acclaimed ballerinas of the 20th century, and the first Native American to become a prima ballerina, Tallchief's life remains a powerful tale of breaking through barriers to pursue a dream.
Wangari Maathai (1940 - 2011)
Wangari Maathai had a rare opportunity for a Kenyan woman in 1960: she was one of 300 Kenyan students selected for the Airlift Africa program, giving her the chance to attend university in the United States. After completing a bachelor's degree in biology at Benedictine College and a master's degrees in biology at University of Pittsburgh, she returned to Kenya with a new perspective on both the environmental damage in her country and the need for women's rights. She founded the Green Belt Movement in 1977 to tackle both, by teaching Kenyan women how to plant trees to combat deforestation and sustainably draw income from the land. Since its founding, her organization has planted over 51 million trees and trained over 30,000 women in trades that help them rise out of poverty. In 2004, Maathai became the first African woman to be awarded the Nobel Peace Prize for "her contribution to sustainable development, democracy and peace." Though she passed away in 2011, her legacy lives on today through her organization's efforts to empower women and preserve the Kenyan environment.