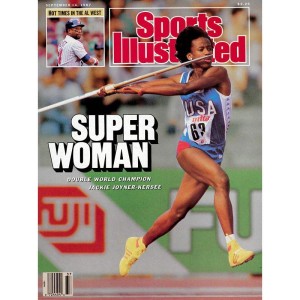 Today in Mighty Girl history, we mark the birthday of American athlete Jackie Joyner-Kersee. Considered by many to be the best all-around female athlete in the world and voted by Sports Illustrated for Women as the Greatest Female Athlete of the 20th century, Ms. Joyner-Kersee's story is one of determination and drive in pursuit of excellence.
Born Jacqueline Joyner in 1962 in East St. Louis, Illinois, to a family of limited means and resources, her path to fame and success was not always a given. However, named after then-First Lady Jacqueline Kennedy, Joyner family lore says that a grandmother predicted, "Some day this girl will be the first lady of something."
Forbidden to date until the age of 18, Jackie and her brother, Al (a star athlete in his own right), focused their time and energy on sports at the local community center, and then high school. In addition to academics, she excelled at track, basketball, and volleyball, and ended up receiving a full basketball scholarship to the University of California, Los Angeles. Before long, however, with strong encouragement from assistant coach (and future spouse) Bob Kersee, she switched her athletic focus to training for the Olympics, and specifically for the heptathlon.
An heptathlon is a competition where contestants accrue points based on the outcomes of seven different track and field events: 100-meter hurdles, 200-meter and 800-meter runs, high jump, long jump, shot put and javelin. In addition to strength, speed, and agility, it is an event that requires a tremendous amount of stamina, stretched out over a two-day performance. Jackie Joyner-Kersee's top score of 7,291 heptathlon points at the 1988 Seoul (Korea) Olympics placed her as the first woman to surpass 7,000 points, and she retains the world record score to this day.
By the time she retired, Jackie Joyner-Kersee collected three gold, one silver, and two bronze Olympic medals, over the course of four Olympic Games, and four World Outdoor Championship gold medals. Hurdles, the overall heptathlon, and especially the long jump remained her best events, and her career included setting multiple records. Today, her focus is running a Youth Center Foundation in her hometown, and advocating for children.
As Joyner-Kersee stated: "It's important to me to try and expose young people to the things they believe are off-limits to them. I tell them, 'There are no walls, only the ones we put up.' My advice to young people looking at my life is not to follow my footprint but to go out there and make their own."
For more stories about girls and women in sports, visit our Sports / Games section.
For those Mighty Girls out there who want practice their own physical skills, be sure to visit our Indoor Active Play and Outdoor Play toy sections.