Nadia Murad has become a global champion for girls and women.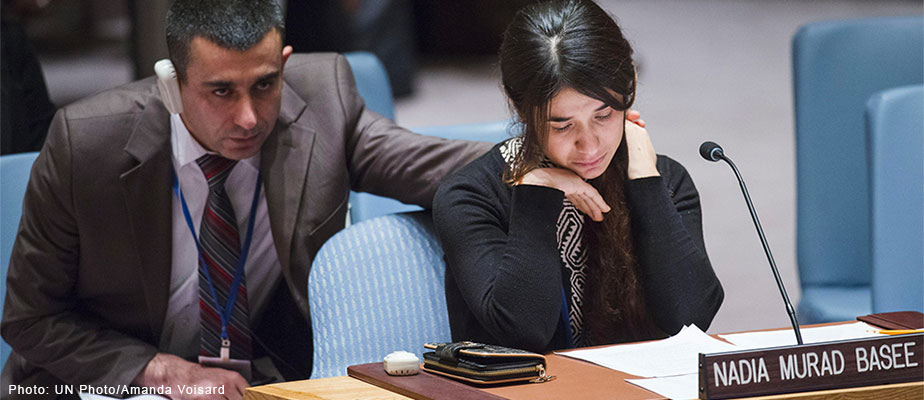 Nadia Murad, the courageous Yazidi woman who escaped sexual enslavement by ISIS and went on to become a global champion for girls and women affected by violence, has just been awarded the 2018 Nobel Peace Prize! Murad was only 21 when her village was attacked by ISIS fighters in 2014 and she was forced into slavery. She spent months suffering rape, abuse, and violence before successfully escaping. Since that time, she has devoted herself to speaking on behalf of the Yazidi women still in captivity, as well as other girls and women who are victims of violence worldwide. "All those who commit the crimes of human trafficking and genocide must be brought to justice so that women and children can live in peace," asserts the 25-year-old activist. "These crimes against women and their freedom must be brought to an end today."
When ISIS invaded, Murad was living in the small Yazidi village of Kocho in northern Iraq with dreams of becoming a teacher. Since the Yazidi people practice a religion that combines elements of Zoroastrianism, Islam, Christianity and Judaism, they were often targeted by the terrorist group who considers them heretics. Hundreds of men, including six of Murad's brothers and stepbrothers, along with her mother and other elderly women who were considered undesirable, were murdered. The village's girls and younger women were rounded up, and the sexual violence began as soon as they were forced onto a bus. Murad later described how one militant fighter started groping her, stating, "It felt like fire. I had never been touched like that before... my tears fell on his hand, but still he didn't stop."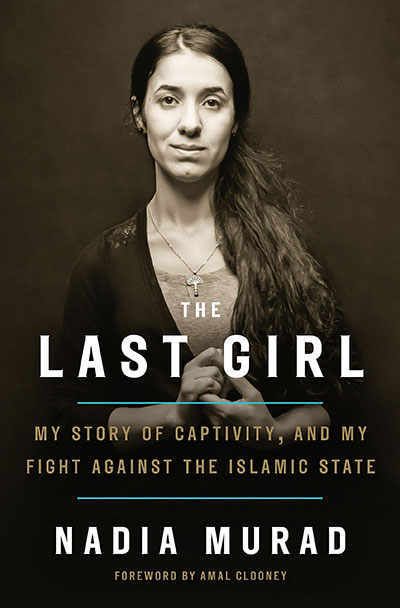 The kidnapped girls and women were taken to the occupied city of Mosul where they were distributed as sex slaves to ISIS fighters. "They sold girls, [including] girls that were underage, because ISIS considered that permissible," she recalls. Murad was purchased by a judge who told her that she was his fourth sabiya, or sex slave, and who repeatedly raped and beat her. Her failed escape attempt a few days later made her situation even worse. "Under their rules a woman becomes a spoil of war if she tries to escape," she told the BBC. "She is put in a cell and raped by all the men in that compound.... They call this practice sexual Jihad."
For a time, Murad gave up all hope of escape: "Being in the hands of [ISIS] we felt as if we had already died. Most people die once in their lifetime, but we were dying every hour." Three months later, however, her new owner left the door unlocked while he was out, and Murad took the opportunity to run. A neighboring family took her in and helped smuggle her out of ISIS controlled territory. She eventually made her way to a refugee camp and then to Germany where she currently lives.
After she was safe, Murad could not forget the others still in captivity: the year she was captured, ISIS abducted more than 6,700 Yazidi girls and women. She started speaking out on their behalf, urging governments around the world to take action against rape being used as a weapon of war (The New York Times documented ISIS' wartime sex slavery practices in a harrowing report ISIS Enshrines a Theology of Rape). In 2016, in recognition of her efforts,  Murad became the United Nations' first Goodwill Ambassador for the Dignity of Survivors of Human Trafficking. She also wrote a powerful memoir about her experience and founded Nadia's Initiative, a non-profit dedicated to advocating for victims of genocide. When she was named one of Time's 100 most influential people, playwright Eve Ensler wrote: "Nadia Murad stands in a long, invisible history of fierce, indomitable women who rise from the scorched earth of rape during war to break the odious silence and demand justice and freedom for their sisters."
Murad shares the 2018 Nobel Peace Prize with physician Denis Mukwege, who has dedicated decades of his career to treating victims of sexual violence in the Democratic Republic of Congo. The pair are an apt choice this year, the tenth anniversary of the United Nations' Resolution 1820, which declared systematic sexual violence is a war crime and a threat to international security. "Nadia Murad is extraordinary in the sense that she used her personal experience as a platform to speak up about this kind of atrocity," says Berit Reiss-Andersen, Chair of the Norwegian Nobel Committee. "If we want people to say 'no more war,' we also have to communicate how ugly and how destructive and how brutal it in fact is." Today, Murad continues to work for an end to violence against women; as she stated in her memoir: "I want to be the last girl in the world with a story like mine." In a statement after learning about the Nobel Prize, she urged people to continue to fight for the "1,300 women and children, [who] remain in captivity" and called for "accountability for the perpetrators and justice for the survivors."
Books About Mighty Girls and Women Affected By War
In this beautifully illustrated book, a young girl's life goes from peace and comfort to turmoil and tragedy as war envelops her home and forces the family to flee. The family must make decisions that are difficult for kids to imagine, but at the same time, simple comforts — like books and storytelling — help the family stay strong through their journey. While the ending isn't a true resolution, it is tinged with hope and optimism: the journey has been grueling but soon, perhaps, they will find a place to call home again. Debut author Francesca Sanna followed up this picture book with a companion, Me and My Fear, which highlights the challenges of adjusting to life in a new country — and how welcoming, accepting friends can help.