This trailblazing engineer became the first person in history to design a Naval ship using a computer.
Raye Montague, the groundbreaking engineer and ship designer, smashed both gender and racial barriers to revolutionize Naval ship design and become the U.S. Navy's first female program manager of ships. While Montague was the first person to ever design a ship on a computer, her contributions were little known until Margot Lee Shetterly's book Hidden Figures, which told the story of African American female mathematicians at NASA, generated a new interest in other little-known women who made remarkable contributions with their technical prowess. Montague, who died in late 2018 and whose story has been told in the picture book, The Girl With A Mind For Math, always credited her mother's insistence on education for giving her the push she needed to reach for her dreams. "You'll have three strikes against you," she remembered her saying. "You're female, you're black and you'll have a Southern segregated school education. But you can be or do anything you want, provided you're educated."
Montague was born on January 21, 1935 in Arkansas, and the gifted girl, who excelled at math and science, set her sights on her future career early: when her grandfather took the 7-year-old Montague to see a captured German submarine during WWII, she was fascinated by how it worked. "I looked through the periscope and saw all these dials and mechanisms. And I said to the guy, 'What do you have to know to do this?'" she recalled later. "He said, 'Oh, you'd have to be an engineer, but you don't have to worry about that.'" For a while, it seemed that he was right: when she graduated high school, she wasn't permitted to study engineering at the University of Arkansas because the engineering program didn't admit black students. Instead, she completed a degree in business and moved to Washington D.C. in 1956 to become a typist for the Navy. She continued to pursue her dream of becoming an engineer by taking night classes in computer programming and engineering.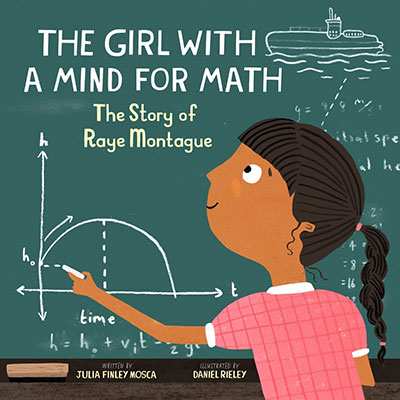 Montague's job with the Navy seated her next to the department's UNIVAC I computer, where she learned how it worked by watching the male Ivy League graduates running the computer. At first, as she later recounted, Montague wasn't allowed to use the computer "because 'we' weren't supposed to touch that computer right? And because I was from Arkansas." One day when the engineers were all out sick, however, she proved that she was up for the challenge by running the machine by herself. Her boss grudgingly agreed to give her a promotion to work on engineering projects — if she worked the night shift. But there was no public transportation at night, and Montague couldn't drive. So she bought a 1949 Pontiac, taught herself how to drive, and worked nights until she got the promotion. Soon, she was appointed a computer systems analyst, and she continued to excel, despite many obstacles along the way.
The real test of Montague's mettle came in 1971 when she was given the daunting task of figuring out how to design a Naval ship using a computer — her boss didn't mention that his department had been unsuccessfully trying to accomplish this task for years. She ended up having to tear down the Navy's computer and rebuild it but, after months of work, she figured out how to create computer-generated ship designs.
After she proved it was possible, the admiralty asked her to create a rough draft for an actual ship. It normally took two years to produce a design of a ship on paper; they gave her a month and she finished the design in 18 hours and 56 minutes. In honor of her breakthrough in the ship design process, Montague was awarded the Navy's Meritorious Civilian Service Award in 1972.
Montague continued to climb the Navy's civilian ladder, becoming the program director for the Naval Sea Systems Command (NAVSEA) Integrated Design, Manufacturing, and Maintenance Program, the division head for the Computer-Aided Design and Computer-Aided Manufacturing (CAD/CAM) Program, and deputy program manager of the Navy's Information Systems Improvement Program. She eventually earned the civilian equivalent rank of captain.
When Montague retired in 1990, her contributions were largely forgotten, but with the success of Hidden Figures, her name emerged as another example of an African American woman in technology whose work was critical to her country's success. She has since been recognized by the Navy and inducted into the Arkansas Women's Hall of Fame. She used her fame to tell people her story and urge them to persevere in their dreams: "Don't let people control you, you control the situation," Montague said in an interview in 2018. "Change obstacles into challenges. You might have to step back and go a different direction, but you can achieve."
Books About Little-Known Women in Programming & Math
Grace Hopper was a software tester, a creative inventor, and a top-notch mentor — but she was also a famous rule-breaker, risk-taker, and sometimes a real trouble-maker! In this riveting picture book biography of the woman nicknamed "Amazing Grace," author Laurie Wallmark captures the determination and cleverness of the woman who invented the COBOL computer language, allowing people to "talk" to computers with typed commands. Fun anecdotes — like the time she found a literal bug in the computer — provide a glimpse into the extraordinary life of this accomplished woman, who knew that quick thinking and insatiable curiosity were the key to pushing a (sometimes reluctant) world forward.