"Your kid doesn't just want to take risks. She needs to take risks."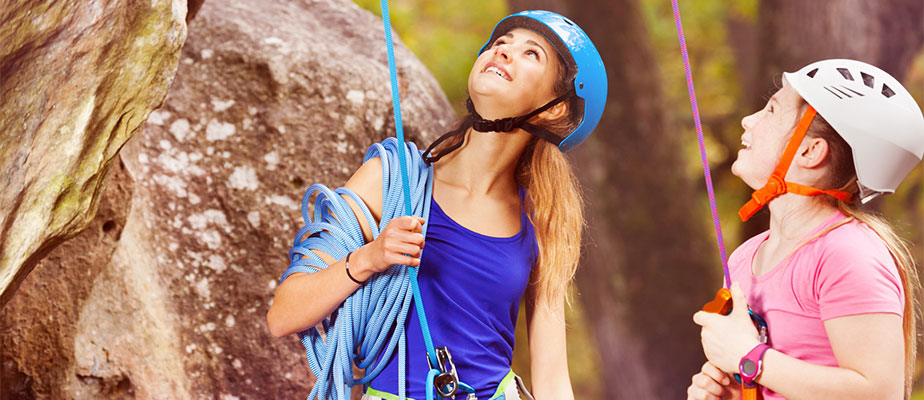 "Middle school gets a bad rap," says Michelle Icard, educator and author of Middle School Makeover: Improving the Way You and Your Child Experience the Middle School Years. "Middle school can be scary. But there is a lot to love about middle school, too. One of my favorites is that middle school can offer a buffet of new experiences." When kids start acting differently from the little kid you've known for so long however, whether it's wanting to dye their hair strange new colors, wearing only black, or hanging out with a new group of friends, many parents start to worry. Icard aims to set parents at ease, asserting that, while it may seem counterintuitive, one of the best way to keep your middle schooler out of trouble is to let them take risks — with a little guidance. "Who a child will become is not a foregone conclusion, and without trying a lot of new things, how can a young person truly know who she is?" Icard asks. "Becoming an independent adult, after all, requires a lot of bravery.... Your kid doesn't just want to take risks. She needs to take risks."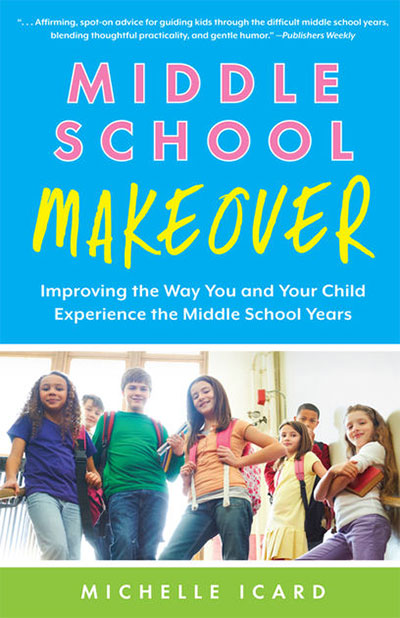 "It's not a fluke that kids become more impulsive in middle school," Icard points out. "At around the age of 11, kids' brains start undergoing some amazing, albeit messy, reorganization. The prefrontal cortex, responsible for impulse control, critical thinking and evaluating other people's emotions (to name just a few of its important jobs) goes on vacation during the teen years. That's when the amygdala, or emotional center of the brain, kindly takes over the decision-making department." The result is that tweens and young teens become more reactive and dramatic, and less likely to control their impulses. But there are good reasons for this change: "Put plainly, if your kid's prefrontal cortex were highly functioning throughout adolescence, she would never consider leaving the comfort of home for college. Why should she take that risk when everything she needs to survive is at her fingertips under your roof?"
That said, parents still want to balance the need for their tweens and young teens to take on risk with keeping them safe. The trick, Icard says, is to offer them the chance to take acceptable risks. "While a middle-schooler's brain can't tell the difference between a good risk and a bad risk, the good news is that it's equally satisfied by both. You've probably heard that kids who play sports are less likely to engage in negative risky behavior. That is not because they're too busy to find time to misbehave... that's because athletes are already taking risks on the field, so they've checked that box." And risks don't have to be physical: "Auditioning for a play, joining a new club, starting a baby-sitting business, or doing anything else that takes a kid out of his comfort zone will fulfill that risk-taking drive."
It's important for parents to be ready to comfort their kids when things go awry — but that doesn't mean you should discourage them from the risks they want to try. Icard remembers an incident with her own daughter when she auditioned for a talent show in the fifth grade: "By fifth grade, she had hit her awkward phase pretty hard. Her singing voice, on which she prided herself for years, had changed from cute and clear to a strangled, nasally something. 'If she sings,' I thought, 'she will mortify herself and people will tease her relentlessly.'" But, she says, "I debated with myself for days over whether I should discourage her in order to protect her. And then it occurred to me, 'Either way, she'll be hurt. Don't let it be by me'.... I wanted to always be her champion." In the end, the performance was fine, and Icard knows she made the right call: "I am so glad I kept my mouth shut."
"Often, parents think middle school is the time to clamp down and impose lots of limits, because they are fearful of their child making dangerous and impulsive decisions," Icard acknowledges. "Certainly, limits are appropriate, but they should be balanced with lots of encouragement to try new things. Yes, this will get messy. Switching friends, changing activities, dressing in all black, and hopping from obsession to obsession will make waves, leaving people, time and money in the wake. With any risk, good or bad, there are challenges. But consider the alternative." Without these risks, kids can't explore all their potential — and they may miss out on an activity or opportunity that they love. And when they know you support them in the risks they want to try, they'll feel confident enough to take them on: "They're just trying to figure out who they are, and that's hard work. They'll be grateful you're by their side when all that work is done."
To read more, visit The Washington Post, and browse our resource recommendations below.  
Resources About Middle School and Risk
Many girls are consumed by self-doubt on the inside, especially during the tween and teen years — but if they can crack the confidence code, they can learn how to set worries aside and focus their energy on what's really important: confidently pursuing their dreams and embracing their authentic selves! In this book, Katty Kay and Claire Shipman, the authors of the best-selling The Confidence Code for adult women, draw on the latest research to help tweens understand how to short-circuit the thoughts that drain your confidence and hold you back. Illustrations throughout help draw girls into the book, while lists, quizzes, and stories from real-life girls help readers understand how to embrace risk (and failure), overcome anxieties, and be happy in their own skins. Girls will also enjoy the companion journal which will help them put these skills into practice, as well as Living The Confidence Code, which shares the stories of 30 real girls pursuing their passions.