A Mighty Girl's top picks of historical fiction starring Mighty Girls for tweens and teens!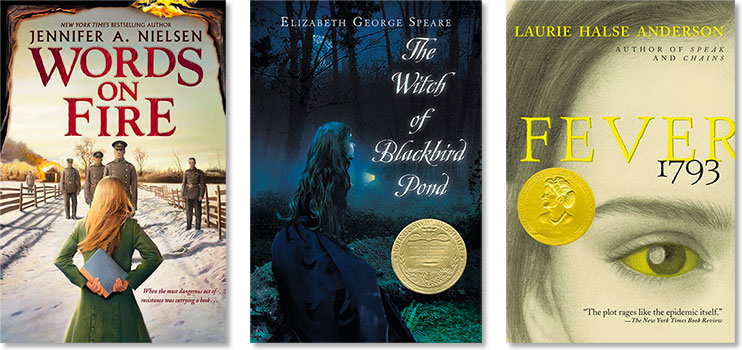 For many readers, a good work of historical fiction takes history from facts and figures on a page and brings it to life! Historical fiction encourages readers to imagine what it was like to live in times and places other than our own — and helps them see that, no matter when and where someone lives, people are more alike than different. Plus, historical fiction has a particular role to play when studying eras where girls and women were often relegated to the sidelines: it can draw out their involvement in the major events of the period and show that, wherever history was being made, girls were there too.
In this blog post, we've shared many of our favorite works of historical fiction starring Mighty Girls! These books take place in settings around the world, in times from hundreds of years ago to a mere generation past. Each of them stars a Mighty Girl character who shows that courageous, intelligent, and resilient girls have played a part in every culture and every time. Tween and teen readers will love getting to dip their toes into these different time periods — and to imagine what role they will play in the history that's being made today.
Historical Fiction Starring Mighty Girls
10-year-old Ruth Block knows tensions are rising in 1938 in Frankfurt, Germany. Jewish-owned stores are being shut down — including Ruth's father's stationery store — and people on the street shout mean things at Ruth and her family. One night in November, though, discrimination explodes into violence; Ruth's father is dragged into the square and arrested alongside hundreds of other Jewish men, and the mob vandalizes homes, businesses, and synagogues, littering the ground with broken glass that later gives the night its nickname: Kristallnacht, the Night of Broken Glass. Filled with photos, maps, and more, this fictionalized story of survival brings the fascist Nazis rise to power to life through the eyes of a girl living it firsthand. For more historical survival stories from the Girls Survive series, check out Daisy and the Deadly Flu, Lucy Fights The Flames, and Alice on the Island.