1.4 million students around the world turned out for her Global Climate Strike this week!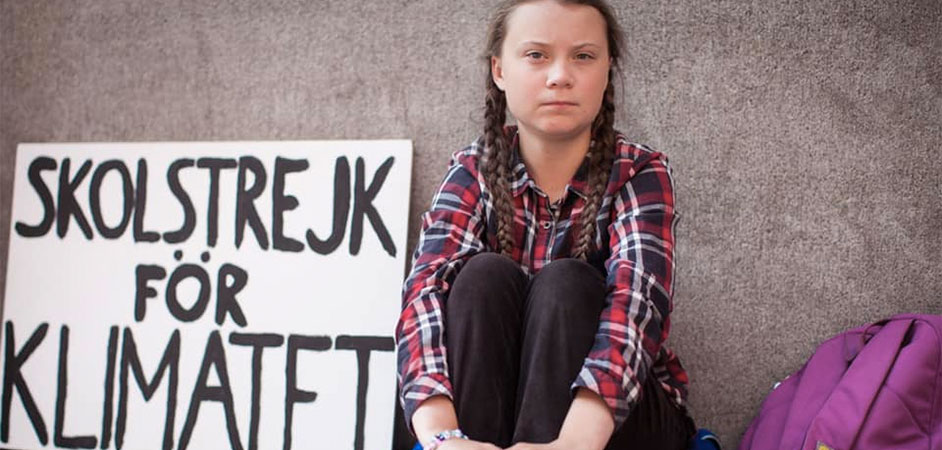 Greta Thunberg, the Swedish teen activist who founded the Youth Strike for Climate Movement, has been nominated for a Nobel Peace Prize for her work galvanizing youth around the world to take action on climate change! The 16-year-old began her skolstrejk för klimatet (school strike for climate) last August as a solo protest, but today her Fridays for Future protests span the globe. This week, an estimated 1.4 million students turned out for the Global Climate Strike, a day of action that saw over 2,000 events take place in 125 countries. Greta has persisted in her work to demand action from governments to address this environmental crisis, despite frequent criticism, much of it based on her age. "I agree with [my detractors], I'm too young to do this," she recently wrote. "We children shouldn't have to do this. But since almost no one is doing anything, and our very future is at risk, we feel like we have to continue."
On the surface, Greta is an unlikely person to start a global movement: the teenager, who was diagnosed with Asperger's four years ago, admits that she's painfully shy. "I have always been that girl in the back who doesn't say anything," she explains. "I thought I couldn't make a difference because I was too small." But from an early age, stories about the dangers to our environment affected her more deeply than her peers. "I remember when I was younger, and in school, our teachers showed us films of plastic in the ocean, starving polar bears and so on. I cried through all the movies," she recalls. "My classmates were concerned when they watched the film, but when it stopped, they started thinking about other things. I couldn't do that.... Some people can just let things go, but I can't, especially if there's something that worries me or makes me sad."
Greta was inspired to take her concerns public after seeing the Parkland students in Florida walk out to protest gun violence. On August 20, 2018, she painted a sign on a piece of wood, wrote a flyer to hand out to passers-by, and sat down to protest outside the Swedish parliament. "The first day, I sat alone from about 8:30 am to 3:00 pm — the regular school day," she recalls. "And then on the second day, people started joining me. After that, there were people there all the time." Then, she took a bold step and began to speak at public events, including a protest outside the European Parliament in October and the COP24 United Nations Climate Change Conference in December.
As her profile rose, Greta also had the opportunity to meet with — and challenge — world leaders at the World Economic Forum in Davos in January. She urged them to take the steps necessary to stop climate change, and she didn't mince words when she did so. "I don't want you to be hopeful. I want you to panic," she said bluntly in her speech at Davos. "You say nothing in life is black or white. But that is a lie. A very dangerous lie. Either we prevent 1.5 [degrees Celsius] of warming or we don't. Either we avoid setting off that irreversible chain reaction beyond human control or we don't. Either we choose to go on as a civilization or we don't. That is as black or white as it gets. There are no grey areas when it comes to survival.... I want you to feel the fear I feel every day. And then I want you to act."

As word of Greta's protest and speeches began to spread, she became a leader and role model to other children and teens around the world. But along with her fame has come criticism and online bullying. "I've seen many rumors circulating about me and enormous amounts of hate," she says. She has been mocked for her appearance and her Asperger's diagnosis. Critics have also claimed that she's being paid for her protests and that she doesn't write her own speeches. While she acknowledges that it's hard to read these accusations, Greta says that she considers them a positive sign: "I expected when I started that if this is going to become big, then there will be a lot of hate.... I think that must be because they see us as a threat. That means that something has changed in the debate, and we are making a difference."
She has also attracted growing praise and recognition for her activism, including Time magazine naming her one of the world's 25 most influential teenagers in December and a Swedish newsletter naming her Swedish Woman of the Year based on a public survey. Her greatest public recognition to date came this week when three Norwegian lawmakers nominated her for the 2019 Nobel Peace Prize. "We have proposed Greta Thunberg because if we do nothing to halt climate change it will be the cause of wars, conflict and refugees," said Norwegian MP Freddy André Øvstegård. "[Greta] has launched a mass movement which I see as a major contribution to peace." If she were to win, she would be the youngest recipient since Malala Yousafzai receive the prize at age 17.
While Greta said she is "honored and very grateful" for the nomination, her attention this week was focused on making the global day of action a success  —  and it exceeded all expectations. Among the 1.4 million students who spent the day striking for climate action, over 30,000 students walked out in Sydney, 10,000 rallied in London, England, and huge crowds turned in New York, Toronto, Lisbon, San Francisco, and many other cities around the world. Numbers like these give Greta optimism for the future and the possibility of real change. "I think we are only seeing the beginning," she says. "I think that change is on the horizon and the people will stand up for their future."
"This movement had to happen, we didn't have a choice. The vast majority of climate strikers taking action today aren't allowed to vote," she wrote in a Guardian op-ed. "Despite watching the climate crisis unfold, despite knowing the facts, we aren't allowed to have a say in who makes the decisions about climate change. And then ask yourself this: wouldn't you go on strike too, if you thought doing so could help protect your own future?... When our house is burning we cannot just leave it to the children to pour water on the flames — we need the grownups to take responsibility for sparking the blaze in the first place. So for once, we're asking grownups to follow our lead: we can't wait any longer. This movement had to happen. And now, you adults have a choice."
Children's Books About The Environment and Activism
"I take care of the earth because I know I can do little things every day to make a BIG difference." This book draws direct connections between suggestions for environmentally-friendly life and the way those actions protect the Earth — using both sides of the paper, for example, means fewer trees cut for paper, which also protects the wildlife that lives within those trees. Best-selling author / illustrator Todd Parr's signature art style is colorful and fun — and printed on recycled paper with soy inks. The book also includes a poster full of reminders of how kids can take care of the Earth every day.