From building sets to dolls, toys offer a fun new way to introduce kids to trailblazing women throughout history!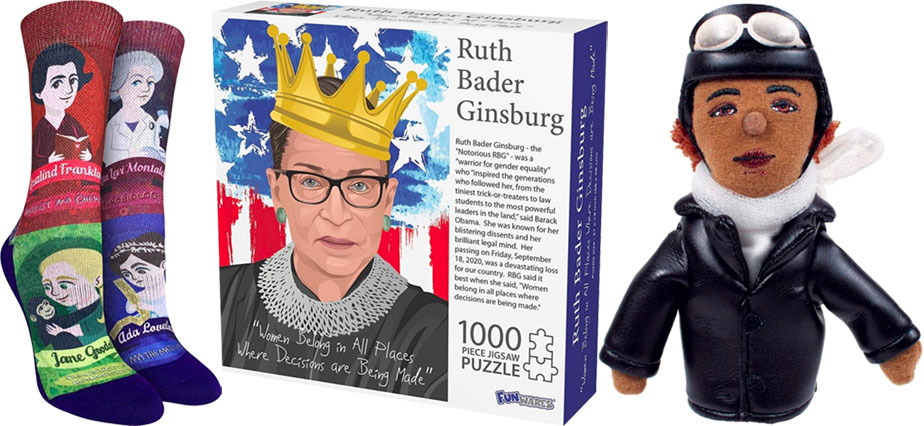 With all of the excitement, drama, and derring-do of women throughout history, why keep it to books? Women's history is full of impressive figures who smashed boundaries, stood up against injustice, and defiantly insisted on being true to themselves. When we pull their stories off the page, they become even more thrilling — and one way to do that is to bring women's history into the toy box! Dolls, games, building sets, and more provide a new way to spark an interest in women's history and a fun way to make these stories into part of day-to-day play. With options from toddlers to teens, the toys featured in this post will help kids discover remarkable women they may not have learned about in school, and introduce them to a variety of new role models to admire!
To deepen kids' understanding of the impact of the women featured in this blog post, and many others, visit our extensive History & Biography book collection.
Toys To Teach Women's HIstory
Introduce the littlest Mighty Girls to pioneering artist Frida Kahlo with this gorgeous gift set from the Little People, BIG DREAMS series! In the board book Frida: My First Frida Kahlo, they'll learn how an accident helped ignite Frida's career in art, as she poured her thoughts and feelings into her paintings. Then, they can play with the 7.25" plush Frida Kahlo doll! It's a lovely way to introduce kids to a trailblazing artist and feminist icon.
Buy:
Amazon.co.uk
(Unavailable)
The Book Depository
(Unavailable)
The Book Depository
(Unavailable)