Dorothy Height was the "the only woman at the highest level of the Civil Rights Movement," though her contributions are largely unknown today.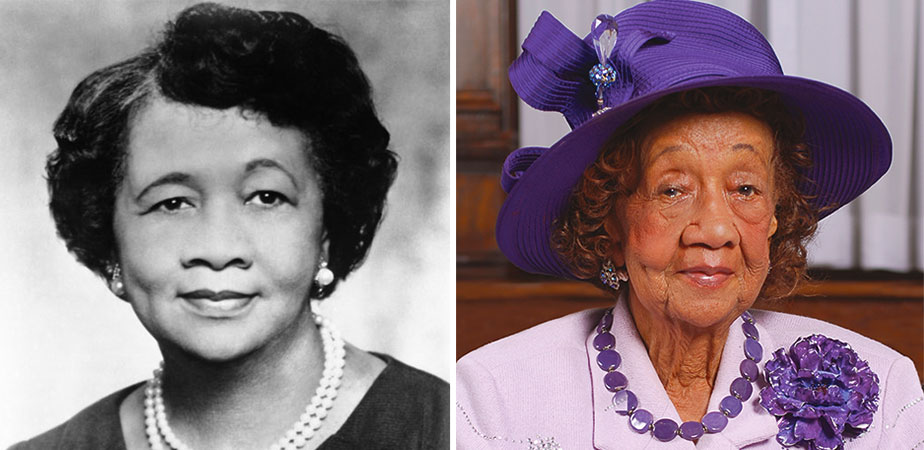 When Dorothy Height showed up at Barnard College in 1929 with her admission letter in hand, she was told by a college dean that they had already reached their quota of "two Negro students per year." Height, who had just graduated with honors from an integrated high school in Rankin, Pennsylvania, says that she was crushed, recalling, "I couldn't eat, I couldn't sleep for days." Unwilling to defer her dreams, she visited New York University with her Barnard acceptance letter and they admitted her on the spot. It was this determination that would drive Height through the following decades as she became, as President Barack Obama observed, "the only woman at the highest level of the Civil Rights Movement — witnessing every march and milestone along the way."
Born in 1912, Height was socially and politically active beginning in her teens, participating in several anti-lynching campaigns. As a high school senior, she demonstrated a talent for public speaking, even winning a national oratory competition that included a college scholarship. She graduated from NYU with a master's degree in educational psychology in 1933 and began working as a caseworker with the New York City Welfare Department. She joined the National Council of Negro Women at the age of 25 to become active in civil rights activism, and in 1957, she was named its president — a position she would hold for the next forty years.
In that role, she organized "Wednesdays in Mississippi," a group that brought black and white women from the North and South together to create bridges of understanding across regional, racial, and class lines. Height often advised national political leaders on civil rights issues, including Eleanor Roosevelt, Dwight D. Eisenhower, and Lyndon Johnson, and she was honored with the Presidential Medal of Freedom in 1994 and the Congressional Gold Medal in 2004.
For decades, Height had a far-reaching impact on the Civil Rights Movement, particularly in terms of encouraging women's involvement in civil rights activism; however, her efforts were rarely recognized by the media at the time or in history books today. In his memoir, civil rights leaders James Farmer included Height among the "Big Six" leaders of the Civil Rights Movement, alongside such figures as Martin Luther King Jr. and John Lewis, but observed that sexism led to her contributions being frequently ignored.
Barnard College officially apologized to Height in 1980, and granted her their highest honor, the Barnard Medal of Distinction. In 2004, they also made her an honorary alumna of the college. For her part, Height said in an interview that her rejection at Barnard taught her "that there is no advantage in bitterness, that I needed to go into action, which is something I have tried to follow since." Before she died at the age of 98 in 2010, she said, "I want to be remembered as someone who used herself and anything she could touch to work for justice and freedom. I want to be remembered as one who tried."
Books About Women of The Civil Rights Movement
To kids today, the idea of a child having to be escorted to school by armed guards to protect her from an angry mob is shocking, but 6-year-old Ruby Bridges faced exactly that in 1960. After a judge ordered that Ruby should attend the previously all-White William Frantz Elementary School, parents withdrew their children and held angry protests in front of the school. This compelling depiction of the child who became a civil rights hero just by attending first grade is now available in a special anniversary edition, which includes an updates afterword about Ruby's ongoing life and legacy. Independent readers can learn more about Ruby Bridges in Ruby Bridges Goes to School for ages 5 to 8 and Through My Eyes for ages 8 to 12.