Commercial mother-daughter pilot teams are extremely rare in an industry where less than 5% of all commercial pilots are female.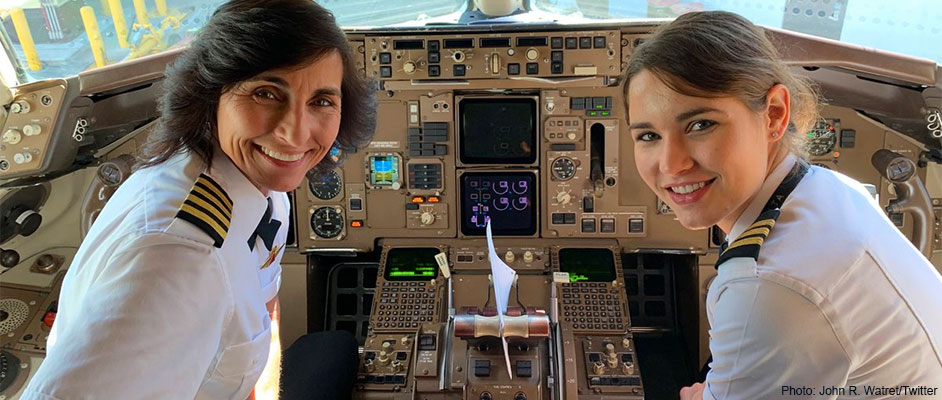 A mother-daughter pilot team inspired people around the world when they shared the cockpit of a Boeing 757! Captain Wendy Rexon and her daughter, First Officer Kelly Rexon, flew together from Los Angeles to Atlanta in March. When only 6% of commercial pilots in the U.S. and less than 5% globally are female, female pilots are already a rare sight but mother-daughter flight teams are virtually unheard of. Dr. John R. Watret, who took the pilots' photo, observed that such role models are important to encourage young women's interest in aviation: "The first officer had a great role model for becoming a pilot – her mother... It's good for aviation and inspiring for all of us."
Watret, the chancellor of Embry-Riddle Aeronautical University, a university which specializes in aviation and aerospace, first learned about the unique flight team when he overheard a family asking if their kids could visit the flight deck. "The flight attendant said they could – and that they would be surprised," recalls Watret. When they came back, he overheard the kids excitedly talking about the mother and daughter flying the plane. "I thought that was amazing. I was in awe," says Watret. "I asked if I could visit them, too." With their permission, he tweeted the photo he took, writing "Just flew from LAX to ATL on Delta piloted by this mother daughter flight crew. Great Flight. Inspiring for young women." Before long, it spread widely on Twitter, and Delta's official Twitter account tweeted: "We are very #DeltaProud of Wendy and Kelly! #KeepClimbing."
Given the scarcity of women pilots, it's no wonder that the pair captured the imagination of so many people. Federal Aviation Administration data from 2018 shows that, while the number of women pilots has increased since they started collecting data in 2004, they still make up only 7% of all licensed pilots and 6.4 % of commercial pilots. According to the International Society of Women Airline Pilots, 4,000 of the 130,000 airline pilots around the world are women, and only about 450 of them are captains. In the next 20 years, however, experts estimate that the industry will need 790,000 new civil aviation pilots and 754,000 new maintenance technicians, and there is strong interest in encouraging more women to enter the field.
Already, there are a number of promising signs for the future of women in aviation. Women now make up 13% of student pilots, and every year, girls around the world explore possible careers at Women of Aviation Worldwide Week events. Role models like Captain and First Officer Rexon — and Kelly Rexon's sister Kate who is also a pilot — provide visible signs to girls and young women considering careers as pilots that they belong on the flight deck. For his part, Watret is proud that his photograph has sparked the imagination of people around the globe, observing that it's critical that the industry become more welcoming to all interested pilots, especially women: "There has to be more diversification in the industry.... When there are more opportunities, everyone wins."
Inspiring Books About female Pilots
Young Amelia Earhart dreamed of flying like a bird, so as an adult, she decided to learn how to fly a plane! Female pilots were few and far between, but Amelia wanted to prove that women could fly just as well as men. First, she set a female world record by flying at 14,000 feet; then, she flew across the Atlantic and Pacific oceans; and finally, she decided to try flying all around the whole world. This board book from the Little People, BIG DREAMS series will inspire and empower the littlest readers.