By Lili Sandler, A Mighty Girl Senior Research Intern
Here in the northern hemisphere, tomorrow is the first day of spring! There is something very special about the days getting longer, the birds chirping from the trees, and those first daffodil buds peeking through the cold soil. It's a reminder that the cold is coming to an end and that days of sunshine and warmth are just around the corner.
Whether you're celebrating spring's arrival by going for a walk in the rain, planting seeds for a flower or vegetable garden, or peeking in birds' nests in search of hatchlings, one thing is certain: there are many wonderful books to share with the young people in your life that celebrate spring and all that comes with it.
EXPLORING YOUR WORLD IN SPRING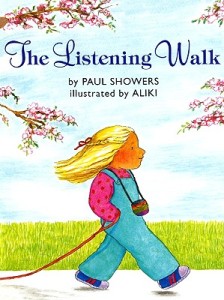 The youngest outdoor explorers are sure to love Gerda Muller's Spring, recommended for ages 2 - 4. In board book format, this book is without text, but the detailed and beautiful illustrations provide endless opportunities for little ones to make up their own stories, or to simply identify all of the wonderful signs of spring shown throughout this book.
In The Listening Walk author Paul Showers and illustrator Aliki reveal all the wonderful things you can hear in the outdoors. From the "zoooom" of a lawnmower, to the "twick twick" of a dog's nails or the "dop dup, dop dup" of her father's shoes on the sidewalk, each sound in this story is observed with a relaxed quiet by a happy little girl. Best for ages 3 - 7, this book is sure to inspire other Mighty Girls to take "listening walks" of their own.
Sometimes, spring can be wet. Really, really wet. But this is not always a bad thing! In Who Likes Rain?, by Wong Herbert Lee, a little girl suits up in her rain gear and heads out into the wet spring world in search of the answer to her question: Who likes rain? With lyrical text and delightful illustrations, we join the young heroine as she splashes in puddles and discovers how different plants and animals react to a spring rain. Recommended for ages 2 - 5, you'll almost feel the rain falling as you read this lovely book.
HOW PLANTS GROW
One of the most exciting things one can do in the spring is to start a garden. What will you plant? How long will it take to grow? What does it take to grow something? Will everything turn out the way you expect? Children are fascinated by growing things, and the transformation of seeds into flowers or vegetables is no exception!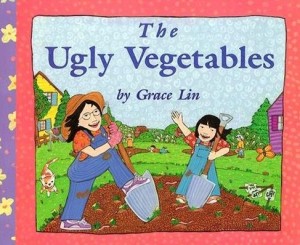 In Mary Quattlebaum's Jo MacDonald Had a Garden, the familiar E-I-E-I-O song and rhythm is applied to all of the wonderful things young Jo finds in her garden. With each turning page, the observant reader will notice the plants growing, as well as different animals visiting the garden. Perfectly complimented by Laura J. Bryant's watercolor illustrations, this book is an ode to gardening. Recommended for ages 3 - 6, there is even a handy informational section at the end of the book.
Told from the perspective of a little girl, Demian Elaine Yumei's Little Yellow Pear Tomatoes explores the interconnectedness of all living things, and how that relates to growing her favorite tomato, the yellow pear tomato. Inspired by the author's own daughter, as well as the Zen teachings of Thich Nhat Hanh, Little Yellow Pear Tomatoes provides a poetic way of learning about the cycle of life. Recommended for ages 3 - 7, this book will help children develop compassion for the natural world and their place therein.
While flower gardens are a sight to behold, vegetable gardens are sometimes, well, not. Grace Lin, in her first picture book, The Ugly Vegetables, describes a little girl's desire to have a beautiful garden full of flowers like her neighbors. Instead, her mother's garden is overflowing with prickly, fuzzy, wrinkly, viney things that are anything but attractive. But when the time comes to harvest those funny-looking vegetables, they create a soup so delicious that the whole neighborhood wants a taste! Complete with vibrant illustrations by the author, this book is recommended for ages 3 - 8.
GARDENS CAN TRANSFORM YOUR WORLD!
While many children thrill at what they can grow in a garden, there's no denying that there are other things they might like to harvest more than carrots. In Kevin Henkes' My Garden, a little girl with a big imagination thinks up all sorts of things she'd grow in her garden if there were no limits. Rusty old keys, jelly bean bushes, color-changing flowers, and strawberries that glow like lanterns are just a few of the special plants she imagines. Recommended for ages 2 - 6, this book will inspire both a blooming imagination and a blooming garden!
Transforming unused urban spaces into neighborhood gardens has become more and more popular over the years, but no less important. In Erika Tamar's The Garden of Happiness, a young girl is part of just such a project, and in her own section of the garden plants a seed that is to become the most special plant in the entire garden. Not only does her plant bring smiles to the faces of her neighbors, it even inspires a nearby mural, further beautifying the neighborhood. Recommended for ages 4 - 8, the whimsical illustrations capture the positive alterations brought to the neighborhood as a result of a garden.
A story that is dedicated to both beautifying the world and following one's heart, the classic tale Miss Rumphius will encourage every Mighty Girl to travel the world, all the while making it more beautiful. In this story, Miss Rumphius takes lupine seeds with her wherever she goes, and those seeds are in turn spread by wind, water, and with the help of birds, to take root and blossom into beautiful flowers. Gorgeous illustrations by the author make this American Book Award winner one that is sure to delight. Recommended for ages 4 - 8.
In the classic novel The Secret Garden, two lost souls find purpose and joy thanks to a hidden garden and the benevolent guidance of a new friend. A fantastic book for older children to read to themselves, but equally wonderful as a read-aloud to younger and older children alike, no one will be able to resist the intrigue, the depth of the characters, or the connections those characters make with the natural world as they witness and nurture their very own garden as spring comes to northern England. Highly recommended for ages 7 - 12.
Paul Fleischman's Seedfolks is a heart-warming story of urban renewal told from the perspectives of thirteen different individuals. One girl has the gumption to start a small vegetable garden in a vacant, rat-infested lot in Cleveland, Ohio. It is thanks to her initiation and wisdom that an entire neighborhood is transformed, touching the lives of many people. This touching and hopeful book is recommended for ages 9 - 12.
FURTHER RESOURCES