Through years of starvation, illness, and fear, the women continued to work together as a nursing unit, caring for thousands of people imprisoned with them.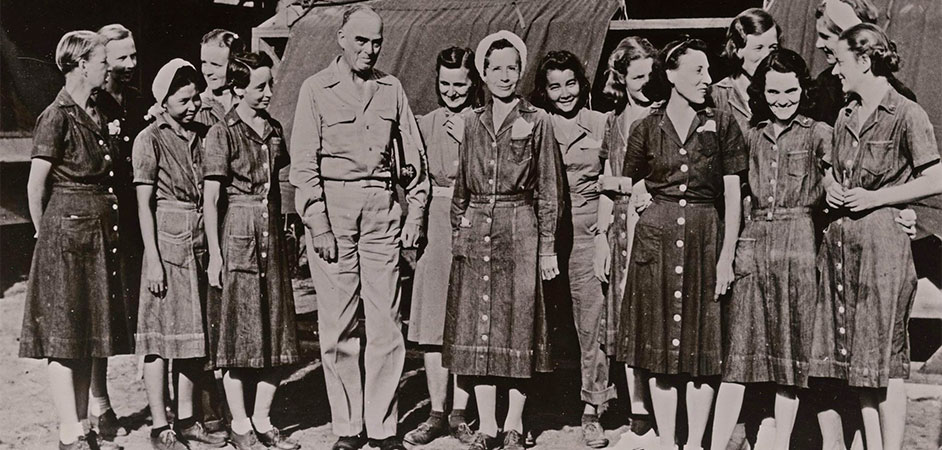 In 1942, 77 American Army and Navy nurses were captured by the Japanese, marking the beginning of what would become one of the greatest, yet little known, stories of heroism and sacrifice during World War II. Incredibly, every single woman survived three long years of starvation, illness, and fear as prisoners of war, all while continuing to work as a nursing unit, providing medical care to the thousands of people imprisoned alongside them. "They were a tough bunch. They had a mission," says Lieutenant Colonel Nancy Cantrell, an historian with the Army Nurse Corps. "They were surviving for the boys… and each other. That does give you a bit of added strength."
When American Army and Navy nurses were first stationed in the Philippines early in the war, it seemed like a tropical paradise. The weather was beautiful, the duties were light, and there was plenty of free time to enjoy golf, fine dining, and dates and parties with the soldiers. Nursing also provided them with an alternative career to the restricted options available to women: "Teaching and office work held little appeal," says Elizabeth M. Norman, author of We Band of Angels: The Untold Story of the American Women Trapped on Bataan. "The former meant taking care of someone else's children, the latter someone else's man." They took pride in their professionalism, but no one expected that they would ever see combat.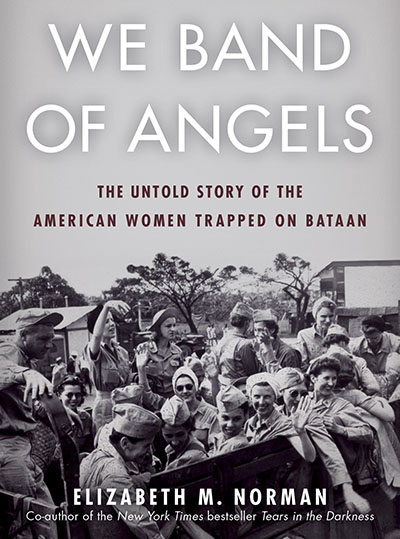 Everything changed on December 8, 1941, when word came about the Japanese attack on Pearl Harbor in Hawaii. As the nurses talked nervously, Josephine Nesbit, who was serving her second tour with the Army Nurse Corps and was second-in-command for the nurses in the Philippines, spoke up. "Girls, you've got to sleep today," she declared. "You can't weep and wail over this, because you have to work tonight." As she predicted, that evening, Japanese planes began bombing Manila. For the first time, the nurses saw brutal combat injuries flood into their wards. As it became obvious that Manila would fall, the nurses were evacuated to Corregidor and Bataan, where they set up two jungle hospitals, the first open-air wards run by Americans since the Civil War. Diseases like malaria and dysentery became commonplace, but the nurses stayed at their posts, treating the sick and the injured as best they could.
Bataan fell in April of 1942, and it was obvious that Corregidor would not hold much longer. Knowing that there was not enough time to evacuate all of her nurses, Captain Maude C. Davison, the chief nurse of the Philippine department, joined Colonel Wibb Cooper, the ranking medical officer, in creating a list of twenty nurses who would receive priority for evacuation. Her nurses later noted that, although Davison insisted that the selections were random, she had sent home all of the women who were ill, injured, or otherwise unlikely to be able to withstand lengthy captivity.
When the Allies surrendered the Philippines to the Japanese army, Davison led the remaining 66 nurses to the Santo Tomas Internment Camp in Manila, one of the notoriously harsh prison camps run by the Japanese military. There, they joined 11 Navy nurses who, under the command of Lt. Laura M. Cobb, had stayed in Manila while it fell to support the patients who could not be moved. In the camp, the nurses agreed that they would continue to provide medical care to their fellow prisoners. Davison maintained the same discipline in the prison camp that she had while they were stationed in Manila, setting daily shifts of at least four hours, even as their captors cut their rations to 700 calories a day. "I have always known that if I could survive that, I could survive anything," Lieutenant Mildred Dalton Manning later said.
By January 1945, with Japanese losses mounting, the situation in the camp was dire. The nurses had resorted to eating weeds, roots, flowers, and slugs; patients in their care regularly died of malnutrition. With prisoners' rations down to "only one cup of rice twice a day," Manning observed that it "was the year we starved to death." By the time the camp was liberated on February 3, 1945, the nurses had lost an average of 30% of their bodyweight. Davison, who normally weighed 135 pounds, had dropped to 80 pounds and had to be hospitalized. Still, every single nurse who entered Santo Tomas left it. "There were 77 American women who became POWs and there were 77 who walked out in 1945," says Norman. "This is unprecedented, particularly for women who had no formal survival training."
When the women were rescued, there was brief fanfare: they received Bronze Stars for valor, and many of them were welcomed home with local celebrations. But little more was done for them, even though they were still weak from their ordeal. Davison, who had to take medical retirement in 1946, was recommended for the Distinguished Service Medal; however, the War Decorations Board refused to grant it, saying that Davison's heroism had not been an independent action, but was at the direction of the male medical officer. The nurses were also denied many of the benefits granted to men returning from the war, since they were not considered combat forces, and many veterans' service organizations like the VFW and the American Legion did not even accept female members until three decades later.
Fortunately, in recent years, more has been done to remember and recognize these inspiring women. In 1980, former soldiers who had survived POW camps dedicated a bronze plaque at the Mount Samat shrine "in honor of the valiant American military women who gave so much of themselves in the early days of World War II." After years of campaigning, Davison was posthumously awarded the Distinguished Service Medal on August 20, 2001. While none of the Angels of Bataan are believed to survive today, they would no doubt be thrilled to know that their part in history is being told in books like We Band of Angels. "It's about time. There have been stories written, a person's personal story. But nobody's ever told the whole story," said former Army nurse and prisoner of war Helen Cassiani Nestor in 1999. "There's still a lot of discussion about the role of women in combat.... Our group proved that we could go into the field and carry on and do a good job. People need to know that."
Books About The Angels of Bataan & WWII Nurses
Recommended Age: 12 and up
World War II marked the first time American military women ended up in a prisoner of war camp — despite the fact that none of them were supposed to be in combat. This book tells the story of the 101 American Army and Navy nurses serving in the Philippines who were captured by the Japanese as prisoners of war. Through their years as near-starving POWs, they continued to care for the ill and the wounded — and yet, it was only in 1983 that any official recognition of the service was made. The gripping story of these women — all of whom remarkably survived the war — is sure to inspire teens and adults alike!