Eight pioneering female pilots who went Higher, Further, Faster!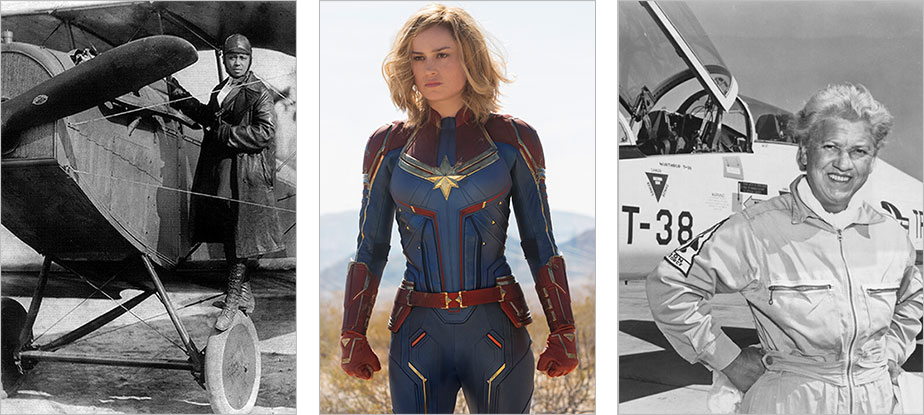 Marvel Studios' Captain Marvel was a blockbuster hit after its release in March — becoming the first female-led superhero film to pass $1 billion at the box office and inspiring legions of Mighty Girls with dreams of flight! The film tells the story of Carol Danvers, a U.S. Air Force test pilot who develops superhero abilities. Like many real-life female pioneers of flight, however, Danvers has to overcome doubt about her capabilities — from within and without — to discover her true strength.
Despite the skepticism, female pilots throughout history frequently and repeatedly proved that they had the right stuff, breaking records, achieving seemingly impossible feats, and earning their wings time and time again. And while Amelia Earhart may be the only such name that leaps to mind, she is only one of the many groundbreaking women who found their places among the clouds. For all those Mighty Girls who have been inspired by Captain Marvel to go Higher, Further, Faster, here are eight real-life heroic women who broke through all the boundaries placed on them and soared!
For those who haven't seen Captain Marvel — or for Mighty Girls who loved it and can't wait to see it again — you can get it now on Digital and Blu-ray!

Real-Life Mighty Women Pilots You Should Know
Raymonde de Laroche (1882 - 1919)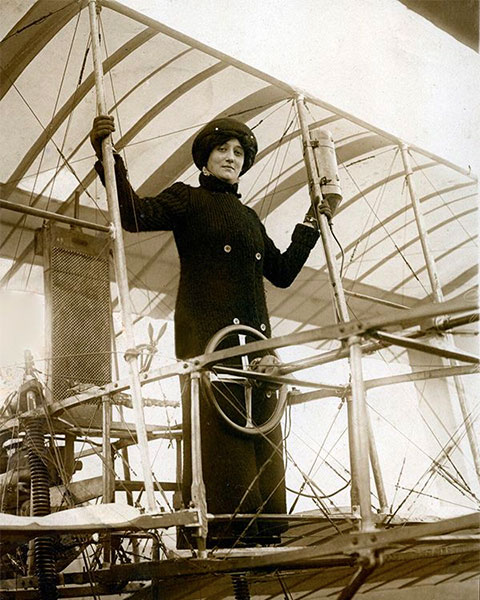 Not long after powered flight was invented, French pilot Raymonde de Laroche became the first woman to earn a pilot's license! The daring young woman loved motorcycles and cars, and when Wilbur Wright demonstrated powered flight in Paris in 1908, she immediately knew she wanted to fly. She took her first lessons in October 1909; although being a woman pilot made her a novelty among novelties, she declared that "flying is the best possible thing for women." The Fédération Aéronautique Internationale (International Aeronautics Federation) issued her with pilot's license #36 on March 8, 1910, making her the first licensed woman pilot. Laroche would go on to win international acclaim, despite severe injuries from a crash in July 1910 that kept her from flying for almost two years. Nevertheless, in November 1913, she won France's Femina Cup with a four-hour, non-stop flight. She also set two women's altitude records in 1919, the highest at 15,700 feet (4,800 m) and the women's distance record at 201 miles (323 km). Sadly, that July 18, Laroche was killed when the experimental plane she and a co-pilot were testing crashed. Her legacy lives on, however: Women of Aviation Worldwide Week is still held on the week of March 8, the anniversary of the day she received her pilot's license.
Bessie Coleman (1892 - 1926)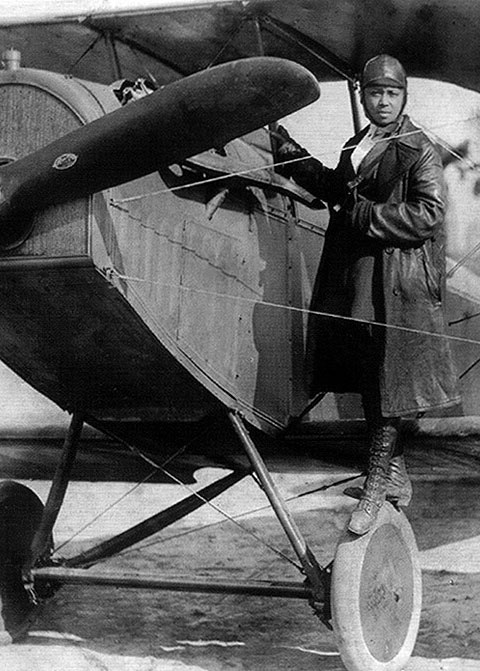 American pilot Bessie Coleman was born to a family of sharecroppers in Texas in 1892. When she was 24, she moved to Chicago with her brothers and took a job at a barber shop, where she was captivated by stories from pilots returning from World War I. She started saving money to attend flight school, but discovered no American flight school would accept her due to her gender and race. Instead, she learned to speak French and traveled to Paris to earn her pilot's license. She received her license on June 15, 1921, becoming the first black woman to earn a pilot's license. After returning to the US, she specialized in stunt flying and quickly became a media sensation and a popular draw at airshows, earning the nickname "Queen Bess." Coleman died tragically on April 30, 1926; a newly purchased plane unexpectedly went into a spin, and she was flung from the cockpit at 2,000 feet. Still, she inspired a generation of African-American pilots, both men and women; "Because of Bessie Coleman," Lieutenant William J. Powell wrote in his 1934 book Black Wings, "we have overcome that which was worse than racial barriers. We have overcome the barriers within ourselves and dared to dream."
Amelia Earhart (1897 - 1937)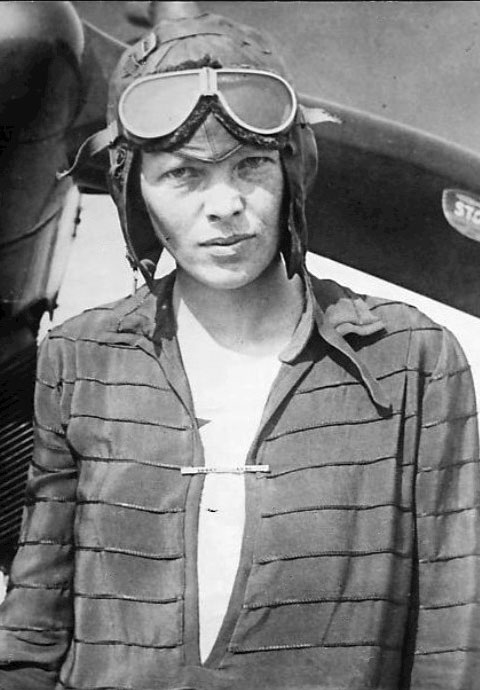 American aviator Amelia Earhart remains one of the most famous early women pilots. As a child, she built her own "roller coaster" from the roof of the family shed that she declared was "just like flying!" Earhart got a taste of real flight in 1920, when she went on a 10 minute ride. "By the time I had got two or three hundred feet off the ground, I knew I had to fly," she later remembered. She started flying lessons with aviation pioneer Anita "Neta" Snook in 1921, and became a household name in 1928 when she became the first woman to "fly" across the Atlantic. However, because most of the flight was by instrument, "[Wilmer] Stultz did all the flying — had to. I was just baggage, like a sack of potatoes," she admitted. "Maybe someday I'll try it alone." She successfully did so in 1932, becoming the first woman to pilot non-stop across the Atlantic. She then set her sights on a round-the-world flight. On July 2, 1937, 22,000 miles into the 29,000 mile trip, Earhart and her navigator Fred Noonan took off from the Lae airfield in Papua New Guinea; they would never be seen again. Earhart inspired a can-do attitude in generations of girls and women; her spirit is best captured in her famous quote, "Never interrupt someone doing something you said couldn't be done."
Beryl Markham (1902 - 1986)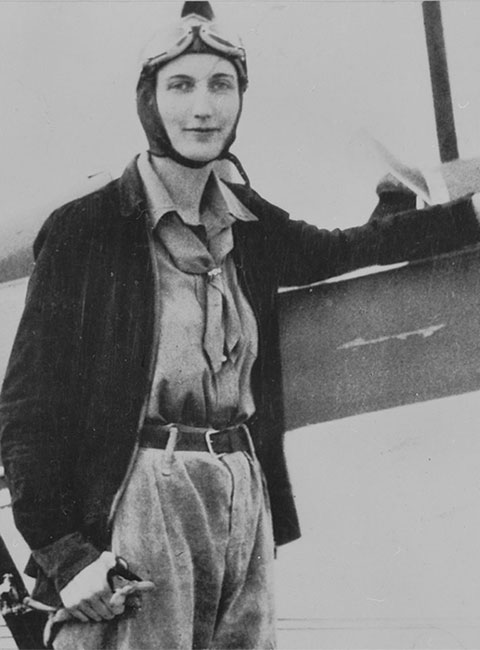 British-born Kenyan pilot Beryl Markham started learning to fly in her twenties, and before long she was working as a bush pilot, spotting game animals from the air for safari expeditions. But she wanted a bigger adventure, so she set her sights on non-stop Atlantic crossing, from east to west. At that point, no woman had flown the westward crossing either non-stop or solo; Markham wanted to capture both records. Several women had died attempting the flight, and Markham herself ended up crash-landing in Nova Scotia, Canada on September 4, 1936, after ice clogged her fuel tank vents. Nevertheless, she had made it to North America, and she was briefly celebrated as an aviation pioneer. She wrote a memoir, West With The Night, but her fame quickly faded and she remained in obscurity until 1982, when George Gutekunst read her book and persuaded a publisher to re-issue it. Markham, who was 80 at the time, had been living in poverty in Kenya; the new success of her memoir allowed her to live her remaining years in comfort. "I look at my yesterdays... and find them as good a lot of yesterdays as anybody might want," she wrote in her memoir. "I have had responsibilities and work, dangers and pleasure, good friends, and a world without walls to live in."
Jacqueline Cochran (1906 - 1980)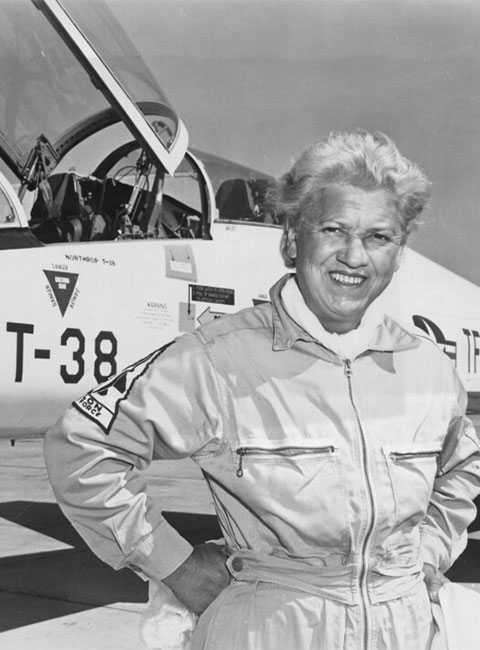 It only took one ride in an airplane to make American aviation pioneer Jacqueline Cochran realize that she was destined to fly: she immediately started flying lessons and was flying solo in just three weeks. By the late 1930s she was nearly as famous as Amelia Earhart, but it was during World War II that Cochran had her most dramatic influence on aviation. She campaigned tirelessly for women pilots to be allowed to fly non-combat missions, such as delivering new aircraft and conducting reconnaissance. Cochran would become the director and a key trainer of the Women Airforce Service Pilots (WASPs); the WASPs proved that women pilots were just as competent and daring as their male counterparts. Under her direction, the WASP pilots flew 60 million miles of operational flights and delivered over 12,000 aircraft. For her war efforts, she received the Distinguished Service Medal and the Distinguished Flying Cross. After the war, Cochran became the first woman pilot to break the sound barrier, and was part of the Mercury 13 program to determine if women could be considered as astronaut candidates. Sadly, she never lived to see an American woman go to space, and she always wished it were different: "I'd have given my right eye to be an astronaut."
Nadezhda Popova (1921 - 2013)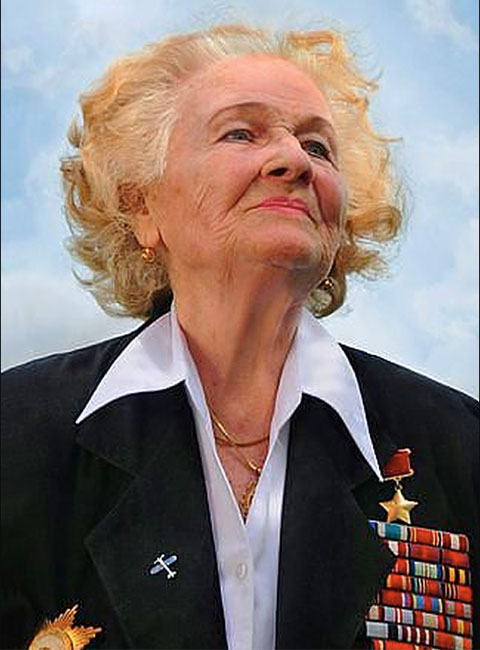 Nadezhda Popova went from a curious teen fascinated by flight to one of the Soviet Union's great war heroes. After seeing a small plane land near her village, she enrolled herself in gliding school at the age of 15. When World War II began, she volunteered to fly but was turned away: the Soviet government still barred women from combat. In October 1941, though, Marina Raskova convinced Joseph Stalin to create three female flight regiments, and Popova signed on immediately. She rose to command the 2nd Women's Regiment, which was nicknamed the "Night Witches" by German soldiers because the whoosh of their plywood and canvas crop duster airplanes reminded them of the sound of witches' broomsticks. The Night Witches had no guns or parachutes, lights or radar; they flew by map and compass with one bomb strapped under each wing. Popova flew 852 sorties over the course of the war, with a personal record of 18 flights in a single night. She was awarded the title Hero of the Soviet Union in 1945, but like the other Night Witches, her fame faded after the war. In recent years, though, these daring pilots have been remembered as the war heroes they were. "We had an enemy in front of us," she once declared, "and we had to prove that we were stronger and more prepared."
Jerrie Mock (1925 - 2014)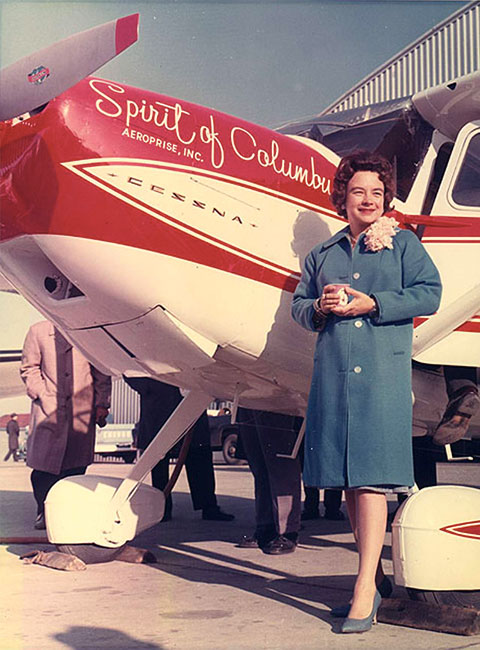 A joking suggestion from American pilot Jerrie Mock's husband set her on the path to being the first woman to fly solo around the world! Mock adored airplanes from an early age, and she even studied aeronautical engineering at Ohio State University, but she left her studies when she got married. Once her oldest children were in school, she earned her pilot's license, and when she complained about being bored at home, her husband jokingly said, "Maybe you should get in your plane and just fly around the world." Mock, who had always dreamed of following Amelia Earhart's route, decided to do just that. She set off on March 19, 1964 at the age of 38; another woman, Joan Merriam Smith, had started her own attempt just two days before. Soon, the media started following the race; they nicknamed Mock "the flying housewife." Mock had planned a leisurely sightseeing trip, and instead ended up flying twelve grueling hours a day, but when she landed back home on April 17, she was celebrated across the country. However, she was forgotten just as quickly, and after 1969, finances prevented her from ever flying again. Still, she often spoke about the joy that her record-setting flight had brought her: "I just wanted to have a little fun in my airplane."
Betty Skelton (1926 - 2011)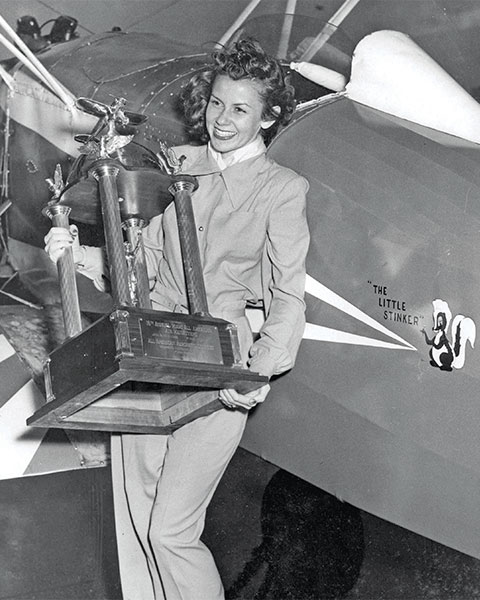 American pilot and daredevil Betty Skelton broke so many records, she was known as the "First Lady of Firsts"! As a child, Skelton was fascinated by the planes that flew overhead from the nearby Naval Air Station. She received her Civil Aviation Authority pilot's license at age 16, which qualified her for the Women Airforce Service Pilots (WASP) program, However, their minimum age was 18 1/2, and the program was cancelled before she came of age. Since she couldn't fly military or commercial flights, Skelton learned to perform aerobatic tricks; in a signature move, she cut a ribbon 10 feet off the ground with her propeller while flying upside down. After winning three US Female Aerobatic Championships, and setting multiple records, Skelton switched to auto racing, setting yet more records and becoming the first female test driver in America. Skelton was even the first woman to take NASA's astronaut tests; the male Mercury 7 took to calling her "7 1/2." However, NASA rejected the idea of female astronauts, so the daredevil never got her chance to fly to space. Her advice about being the best still rings true today: "No matter what deters you along the way, in your every waking moment you must say to yourself, 'I could do it.'"
This blog post in sponsored by Disney Home Entertainment. All opinions and ideas are entirely those of A Mighty Girl.