The best biographies, memoirs, and historical fiction for adults about heroic women of World War II.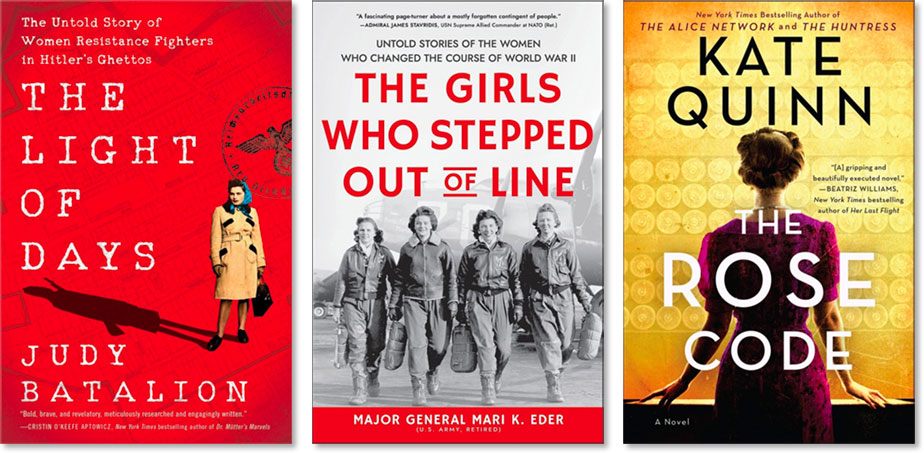 Women have always served their countries in many ways during wartime, but the sheer scope of World War II demanded more of them than ever — and they answered the call. Around the world, women served as military nurses, pilots, resistance fighters, codebreakers, spies, and in other roles. For decades, their stories were little known. Sometimes, details were classified so women couldn't tell anyone, even their families, about the work they had done during the war. Other times, they hesitated to share their experiences, often because they humbly believed that their contributions were "ordinary." And, in some cases, their work was left out of histories because society did not recognize that women could be veterans, and that an Army nurse or a WASP pilot or an SOE spy deserved just as much celebration for her heroism as any soldier.
To give these heroic women the recognition they deserve, we're sharing books for adult readers that bring these untold stories of women's courage and patriotism to light! We've selected well-researched and absorbingly written biographies, which show that truth is sometimes just as exciting as fiction, as well as some of our favorite historical fiction novels that incorporate characters inspired by these daring women. Thrilling and inspiring, these books will bring an important new dimension to your understanding of World War II and the critical and myriad roles that women played in it.
Biographies and Memoirs About Women of World War II
Recommended Age: 12 and up
During World War II, women around the world stood up to protect those they could, doing everything from transmitting radio messages from occupied France, to hiding Jewish families or smuggling them out of dangerous territory, to conducting sabotage missions throughout Europe. Kathryn J. Atwood tells some of their stories in this book, showing how these women, from many nations and backgrounds, each took tremendous risks to fight the battles that they were not permitted to fight on the front. A companion book, Women Heroes of World War II: The Pacific Theater, tells the stories of women's contributions in China, Japan, Malaya, Singapore, the Dutch East Indies, and the Philippines.
Historical Fiction About Women of World War II