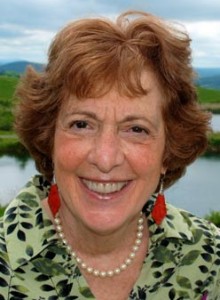 By Jennifer de Beer, A Mighty Girl Senior Research Intern
We are pleased to continue our new blog series, A Mighty Girl Creators, with our latest installment: a conversation with author Doreen Rappaport. An award-winning creator of nearly forty books for children and young adults, Ms. Rappaport often shares the true stories of remarkable individuals from over the course of history. In particular, she likes to feature those figures whom she calls "not-yet-celebrated." She is an especially appropriate subject for Women's History Month, as her writing so often celebrates the lives and contributions of women while making their stories accessible to young readers.
On A Mighty Girl's website, you will find multiple books from Ms. Rappaport's pen, and the selections cover a wide range of non-fiction territory. There are picture books presenting engaging biographies of Eleanor Roosevelt and Helen Keller, and a gripping tale of female baseball legends. Older children will be invited to read stories of danger and bravery in Escape from Slavery: Five Journeys to Freedom, a collection of five true tales, four of which focus on girls or women. A young adult audience will discover fascinating historic content within the covers of The Flight of Red Bird: The Life of Zitkala-Ša and American Women: Their Lives in Their Words, two publications that heavily feature primary source material.
Doreen Rappaport has been a noted author at the National Book Festival, the White House, and the Smithsonian Museum of American History, among other places. She lives in New York, dividing her time between her home in New York City and the upstate village of Copake Falls. Currently, she is actively involved in promoting her latest publications, Beyond Courage: The Untold Story of Jewish Resistance During the Holocaust and Helen Keller's Big World: The Life of Helen Keller, and already thinking about what will come next. She can be found on her website and Facebook.
A Mighty Girl's Interview with Doreen Rappaport
1. So many of your books have featured both sung and unsung heroines, from Helen Keller to Zitkala-Ša. Is it important to you to feature such strong women in your writing and, if so, why?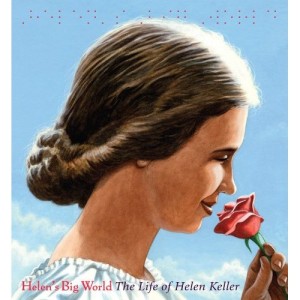 Yes, it is. It's important to me to put in as many multicultural figures as I can in books, and it is very important to me to put in women. Mainly because I come from the generation of the 50s in which women were told that we ought to get married, and we should be quiet, and we should, you know, be seen — not exactly like Eleanor Roosevelt, be seen and not heard, but that our horizons were not as wide as it is, let's say, for my granddaughters.
In my own consciousness-raising group, in the Women's Movement, and in the Civil Rights Movement, I had a lot of consciousness raised about race, and these issues are still very important to me. Though, I have to say, it's a wonderful thing to see how my granddaughters think that their horizons are unlimited. In fact, they wouldn't even say that, you know what I mean? They're just going after what they want, and that is such a big, wonderful change to see.
2. How do you choose the historical figures about whom you write?
It's in two ways. I will only write about someone I think has done something, and tried to struggle to undo some damage, or undo some stereotypes, or forge new paths. And sometimes my editors now suggest somebody.
In fact, I have a book coming out in a year and a half, called Elizabeth Started All the Trouble, and it is about Elizabeth Cady Stanton and the other women who forged the Women's Rights Movement. And I tried to focus in that book on the variety of women who were involved.
Kids think: it's Rosa Parks, they think it's Martin Luther King, they think it's Harriet Tubman — [but really] it's networks of people who are always creating history. So, I am writing about Elizabeth Started All the Trouble because she's a recognizable name, but it is also an opportunity to introduce a lot of other women too, and what they did, and how the Women's Movement progressed.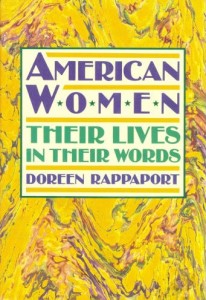 3. Many influential women are still footnotes in standard history books. As an individual who cares deeply about history, do you have ideas for parents, teachers, and others about how best to share these women's important stories with today's youth?
Well, they should try to find the books that are about a variety of women, but it is getting very hard for them. And maybe they should also talk about their own relatives, and the work they're doing, and the struggles that they've had. Their mothers have stories, and their grandmothers have stories.
You know, I finished a book on the Holocaust, called Beyond Courage: The Untold Story of Jewish Resistance During the Holocaust, and there are young Jewish women whose grandparents were in the Holocaust, and who were resisters. I wish parents would encourage their daughters to ask questions of their mothers, and their grandmothers, and maybe their neighbors who are women, to find out what their lives were like. I really think we all have great histories. And they all can be captive. Everybody has got a story, and I would love for parents to share their stories with kids [and, in particular, for] mothers to share their stories about how life was different from when they were girls, and what it is for their girls now.
4. As you know, the women you have written about have led long and complex lives. How do you turn an entire life into an engaging story accessible to young readers? Do you look for certain elements or experiences?
I spend a lot of time reading biographies written by historians about these particular women. I read a lot of these women's letters and their own autobiographical writing. With Helen Keller and with Eleanor Roosevelt, with Elizabeth Cady Stanton, with Susan B. Anthony, there is lots of material that they wrote. What I try to do is pull out what I think is the major theme of somebody's life that kids can relate to — and of course it does depend on the age.
So, with Eleanor, Quiet No More, I think what resonated with me was I was a very noisy girl, and I got the message, subliminally, to be quiet. Not necessarily from my parents, but from a lot of other people. And I realized that Eleanor had shut herself off (for different reasons). I thought, as she emerged, and she became this voice for women and for so many other minorities that that could be a theme, and that helped me structure the life.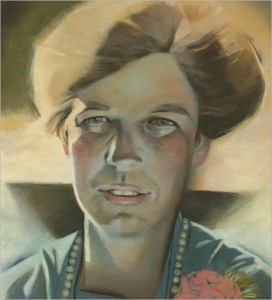 For Helen Keller, it was the darkness and silence she came out of. And so, what I realized was the point of the book was to show how big her world got. How much opened up for her, despite this early complete tragedy that shut her off from all of society.
So it's really looking for the theme. I don't try to dumb it down. I try to find a way that brings out the thought without maybe confronting a concept or developing a concept that [kids] might not understand anyway.
5. Your book, Dirt on Their Skirts: The Story of the Young Women who Won the World Championship, focuses on the All-American Girls Professional Baseball League championship of 1946. What inspired your interest in this story?
Here's why I wrote this book. In [the movie A League of Their Own], the two sisters have a fight. One is the big star, [actress] Geena Davis, and [the other is actress Lori Petty]. When they are confronting each other in the championship game, it seems in the movie that Geena Davis tells the pitcher, "My sister doesn't like a particular kind of pitch." And when [the pitcher] throws that pitch, that's the pitch that the other sister hits, that makes her come home, and gets her around the bases.
This movie was such an important piece of history, and I was so glad that it was there. But, I didn't like the implication that the sister who was champion gave some information to her pitcher that...helped her sister [and] changed the game. It had the implication that she wanted to patch up things with her sister at the expense of her team winning.
So, I said to my daughter, who is a very good writer, "Let's try to find this story." And what I found out was, there was a woman named Sophie Kurys, who stole three bases to get home, and then I said, "Let's do that story. Let's get the record straight."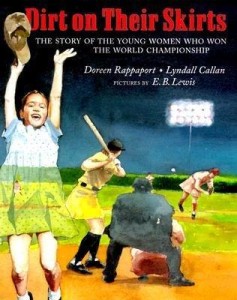 That's what appealed to me about [Dirt on Their Skirts]. That it was a very tight thing, in the 14th inning; it had a huge amount of suspense, which kids like; there was this dilemma; and here was this incredible base stealer, Sophie Kurys. So, that was my fix — I could be wrong! — but that was my fix that led me to write that book.
6. Can you name some women who piqued your interest as a child, and served as your Mighty Girl role models?
My piano teacher, Miriam Kartch, who was single.
My parents' friends, the women who were in show business. But I also had mixed signals, because my mother, who was a wonderful performer, left performing when she had children. I knew a lot of strong women through my parents, who were in theatre and show business. So I knew women could accomplish a great deal. But I also knew that my mother had kept herself at home...when she got married. It sent a mixed message.
I did love reading the women writers, and I loved reading books like The Secret Garden, which I must say I reread recently, and it felt very corny. But, [Mary Lennox] was very aggressive for a girl of that era. And she sought out the Secret Garden, and I think that talked to me.
7. In Eleanor, Quiet No More you mention that Eleanor Roosevelt was a female role model unique to the times. Who are a few of the other women throughout history that you particularly admire today?
Well, there's Ida B. Wells, who was an anti-lynching crusader. A young black woman who, when her parents died in the Memphis yellow fever epidemic, took care of her brothers and sisters, [and] became a journalist. Then when there was a particular incident in Memphis, and a friend of hers was shot, she sought out the story beneath it and found out that it really was about rape and lynching, and she became a crusader. She is one of my heroes.
And Mother Jones, the labor organizer. Who actually didn't think suffrage was that important. She thought organizing was that important. But man, did she go everywhere! She went everywhere and spoke out and shouted. I greatly admire her.
I admire Zitkala-Ša, Red Bird. She and her husband did start the first American Indian organization. They didn't achieve what they wanted to, but we've got that landmark of what she did. I loved how she just fought back when she's in the boarding school, when they tried to cut her hair. She knew what they were doing, she knew they were taking away her heritage.
I just love these women! They are very uncompromising — these people I admire are very uncompromising. Eleanor Roosevelt was not compromising politically. She really spoke out, she really opened her mouth.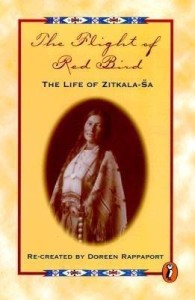 8. You mentioned The Secret Garden already, but what were your favorite Mighty Girl stories as a child (fiction or non-fiction)?
Can I tell you, there weren't many Mighty Girl stories when I was a child. The only women I ever remember reading about were Eleanor Roosevelt, who was always presented as Franklin's wife, and Jane Addams — who was, and is, and remains extraordinary. There weren't many. There were no YA books when I was a kid; I read adult books when I was a kid.
And of course, I did know about Helen Keller. Everyone knew about Helen Keller. I don't think we knew anything beyond the water pump, and that she learned to speak. I don't think we understood her politics, and how she spoke out for women voting, and how she spoke out for unions, and how she was against child labor laws. That wasn't in the books that were written about Helen Keller then.
9. In your opinion, what are three key biographies that the Mighty Girls of today should read?
The older Mighty Girls should read Russell Freedman's biography of Eleanor Roosevelt, Eleanor Roosevelt: A Life of Discovery.
I think it's not just about girls, but I think all kids should read Ellen Levine's book on the Montgomery bus boycott, [Freedom's Children: Young Civil Rights Activists Tell Their Own Stories]. It's a wonderful book of oral history.
And I think they should read my book, American Women: Their Lives in Their Words, which is a documentary history of American women, from the American Indians to kids of today.
[I also] think they should read
Roll of Thunder, Hear My Cry
, which is a novel, set in the South, during segregation. [It's] about an incredibly strong black family, and how the children maneuver through segregation, and the strength of the parents, especially the grandmother and the mother. I like the idea also of kids realizing that in families, men and women often pull together, the parents. Because that can set up a model for how families can function.
10. You mentioned Elizabeth Started All the Trouble already, but do you have any other new books in the works? Will we see more biographies of amazing women from you?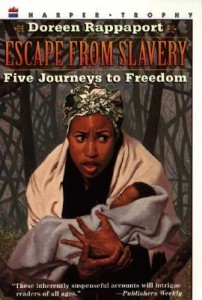 I am trying to sell a few books on women, that are very important to me, and I am hoping I can find a publisher who is interested. I think the strength of A Mighty Girl is hopefully to point out that there is a need for these books on girls and women.
[Also, check out my ebook,]
Living Dangerously: American Women Who Risked Their Lives for Adventure
. It covers Annie Edson Taylor, who went over Niagara Falls in a barrel; Bessie Coleman, the first black pilot in the United States, in fact I think in the world; Annie Smith Peck and her attempt to climb Mount Huascarán in Peru for the sixth time, which is all based on her diaries — and the other books are based on diaries, too; Delia Akeley, whose husband got a lot of press from the Museum of Natural History, but she was also a conservationist, and brought back trophies, and did the reconstruction of the animals, with her husband and a loan from the Museum of Natural History; and Thecla Mitchell, a triple-amputee who ran in the 1990 Marathon.
That is a book that balances, for me, the varieties of daring that people can have, and the variety of struggles that women face. There are different classes, there are different races, different backgrounds. Annie Edson Taylor is 60 when she decides to go over Niagara Falls in a barrel, and she is a schoolteacher, so I really like that. Chris Van Allsburg has done a nice book on her, a picture book that is very beautiful; mine is a collection of stories.
11. Is there anything else you'd like to share with our community?
I'm so glad you're all there! Thank you!
Additional Resources
* To learn more about Mighty Girl Creators, check out our first interview in the Creators Series with author Ingrid Law.
* For a wide selection of biographies for young readers about remarkable girls and women, visit our Biographies section.