By Lili Sandler, A Mighty Girl Senior Research Intern
Summer is here! It's time to get outside and enjoy the long hours of sunshine! There are so many ways to explore the outdoors with the Mighty Girls in your life, and in this post we recommend a few of our favorite outdoor toys, games, and gear to consider for your adventures. If you'd like to discover more options beyond our recommendations below, you can also visit A Mighty Girl's extensive Outdoor Play section to learn about a wide range of excellent toys and games for children and teens.
INDEPENDENT ACTIVE PLAY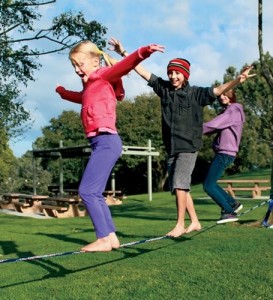 When it's time to graduate from a ride-on to a two-wheeler, instead of using the typical training wheels, many studies — and more importantly, parents — agree that the best way for a child to learn to ride her own bike is by first mastering balancing. If your child can run, she is ready to try her own balance running bike with the Strider PREbike! She'll be whizzing up and down the sidewalk in no time, and developing both pre-bicycling skills and confidence, too!
For more wheel-based fun, check out this cherry blossom skateboard from Punisher Skateboards. All that time on her balancing bike will come in handy as she weaves her way around obstacles and over bumps. This board is 31 inches long, made of Canadian Maple, and is sure to delight girls 6 and older.
A classic for developing core strength and focus, the Gibbon Slacklining Funline (pictured at right) is fun for a variety of ages and abilities. A long, narrow, flexible piece of webbing that is anchored between two objects provides for games, races, or simply practicing balance skills. This slackline is 12 meters long and 2 inches wide, and is recommended for ages 5 and up.
If you have a Katniss- or Merida-in-training, she's sure to want her very own bow and arrows. The Bear Archery Wizard bow is perfect for a beginner aged 5 - 10, and is very affordable too. Complete with two arrows, an armguard, a finger tab, and a target, she'll be hitting the bullseye in no time.
For more toys that teach balance and coordination, check out our entire selection of movement and riding toys.
GROUP ACTIVE PLAY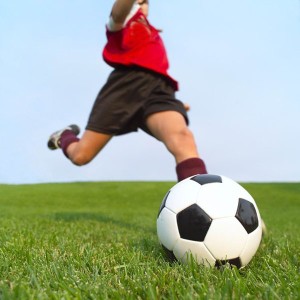 If you have a soccer fan in your life, chances are she would love her very own set of goals. These Pop-Up Goals from PUGG are smaller than normal goals, and even better, fold down for transport and storage. Don't forget a new soccer ball from Wilson so she can dribble, pass, shoot, and score!
For more gear and equipment for the young athlete in your life, visit our selection of outdoor sports equipment.
If games are more your Mighty Girl's style, Mölkky Outdoor Game is a group or family lawn tossing game developed in Finland that's very popular in Europe. Made of solid kiln-dried hardwood, Mölkky is a unique game involving strategy and skill that also helps teach kids math skills. Fun for ages 6 and up!
Let's go fly a kite! A fun family day in the sun is even more fun with a kite that flies, and flies well. This Bird Kite from Premier Kites is a beautifully colorful way to enjoy time together. Everyone will want a turn flying this kite!
If you and your family love outdoor games that kids can play on their own or with adults, visit our outdoor games section for many more fun options.
PLAYING IN THE GARDEN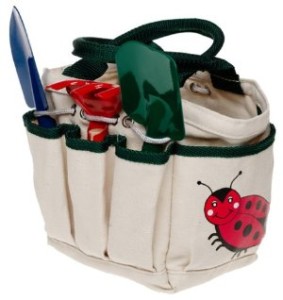 Playing in the dirt is one of the most fun activities of childhood. If your little one is an aspiring gardener, she'll be thrilled to have her very own set of garden tools, and this set from Toysmith comes with its own little tote! She'll feel like a real gardener using these wooden and metal tools just like mom and dad's. Recommended for ages 2 - 8.
For those children who might like to grow their very own garden, we recommend the Wee Enchanted Garden Kit for ages 3 - 9. This kit comes with everything they'll need to make an enchanted little garden. First, they can plant the bean and grass seeds, and as the plants begin to grow, they can decorate the garden with a fairy cottage, pebbles, rocks, shells, and little plastic animals.
For more gardening gear perfect for little helpers, visit our garden toys section.
OUTDOOR DISCOVERY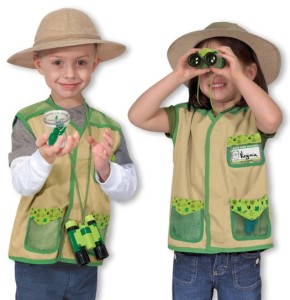 A budding explorer would be nowhere without her very own compass! This Directional Compass from Learning Resources has a lanyard to make it easy to keep track of, a cover to keep it safe, and instructions inside the lid to help an explorer in need. Recommended for ages 6 - 13, she'll never have to wonder which direction to go again!
Whether your Mighty Girl is interested in bird-watching, airplane-watching, going to a ballgame, or going on expeditions, a pair of binoculars will certainly come in handy. The HU-530 Hawk binoculars from Carson Optical are lightweight and durable, and come with a pouch, strap, and lens cloth. Recommended for ages 6 - 12, these binoculars will make any child an explorer.
For more toys and gear to encourage your outdoor adventurer, visit our outdoor exploration and discovery section.
We hope that you and the Mighty Girls in your life have plenty of time to explore and play in the outdoors this summer!
Further Resources
To view our full collection of toys for outdoor play and discovery, visit our Outdoor Play section.
For books about Mighty Girls enjoying the great outdoors, visit out Animals & Nature section.
For stories about protecting the outdoors and the creatures that live there, visit our special collection on the Top Children's Books on the Environment.
Help keep A Mighty Girl growing in the years ahead!
If you discover any books or other resources via this post that you would like to purchase, please use the "Buy at Amazon" link on every A Mighty Girl product page. By doing so, at no added cost to you, you help to support the site and allow us to continue providing you with wonderful girl-empowering resources. Thanks for your support!