Mamie Nell Ford's picture made headlines around the world and helped spur the passage of the landmark Civil Rights Act of 1964.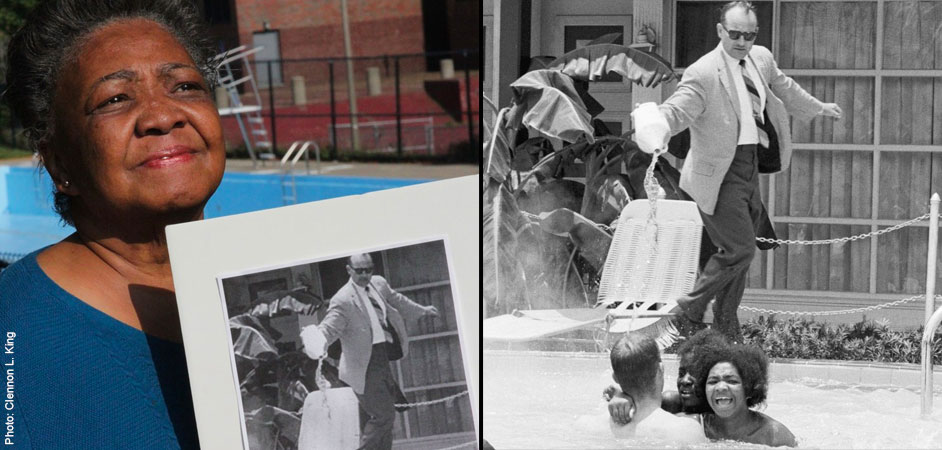 When she joined a "swim-in" in St. Augustine, Florida on June 18, 1964, 17-year-old Mamie Nell Ford had little idea that her picture would soon be seen around the world — and help spur the passage of the landmark Civil Rights Act of 1964. On that day, seven civil rights activists, including Ford, jumped into the segregated pool at the Monson Motor Lodge to protest its 'whites-only' policy. As journalists looked on, the motel owner's James Brock responded by dumping acid into the pool in an effort to drive them out. Ford recalls that her immediate reaction was "I couldn't breathe," and a photo of her with an alarmed expression as Brock pours acid nearby appeared in newspapers around the world. When people learn about the incident today, Ford says, "I'm often asked, 'How could you have so much courage?' Courage for me is not 'the absence of fear,' but what you do in the face of fear."
The campaign to challenge segregation in St. Augustine in 1963 and 1964, known as the St. Augustine Movement, is considered one of the bloodiest of the Civil Rights Movement. Students staging "wade-ins" to challenge segregation on the beaches were violently beaten. When several black children were admitted into white schools after the Supreme Court's decision outlawing school segregation, several of the children's homes were burnt to the ground by local segregationists. Martin Luther King, Jr. was even arrested on the steps of this same motel only a week prior to the pool "swim-in," after being charged with trespassing when he attempted to dine at the "whites-only" Monson Restaurant.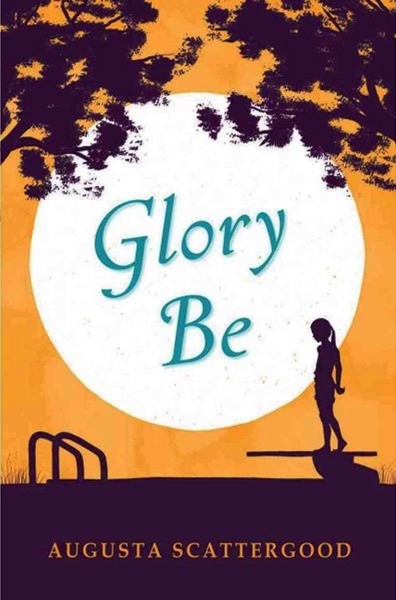 Prior to the pool "swim-in", Ford was already an experienced civil rights activist in her hometown of Albany, Georgia. When Martin Luther King, Jr.'s Southern Christian Leadership Conference came to Albany to recruit activists to support the movement in St. Augustine, she immediately signed up. "When they asked for volunteers to participate in the swim-in demonstration, I said, yes, because, despite segregation, I knew how to swim," she says. While they knew it was likely they would be arrested, no one expected the owner to pour acid into the pool. "It is as fresh in my mind as the morning dew, because when the acid was poured in the pool, the water began to bubble up," Ford recalls.
Although the group of black and white activists —  including the teenaged Ford — was arrested shortly thereafter, their protest had the intended effect: as it made headlines worldwide, President Lyndon B. Johnson said in a recorded phone conservation: "Our whole foreign policy will go to hell over this!" Within 24 hours, the civil rights bill that had been introduced a year before, and had been stalled in the Senate, won approval, leading directly to the passage of the historic Civil Rights Act of 1964.
After being released from jail for the swim-in, Ford made a powerful statement urging the people of St. Augustine to keep fighting: "Don't lose heart now because you're the ones on whom this movement rests. People will come and go because they live somewhere else, but you live here and you make this thing happen." She returned home and went on to join five other black girls to lead the desegregation of the formerly all-white Albany High School, where she graduated with honors in 1965. Ford, who later changed her name to Mimi Jones, then went to college in Boston where she spent her career working in the Department of Education. Her story and that of the St. Augustine civil rights fight has been recently told in director Clennon L. King's documentary, Passage at St. Augustine.
Although less well known than school segregation, the long legacy of segregation in swimming pools still lives on today. After legal challenges and actions like this one in St. Augustine forced the end of segregated pools, many towns, especially in the South, experienced "white flight": white patrons stopped attending public pools and joined private clubs instead, often leading to the closure of public facilities. The resulting lack of access to pools over generations, which is discussed in the book Contested Waters: A Social History of Swimming Pools in America, has led to a major gap between white and black Americans in swimming ability, with whites being twice as likely to know how to swim as blacks. This difference is also reflected in the CDC finding that black children are three times more likely die from drowning than white children.
For these reasons and the long legacy of racism at swimming pools, Simone Manuel's victories at the 2016 Rio Olympic Games took on special meaning for many African Americans — a significance the young swimmer alluded to after she became the first African-American woman to ever win an individual Olympic gold in swimming: "The gold medal wasn't just for me," she said. "It's for a lot of people who came before me."
Books About Mighty Girls of the Civil Rights Movement
Ruby Bridges was just six years old when she walked through an angry crowd, escorted by federal marshals, to integrate an all-white school in New Orleans — by starting kindergarten. In this early reader, Bridges aptly tells her story to her young audience and accents it with historical photographs, allowing emerging readers to develop an understanding of segregation and to explore an iconic moment in the struggle for civil rights. It's an inspiring story about a courageous girl, told in her own voice! For a picture book telling of Bridges' story, check out The Story of Ruby Bridges for ages 4 to 8.