The seven essential body positive lessons every Mighty Girl should learn.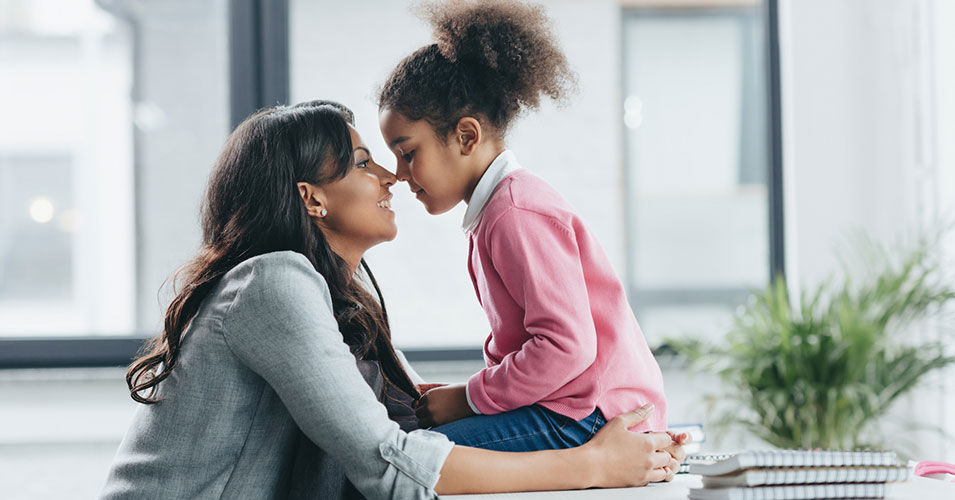 One of the most freeing feelings in the world is loving yourself just as you are — but in a world where girls are constantly bombarded with messages about what their bodies should look like, raising them to be body positive can feel like an impossible task. A study by the Girl Scouts found that 80% of 10-year-old girls are afraid of getting fat, and other studies have found that 85% of women and 79% of girls have opted out of activities due to a lack of body confidence. With kids and teens being exposed to narrow standards of beauty in media, marketing, and online, many adults may wonder what they can do to turn the tide.
Fortunately, there are ways for parents, educators, coaches, and other caring adults to support girls in developing a positive body image! By establishing a healthy lens for looking at bodies — both their own and others' — we can help girls recognize their bodies for what they are: an amazing vehicle that helps carry them to their successes, but doesn't define them or their worth. By talking to them about how marketing frequently uses dissatisfaction with your appearance as a sales technique, we can help them untangle the subtle negative messages that surround them. And by teaching them how to stand up against body shaming, we can help establish a culture that recognizes that all bodies have unique talents and beauties worth celebrating.
Seven Body Positive Lessons For Mighty Girls
Acknowledge and Celebrate that All Bodies Look and Work Differently
Parents may hesitate to talk to girls about diverse bodies because they don't want to draw attention to differences, but the Girl Scouts Developmental Psychologist Dr. Andrea Bastiani Archibald asserts that it's important to recognize that bodies aren't meant to all look or work the same: "We're all different in so many ways, and it's counterproductive to pretend that we're not." Humans come in a wide variety of skin tones, heights, and weights; we have birthmarks, hair loss, visible disabilities, and many other distinguishing features. Those differences are real, and by acting as if they don't exist — or shushing a child who asks about them — we inadvertently teach them that body diversity is shameful and off-limits for discussion.
Instead, try to incorporate images and stories about diverse bodies in everything you do! Athletics can be a great way to do this: a gold medal-winning gymnast looks very different from a world-class shotputter, and they both look different from an wheelchair basketball star. You can also make a point of filling your bookshelf with body positive books and titles that feature characters of different sexes, races, sexual orientations, religions, appearances, and abilities; check out our Multicultural Fiction Collection as a place to start. If a child innocently comments about someone's body, strive to keep your reaction simple and matter of fact: the best answer is often "because that's the way her body is." By responding this way, kids will realize that these differences are just part of human variety.
And, don't hesitate to talk with your daughter about her own body and its uniqueness. "So many parents think it's better not to talk about body image at all," Archibald observes, "but the truth is that even though there are so many things about us that make us unique and valuable, how you look still factors into our confidence and sense of self... Don't be afraid to talk to your daughter about her body and how she feels about it."
Focus on What Bodies Do, Not What They Look Like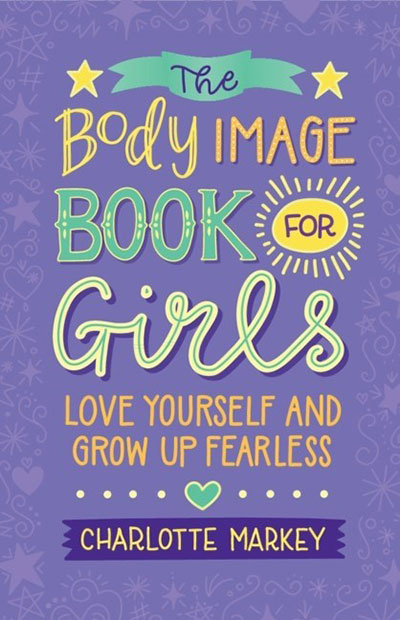 Often when talking about or complimenting girls and women, the focus tends to be on their appearance; it's all too easy to fall into the trap of talking about how sparkly her dress is, how pretty her hair is, or how cute she looks. Archibald recommends that parents help their daughters identify parts of her body that she loves and discuss what those parts allow her to do: long arms that are perfect for monkey bars, for example, or strong legs that are great for swimming.  "Talking regularly and complimenting her about what her body can do rather than just what it looks like," Archibald observes, "can really help change her perceptions and orientation to what's important."
Helping girls find physical activities that they love will support this lesson. Hiking, dance, martial arts, adaptive sports... the activity itself matters less than the fact that she's moving and strengthening her body. As she develops her skills, she'll feel more confident, and she'll perceive her body as strong and capable. That will help armor her against the moments that she feels like she doesn't fit conventional beauty standard: she may not look like the woman on the cover of a magazine, but she knows that her body can help her do all sorts of incredible things.
Choose Compliments Focused on Bodies Carefully
Sometimes, of course, it's nice to get a compliment about how you look! But it's important to be thoughtful about what you say. This is particularly important when the compliment has to do with weight: our culture tends to assume that congratulating someone on weight loss will always be appreciated, but that's not always the case. As Shira Rosenbluth, a psychotherapist who specializes in working with people with eating disorders, points out, "someone's weight loss can be from a sickness, severe stress, or an eating disorder.... You never know why someone lost weight so it's better not to comment on it." Moreover, she continues, "complimenting weight loss reinforces the myth that being smaller is better.... I will not participate in reinforcing the idea that you are now more worthy of acceptance and love because you lost weight."
One suggestion you can give to kids — and use yourself — is to compliment people on things you know they've chosen. That's why admiring someone's bright blue and purple hair, their funky shoes, or their vibrant lipstick can be a lovely way to give a compliment. You can also draw on what you know about someone's activities: a friend who's taken up rock climbing will probably love hearing that they're looking stronger. Feminist and body positive writer JR Thorpe encourages people to "embrace the full possibilities of the body-positive compliment. Talk about how much energy they seem to be giving off, what a bounce they have in their step, how much you love their strut. Bodies aren't just things that stand still to be assessed. They move and breathe and give off great vibes, and the people in them should know about it."
Talk About Society's Obsession With Appearance
Kids are inundated with negative messages about body image, so for them, it's just part of life. That's why it's so important to actively discuss our culture's obsession with appearance with kids, especially girls. Opportunities to talk about this exist almost everywhere: when you spot a magazine at the supermarket checkout talking about getting that "perfect bikini body" or when a character in a TV show declares herself "hideous" because of a pimple, adults can point out that these messages are subtle but often damaging. Even children's movies will provide discussion points, like how animated characters have unnaturally thin bodies or how villains are often cast with actors that don't fit conventional beauty standards.
It's essential to address marketing in this discussion and foster kids' ability to critically analyze advertising. Point out how many products — everything from fashion to hair products to gym memberships — are marketed by making viewers feel like their appearance doesn't measure up, and then making it seem as if the product is the solution. Similarly, remind kids and teens that models and actors are not only selected to fit a very narrow mold, but also devote much of their time and money to lengthy workouts, restrictive diets, and cosmetic procedures that make their look even more unattainable for the average person.
Speak Kindly About Your Own Body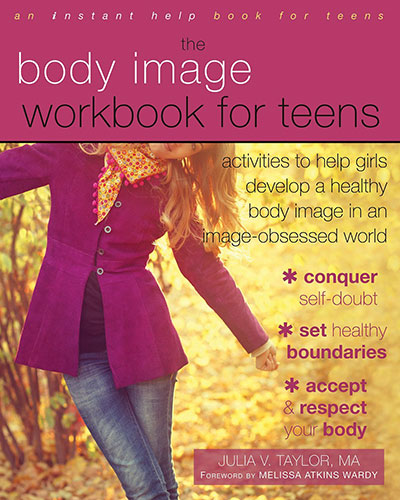 If we want girls to love their bodies, we need to try to practice what we preach. Girls take in what we say, not just about them, but about ourselves. Unfortunately, it's very easy to inadvertently pass a poor self image or body hatred on to our daughters when they hear us speak negatively about our own bodies. Blogger Kasey Edwards recalled a defining moment with her mother: "You said to me, 'Look at you, so thin, beautiful and lovely. And look at me, fat, ugly and horrible'.... With every grimace at your reflection in the mirror, every new wonder diet that was going to change your life, and every guilty spoon of 'Oh-I-really-shouldn't', I learned that women must be thin to be valid and worthy."
So when you're talking about your body, strive to practice body kindness — use the same language with yourself that you would use in talking about your Mighty Girl. If you are starting a new exercise regimen, don't talk about how you're hoping to finally ditch the weight; talk about how you're looking forward to feeling stronger or how you want to be able to run that 5K in the fall. If you're trying a new makeup look, don't focus on covering up "imperfections," but talk about how it's fun to play with color and style. Try to imagine how you'd feel if someone said the things you say about yourself to your daughter: if you feel like it would be cruel to say to her, it's not something you should be saying to yourself either.
If You Coach or Teach a Physical Skill, Think About Your Choice of Language
As body love advocate and dance instructor Amanda Trusty once observed, "I realize now where all my insecurities started. They started in first position at age seven at the barre." She argues that common phrases in dance class like "tuck your booty under" encourage negative body image — and also don't clearly communicate what students are really supposed to do. "As girls hit puberty, all of them are going to develop some sort of booty. This is fact, and something they can't avoid," she points out. Instead, she uses the phrase "send your tailfeather down instead of out" which, she argues, "keeps their pliés perfectly aligned without them ever thinking about how big their booty is at all."
If you coach or teach a physical skill, consider how your language may be communicating negative messages about bodies in your own sport. This isn't an issue that crops up solely in activities like dance and gymnastics; it also happens when you tell a track and field athlete they need to "build up those skinny legs" rather than saying "you'll perform better if you build your lower body strength." It's also worth reconsidering your idea of what an athlete looks like. Mirna Valerio, a 250 pound ultrarunner and author of A Beautiful Work In Progress, says "if I were thin, I'd just be one more number at the starting line. But I run a lot, and I'm still fat. Some people can't get their heads around that." Think about how you may be unconsciously responding differently to young athletes based on their bodies, and challenge those preconceptions: if they're building skills and achieving their goals, who cares what their body looks like?
Give Them a Script to Counter Body Shaming
No matter how body positive an environment you create, kids are also going to engage with the wider world — which means that, eventually, they'll encounter body shaming comments directed at either them or people around them. Kids may not know what to say if a peer sneers that someone shouldn't be wearing shorts, for example, or if a coach says something negative about someone's body. Give them a few phrases they can use to respond, so that they don't have to come up with a reply on the spot. These can range from giving someone a cue to back off or apologize — "you may not have meant to be hurtful, but saying that was mean" — to a short, sharp "that was inappropriate" for someone who was being deliberately cruel.
For situations where body shaming comes from someone in a position of authority, let your daughter know that you are ready to back her up. That may mean talking to a coach or teacher, or even a family member, who uses body shaming language. Parents should be prepared to step in and say, "I will not let you talk to her that way." You may need to have a larger discussion about how destructive negative comments about bodies can be — and in some cases, it may even mean leaving a particular extracurricular program in favor of one that fosters body positivity. Even if it might ruffle some feathers, bolstering your Mighty Girl's body image is worth it: it's a gift that can last her whole life long!
Body Positive Books For Kids and Adults
It's natural for kids to notice differences, so it's important to tackle that head-on — before kids get to thinking that these differences should exclude people. With his distinctive, bright illustrations, Parr tackles all the differences that kids observe in the people around them — from skin color to family makeup to favorite foods and activities. Each page reminds the reader that these differences are not only okay, but wonderful! His calm message of acceptance will remind your Mighty Girl that differences are what make us special.