After Nora Keegan spent three years studying whether hand dryers hurt children's hearing, she's published her research in a scientific journal.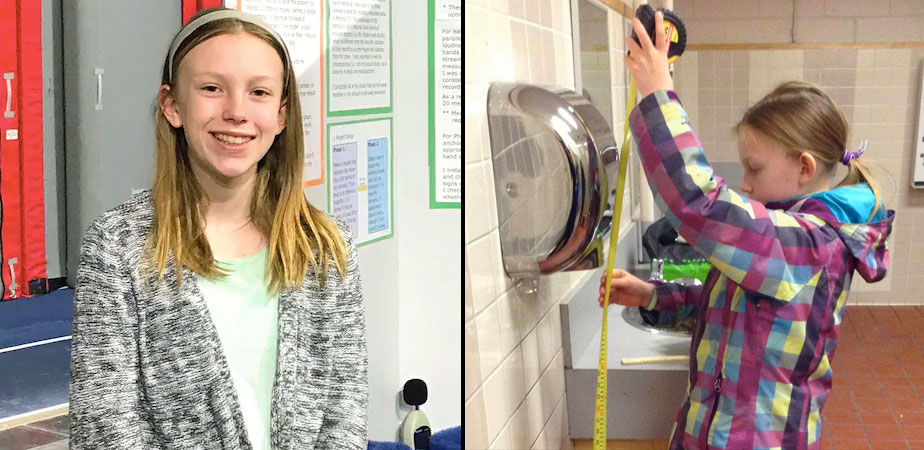 When she was nine years old, Nora Keegan noticed that many children didn't want to use hand dryers and would often cover their ears around them. She understood from personal experience why they would have this reaction, observing that "sometimes after using hand dryers my ears would start ringing." In the fifth grade, she decided to investigate the topic further for a science fair project and started studying "if they were dangerous to hearing." Three years later, the now 13-year-old Mighty Girl from Calgary, Canada has just published the results of her multi-year study in a scientific paper in the Paediatrics & Child Health, the premiere Canadian pediatric journal. In it, she concludes that "children who say hand dryers 'hurt my ears' are correct" since, as she discovered through her research, many hand dryers operate "at levels that are clearly dangerous to children's hearing."

To collect data for her project, Nora recorded decibel readings from bathrooms in places kids frequent, like schools, libraries, malls, and restaurants. "It was quite a fun adventure," says her mother, pediatrician Susan Bannister. "We would just get in the car and drive all over." Nora says that it was immediately obvious that dryers were much louder at child height, which was particularly concerning because children's ears are more sensitive to noise damage. She also observed that "[when] my hand accidentally passed into the airstream flow, the decibels shot up a lot. So then I decided to make that another part of my testing method."
Manufacturers provided noise ratings for their dryers which were below the Environmental Protection Agency's 85 decibel limit for child hearing safety and the Canadian federal government's 100 decibel peak loudness limit for children's products. Nora discovered, however, that the industry standard was to measure the sound at a distance of 18 inches from the wall which she considered inadequate for children. In addition to measuring noise levels at the standard 18 inches, Nora also took measurements at 12 inches since, she explains, "I thought the children might stand closer because their hands and arms are shorter."
Nora found that all hand dryers were louder in practice than when tested in the lab, and two models in particular — from Dyson and XCelerator — reached 110 decibels or more at their peak. "This is very loud," Nora says, "around the level of a rock concert." According to the National Institute for Occupational Safety and Health (NIOSH), there is no safe duration of unprotected exposure to sounds over 111 decibels for adults, and hearing loss is possible within less than two minutes.
Nora presented her findings at both her 5th and 6th grade science fairs, and the judges encouraged her to take her study even further: "A few of them said to me that I should write a paper." The end result has impressed many adult scientists. "I read a lot of studies in this realm, and, honestly, it's super well written," says Frank Wartinger, an audiologist at Children's Hospital of Philadelphia. To Nora's surprise, her paper also received praise from Dyson, who invited her to meet with its team. "We are keen to show Nora how our latest hand dryers are significantly quieter... thanks to research and development by our in-house acoustic engineers," they wrote in a statement. "Perhaps she will want to join the team one day?"
Eager to find a solution to the noise problem, Nora has tinkered with a homemade noise dampener, and her prototype reduces noise levels by 11 decibels. "I think I might go and talk to the manufacturers and also I might go and talk to Health Canada," she says. "Even though this is a study, it's still only one study. So it'd be better if they tested more hand dryers and found more about that loudness of hand dryers." Although in the long term, she's thinking of a career in marine biology rather than engineering, she says the lessons she learned with this study will stand her in good stead. "I've learned to never give up, because if I had given up then it would never have come to this," she asserts. "And also, I've learned that if you see something that you question, you should go for it and don't stop."
Books About Science-Loving Girls and Women
Every scientific discovery began with two works: "I wonder." In this beautiful book, Eva and her mother take a walk and explore some of the mysteries of life: how gravity works, why things live and die, and even how big the universe really is. Along the way, Eva learns that it's okay to say, "I don't know" — and that some mysteries are out there, still to be discovered by curious minds like hers! This book is a wonderful way to remind kids that there's no such thing as too many questions.