Emily Warren Roebling was the "surrogate chief engineer" of one of the greatest architectural projects of the 19th century.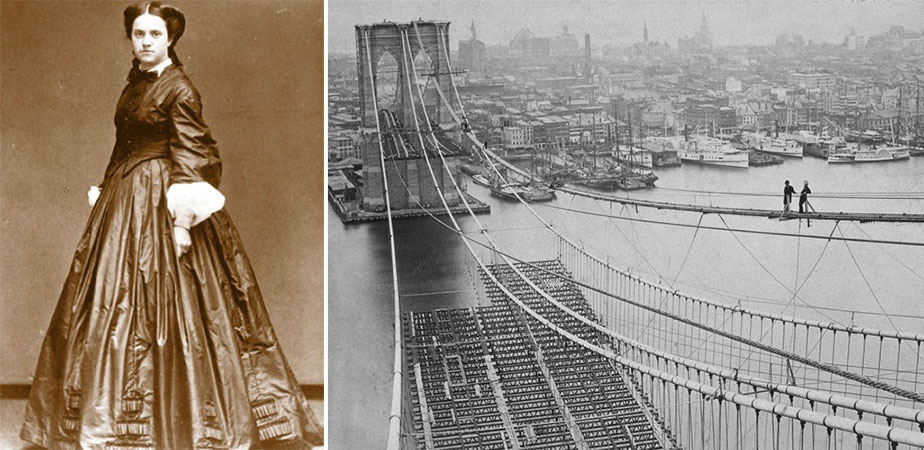 When the Brooklyn Bridge was completed in 1883, Emily Warren Roebling was the first to cross it, carrying a rooster with her as a symbol of victory — a special honor granted due to her central role in overseeing one of the greatest architectural feats of the 19th century. Her husband, Washington Roebling, had been the bridge's chief engineer, but Roebling took over the project when he fell seriously ill in 1870. For over a decade, she oversaw the work, consulting with her husband but fulfilling the majority of the chief engineer's responsibilities on her own. "I don't think that the Brooklyn Bridge would be standing were it not for her," says Erica Wagner, author of the first complete biography of Washington Roebling. "She was absolutely integral."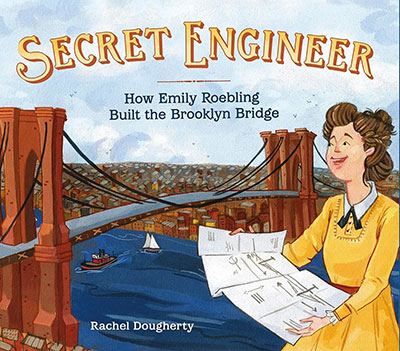 Roebling was born in Cold Spring, New York in 1843, and early on showed an interest in pursuing an education. Fortunately, her older brother, Gouverneur Warren, supported her, and urged her parents to allow her to attend the prestigious Georgetown Visitation Academy in Washington DC. There, she studied history, astronomy, and algebra in addition to needlework and housekeeping. In 1864, while visiting her brother during the midst of the Civil War, she attended a soldier's ball and met Washington Roebling. He was the son of John Roebling, an eminent civil engineer who was in the process of designing what he called "the greatest bridge in existence" — the future Brooklyn Bridge. The couple were married on January 18, 1865, and the newlyweds soon left for Europe to study caissons, the watertight structures filled with compressed air that would allow workers to dig under the East River and plant the bridge's footings.
They returned to America in 1868, just before John Roebling died from tetanus after an injury at the bridge's construction site. Washington immediately took over as chief engineer, while Roebling stayed home to tend the couple's young child. But it wasn't long before Washington also succumbed to the dangers of the construction effort. In 1870, a fire broke out in one of the caissons, and Washington supervised the firefighting efforts personally. After multiple times entering and exiting the pressurized caissons, Washington fell seriously ill: he became partially paralyzed, blind, deaf, and mute. Most historians agree that he was a victim of "caisson disease," which is best known today among scuba divers as "the bends," the decompression sickness caused by nitrogen bubbles trapped in the blood when you ascend from depth too quickly.
With Washington bedridden and his recovery uncertain, Roebling knew she had to step in to save both her husband's livelihood and the bridge project itself. At first, she operated as Washington's secretary, carrying notes from his sickbed to the construction site, negotiating supply contracts, and attending board of trustees meetings. As the months, then years went by, Roebling became a "surrogate chief engineer," according to historian Marilyn Weigold, who wrote the biography Silent Builder. Her talent for diplomacy also allowed her to defend her husband's ongoing involvement in the construction (and, by extension, hers) when politicians threatened to remove him from the project due to his illness.
It took fourteen years to complete the bridge, and when it was done, Roebling was hailed for ensuring the project's success. In advance of the official opening, Roebling crossed the bridge first with rooster in hand; within 24 hours, over 100,000 people crossed the already famous bridge. During the opening ceremonies, Abram Stevens Hewitt, a U.S. Congressman, saluted her in his speech: "The name of Emily Warren Roebling will... be inseparably associated with all that is admirable in human nature and all that is wonderful in the constructive world of art," he proclaimed, saying the Brooklyn Bridge would be "an everlasting monument to the sacrificing devotion of a woman and of her capacity for that higher education from which she has been too long disbarred."
After the Brooklyn Bridge was built, Roebling devoted herself to many women's causes, and wrote an award-winning essay, "A Wife's Disabilities," which criticized the many laws that discriminated against women. She traveled widely, and she also fulfilled her dream of pursuing further education, receiving a law certificate from New York University in 1899. In the years following the Brooklyn Bridge's construction, her contributions were largely forgotten, with most historians focusing on her husband or father-in-law. In recent years, however, her role as de facto chief engineer has received more recognition, and, based on a letter to her son that she wrote in 1898, Roebling herself never doubted how essential she was to its success: "I have more brains, common sense and know-how generally than have any two engineers, civil or uncivil, and but for me the Brooklyn Bridge would never have had the name Roebling in any way connected with it!"
Books About Emily Warren Roebling and women in engineering
As a girl, Emily Roebling was an eager learner — but girls didn't need to know math and science, and certainly not engineering. As an adult, her husband had an ambitious plan for a bridge that would "link Manhattan and Brooklyn," and when construction began, Roebling insisted on learning more about it. And when her husband fell ill, she stepped in, supervising every aspect of the project, and ensuring that the Brooklyn Bridge, one of New York's most iconic landmarks, was finished. This picture book biography celebrates the secret engineer who refused to give up on an architectural wonder.