At six years old, Ruby Bridges famously became the first Black child to desegregate an all-White elementary school in the South.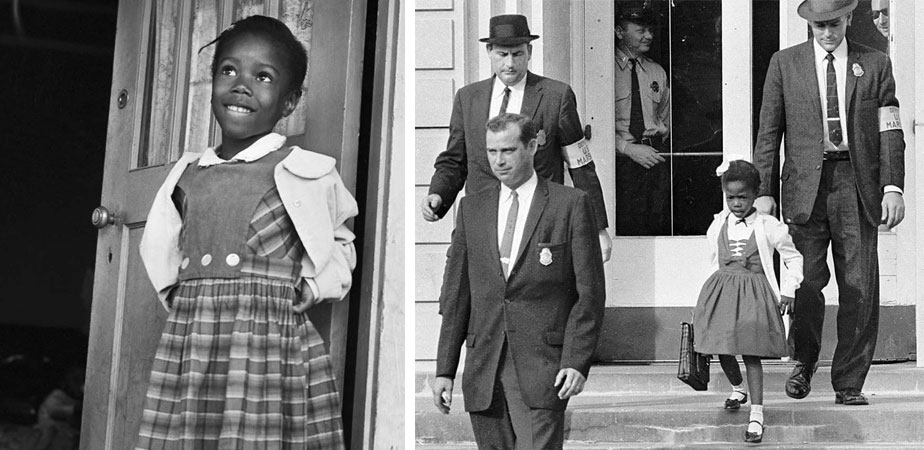 The moment has been immortalized in a Norman Rockwell painting with the apt title The Problem We All Live With: a little African American girl walks to school, surrounded by a team of U.S. Marshals, with racist graffiti and thrown garbage ornamenting the wall behind her. Ruby Bridges was only 6 years old in 1960 when the first grader arrived for her first day of school at  William Frantz Elementary School in New Orleans — and was met by a vicious mob. The courageous girl would spend a year alone in the classroom, since other children had been removed by their parents due to her presence. But today, the 68-year-old Bridges says that those difficult days were worth it: "I now know that experience comes to us for a purpose, and if we follow the guidance of the spirit within us, we will probably find that the purpose is a good one."
Ruby, who was born on September 8, 1954, was one of only six Black children who passed the tests that determined she could attend the previously all-White school; two families opted to keep their children at their old school, while three were transferred to McDonogh No. 19, leaving Ruby as the only student desegregating William Frantz. Ruby's father was hesitant to send his daughter, but her mother believed that it was important for the family to take that step — not just for Ruby herself, but for the children who would come after her. An order by Judge J. Skelly Wright dictated that New Orleans schools be integrated by November 14, 1960, so that would be Ruby's first day at school.
"That first morning I remember Mom saying as I got dressed in my new outfit, 'Now, I want you to behave yourself today, Ruby, and don't be afraid,'" Bridges recalled. "'There might be a lot of people outside this new school, but I'll be with you.' That conversation was the full extent of preparing me for what was to come." When Ruby arrived and saw the crowd, she had no idea that they were there to protest her presence. "Living in New Orleans, I actually thought it was Mardi Gras," she reflected. "There was a large crowd of people outside of the school. They were throwing things and shouting, and that sort of goes on in New Orleans at Mardi Gras. I really didn't realize until I got into the school that something else was going on."
One of the federal marshals, Charles Burks, who served on her escort team, later recalled Bridges' courage in the face of such hatred: "For a little girl six years old going into a strange school with four strange deputy marshals, a place she had never been before, she showed a lot of courage. She never cried. She didn't whimper. She just marched along like a little soldier. We were all very proud of her."
When Ruby entered the school, now devoid of other children, only one teacher, Barbara Henry, who had recently moved from Boston, Massachusetts, agreed to teach her. Although the boycott against the school was broken the next day when a White Methodist minister Lloyd Anderson Foreman walked his 5-year-old daughter through the mob into the school, and other parents followed within a few days, Ruby still spent the first year at the school alone in one classroom with Henry "as if she were teaching a whole class." Despite daily harassment, which required the federal marshals to continue escorting her to school for months, Ruby persisted in attending school.
As the year went on, Ruby's family suffered for their decision: her father lost his job as a gas station attendant and her sharecropping grandparents were turned off their land. Even the grocery store where the family shopped turned them away. But, when Ruby returned for second grade, more African American students were there to join her. The pioneering school integration effort was a success due to Ruby's inspiring courage, perseverance, and resilience.
As an adult, Ruby Bridges still lives in New Orleans. Since 1999, she has been the chair of the Ruby Bridges Foundation, whose mission is to promote " tolerance, respect, and appreciation of all differences." She believes that the key to ending prejudice lies in fostering these values among children. "Racism is a grown-up disease and we must stop using our children to spread it," she asserts. "Each and every one of us is born with a clean heart.... We owe it to our children to help them keep their clean start."
Books About Girls Fighting Segregated Schools
To kids today, the idea of a child having to be escorted to school by armed guards to protect her from an angry mob is shocking, but 6-year-old Ruby Bridges faced exactly that in 1960. After a judge ordered that Ruby should attend the previously all-White William Frantz Elementary School, parents withdrew their children and held angry protests in front of the school. This compelling depiction of the child who became a civil rights hero just by attending first grade is now available in a special anniversary edition, which includes an updates afterword about Ruby's ongoing life and legacy. Independent readers can learn more about Ruby Bridges in Ruby Bridges Goes to School for ages 5 to 8 and Through My Eyes for ages 8 to 12.