Jeanne Villepreux-Power began her adult life as a dressmaker, but rose to become one of the preeminent marine biologists of her day.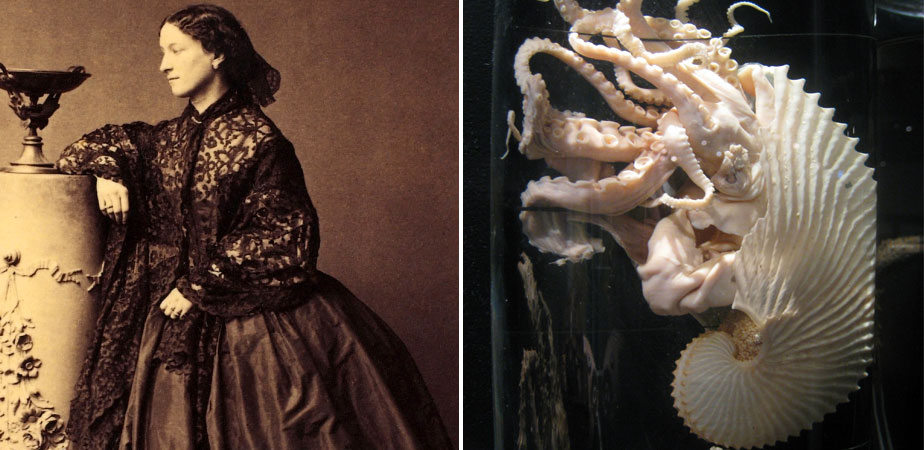 If you've ever been captivated by colorful fish and sea creatures darting around an aquarium, you can thank 19th century French scientist Jeanne Villepreux-Power! Villepreux-Power began her adult life as a dressmaker, but rose to become one of the preeminent marine biologists of her day. Her invention of a glass box for holding and observing marine specimens — the first recognizable glass aquarium — earned her the title "Mother of Aquariophily" from British biologist Richard Owen. "[She] was not content with purely descriptive studies of dead specimens," French scientist Claude Arnal wrote in a tribute to her. "She was excited by life and its mysteries."
The eldest daughter of a shoemaker and a seamstress, Jeanne Villepreux was born on September 24, 1794 in the small village of Juillac in southern France. The bold young woman woman had big ambitions, however, so in her late teens she walked the 400 miles to Paris to become a dressmaker. In Paris, Villepreux-Power became known for her exquisitely detailed work, and in 1816, she gained national prominence after she made an elaborate wedding dress for the Italian Princess Caroline's marriage to Charles-Ferdinand de Bourbon.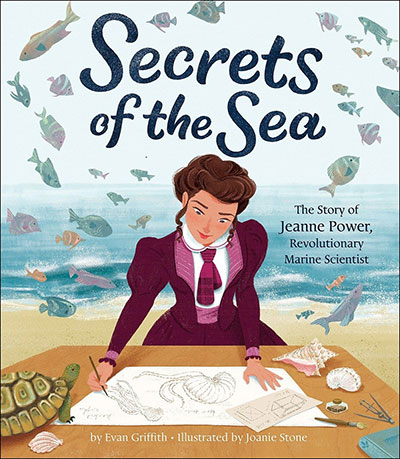 The commission brought her into a world of wealth and power where she met and married English merchant James Power. In 1818, the couple moved to Messina, a harbor city in Sicily, Italy, where Villepreux-Power found herself with unexpected freedom. "She no longer sewed or embroidered dresses for a living, and she didn't continue with such genteel pursuits to keep herself busy," says Helen Scales, author of Spirals in Time: The Secret Life and Curious Afterlife of Seashells. "Instead, she rolled up her sleeves and became a scientist."
For nearly 25 years, Villepreux-Power devoted herself to studying the flora and fauna of the region, in particular the creatures of the water. She was one of the first people ever to explore aquaculture as a way to protect and rehabilitate populations of fish and other marine life. Scales observes that Villepreux-Power was "way ahead of her time... she came up with the idea of restocking overfished rivers with fish and crayfish." She was also the first person to document how certain species of octopus could use tools to wedge open the shells of their prey, a revolutionary discovery at the time.
Villepreux-Power was especially fascinated by the otherworldly Argonauta argo or paper nautilus and began an intensive study of the unusual octopus in 1832. Scientists disagreed about whether they grew their own shells or took shells from other creatures, like hermit crabs did. Villepreux-Power was determined to find the answer — but to do it, she'd have to observe a maturing nautilus over a long period of time. Her solution was a glass box in which you could put sea water and any creatures you wanted to study; thus, she invented the first recognizable glass aquarium. She also developed two more variants of her aquarium: a submersible glass box in a cage for shallow water observation and a larger cage for bigger molluscs that she could anchor at different depths at sea. Through her studies of the larval nautilus in the controlled environment of her aquarium, Villepreux-Power made the groundbreaking and, at the time, controversial discovery that they grew their own shells.
Professor Carmelo Maravigna, wrote in the Giornale Letterario Della Accademia Gioenia di Catania in 1834, that Villepreux-Power should be credited with the invention of the aquarium and its first systematic use to study marine life. In 1839, Villepreux-Power published "Physical Observations and Experiments on Several Marine and Terrestrial Animals", her major work discussing the nautilus and other sea creatures she had studied. Increasingly renowned for her pioneering research, Villepreux-Power became the first female member of the Accademia Gioenia di Catania and a correspondent member of the London Zoological Society and over a dozen other scientific societies in Europe.
Sadly, tragedy struck when she and her husband moved from Sicily to England in 1843: the ship carrying her papers, including many of her scientific drawings and writings, sank. Although she continued to write and gave public talks about her discoveries, Villepreux-Power never conducted research again before her death in 1871.
Villepreux-Power's  name name and scientific contributions were largely forgotten for over a century. Fortunately, in recent years, her research and her invention of the first aquarium have gain greater recognition; in 1997, a crater on Venus discovered by the Magellan probe was named in her honor. With her name now appearing in more books, including the picture book Secrets of the Sea: The Story of Jeanne Power, Revolutionary Marine Scientist, a new generation will hopefully better appreciate the woman whose simple yet revolutionary invention has given us all a better understanding and appreciation of the hidden world under the sea.
Mighty Girl Books and toys About Marine Biologists
As a young girl swimming in the Gulf of Mexico, Sylvia Earle developed a passion for the sea and the life within it. As an adult, she would design new submersibles, swim with the whales, and do deep-water walks in special dive suits. Throughout, Earle has explored one of the most mysterious places still left on Earth: our vast oceans. And as Time Magazine's first Hero for the Planet — who is affectionately referred to as the Sturgeon General by colleagues — she is one of the most passionate voices for protecting what she calls "the blue heart of the planet." This exquisite picture book biography will fascinate young readers and spark their interest in learning more about Earle and the ocean she strives to protect.