By Lili Sandler, A Mighty Girl Senior Research Intern
April has arrived, and with it, baseball and softball season! Both iconic and poetic, few games have captivated the American public year after year with the same level of passion and devotion. While baseball has, unfortunately, remained a male-dominated sport in the professional realm, its steadfast allure has earned it a place in the heart of many a Mighty Girl, young and old alike.
For that reason, we have pulled together a list of some of our favorite books, toys, clothes, and more for the baseball and softball lover in your life. Whether watching her favorite team on TV or at the ballpark, learning about women's roles in the history of baseball and softball, tossing a ball around in her own backyard, or playing on a real live team, if you know a Mighty Girl with an interest in America's pastime, there's sure to be something for her here!
WOMEN IN BASEBALL HISTORY
While girls and women have always been interested in the game of baseball (Vassar College boasts an all-girl's baseball team as early as 1866, only 9 years after the first national baseball association was formed) their ability to play at a professional level was limited to only 12 seasons. From 1943 - 1954, the All-American Girls Professional Baseball League (AAGPBL) was home to more than 600 women athletes who played for 15 different teams throughout the midwestern United States. Many books have been published discussing the history of the AAGPBL, several of which you can find in our baseball and softball section.
For a survey of the AAGPBL and an introduction to some of the players therein, readers 10 and up will enjoy Sue Macy's A Whole New Ball Game: The Story of the All American Girls Professional Baseball League. In it, Macy addresses many of the societal issues the young women of the time were forced to deal with in order to play ball, as well as the economic issues of running a baseball league.
A well-known and equally-loved movie, Penny Marshall's A League of Their Own tells the story of the AAGPBL through the eyes of a pair of sisters who play for the Rockford Peaches. Starring Geena Davis, Madonna, Rosie O'Donnell, and Tom Hanks, this film is recommended for ages 9 and up.
To share the story of the AAGPBL with a younger audience, consider Shana Corey's delightful picture book, Players in Pigtails. Telling the story of Katie Casey, the inspiration behind the ubiquitous baseball anthem "Take Me Out to the Ballgame," Corey shares Casey's experience going from a girl who doesn't quite fit in to being a real, live baseball player for the Kenosha Comets. Recommended for ages 4 - 8, this book will have every girl grabbing her bat and ball and heading outside!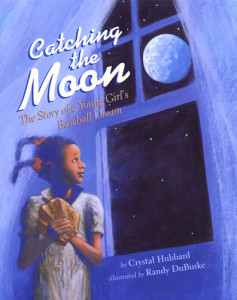 Not many girls in history had the chance to play baseball with icons like Babe Ruth and Lou Gehrig, but one girl not only played against them, she struck them both out! In Mighty Jackie, the Strike-Out Queen, author Marissa Moss tells the story of Jackie Mitchell, who as a teenager was signed to a minor league baseball team in 1931, and proceeded to strike out two of baseball's giants in one inning. Recommended for ages 5 - 8, this book is sure to inspire young girls and it also raises the important question of why women are still not a part of professional ball all these years later.
Recommended for ages 5 - 8, Crystal Hubbard's Catching the Moon: The Story of a Young Girl's Baseball Dream tells the story of Marcenia Lyle, an African-American girl growing up in the 1920's who wants nothing more than to play baseball. Despite enormous obstacles, Marcenia convinces all who see her play that she has what it takes, and ends up becoming the first African-American woman to play professional baseball, and the first woman to play for the Negro Leagues.
Although fictional, Bette Bao Lord's In the Year of the Boar and Jackie Robinson, tells the story of Shirley Temple Wong, Chinese immigrant and soon-to-be baseball aficionado. Trying to fit in at her new school and in her new life in 1940's Brooklyn, New York, Shirley learns to play stickball, and in so doing, makes new friends and finds ways to adjust to her new culture and country. Recommended for ages 8 - 12.
CONTEMPORARY BASEBALL HEROINES
While there are many high-quality novels for young readers which feature baseball or softball as a focal point, the following two are great options for intermediate to advanced readers.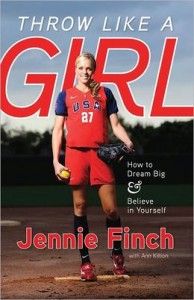 In Play Ball, Dashiell Brody, a natural at softball, discovers her new school has a championship level baseball team - and Dashiell wants to play ball! One girl's quest to play the national pastime with the boys will turn her family, her school, and her state upside down in this great graphic novel for ages 8 to 12.
For a slightly older audience, The Girl Who Threw Butterflies is another coming-of-age story of a girl who plays baseball. This time the girl in question, Molly, is slightly older, and she has lost her father, rather than her mother, but she still finds herself questioning her place in the world, and how the game of baseball might play a role therein. Recommended for ages 10 and up, this is a touching and sensitive story for early adolescents.
For girls interested in a non-fiction story of a successful ball player, look no further than Jennie Finch's Throw Like a Girl: How to Dream Big and Believe in Yourself. Not only does Finch discuss her softball and Olympic life, but she shares insights relevant to all young athletes trying to find their way in a challenging world. Recommended for ages 10 and up, this book is essential reading for any child interested in pursuing an athletic dream.
TIME TO PLAY!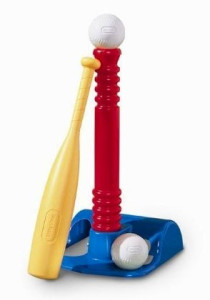 Everyone -- really, everyone! -- should have a baseball, a bat, and a glove. For a pickup game in the park, for throwing in your own backyard, or for a real game of nine-on-nine, a bat, ball, and glove are the essential components of any baseball game. To make it a little more fun, why not add a set of bases?
Your younger baseball fan can get started right with her own t-ball set. She'll be ready to run the bases in no time!
If she prefers a more realistic doll, consider the Dottie Kamenshek doll from the Cooperstown Collection. Dottie was a Rockford Peach during the height of the All-American Girls Professional Baseball League, and is commemorated in this doll and card.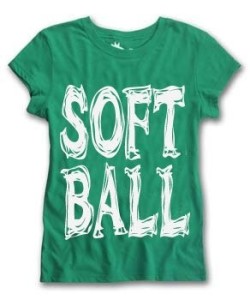 For the ball player who wants the world to know how much she loves the game, this simple, yet bold t-shirt emblazoned with the word softball or this cute softball monkey will show her dedication. If a t-shirt isn't her thing, softball socks just might be!
Finally, even if she can't yet walk, she can still show the world the ball player she will someday become with this adorable layette set.
We can't imagine a better way to enjoy America's Pastime than playing ball like a Mighty Girl. We hope you get plenty of chances to do just that with the Mighty Girls in your life this spring, and every spring!
Additional Resources