MIT professor Esther Duflo has helped transform the field of developmental economics by applying a scientific approach to policy interventions focused on alleviating global poverty.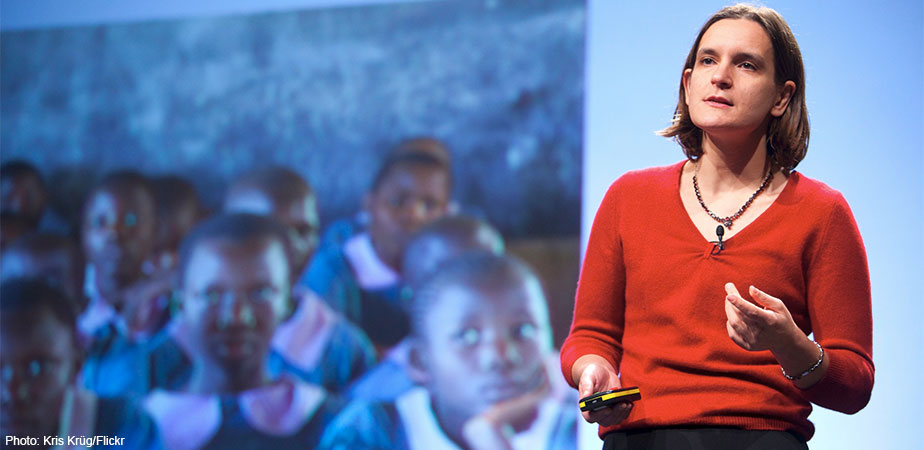 Dr. Esther Duflo has just become the second woman in history and the youngest person ever to win a Nobel Prize in Economics! The 46-year-old MIT professor shares the prize with her husband, Dr. Abhijit Banerjee, and colleague Dr. Michael Kremer; together they have helped millions of people around the world with their research to develop practical interventions to alleviating global poverty. "In just two decades, their new experiment-based approach has transformed development economics, which is now a flourishing field," the Royal Swedish Academy of Sciences said in today's prize announcement. After learning of her Nobel win, Duflo said she was "humbled" and, in light of how underrepresented women are in the field of economics, she hopes that it will "inspire many, many other women to continue working and many other men to give them the respect that they deserve like every single human being."
Born and raised in Paris, France, Duflo planned to study history as an undergraduate but several research positions showed her that "economics had potential as a lever of action in the world." The ability to do "things that mattered" appealed to her and, she says, "I came to economics the day I realized there was something called development economics. I didn't want to do macro, and I didn't want to do finance." Duflo went on to earn a master's degree in economics from the Paris School of Economics and a PhD in economics at MIT, where she is currently a Professor of Poverty Alleviation and Development Economics. .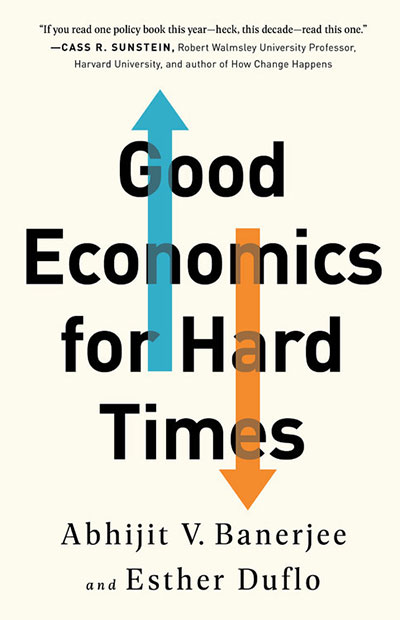 In the prize announcement, the Academy observed that Duflo, Banerjee, and Kremer "introduced a new approach to obtaining reliable answers about the best ways to fight global poverty." Prior to twenty years ago, much of the focus in development was on large-scale, marcoeconomic issues; this trio were instrumental in developing a new approach wherein big, systematic problems are divided up into smaller and more precise questions so they can be studied in a manner similar to a scientist running a clinical trial. Then, economists can determine which interventions are most effective, and find practical ways to bring those interventions to scale and serve a large population.
During one field experiment, for example, Duflo and Banerje studied low student achievement in India, and determined that a significant cause was the fact that teachers couldn't adapt their methods to individual students' needs when they were struggling. By establishing a network of tutors to work one-on-one with underperforming students, they proved that school performance would increase significantly — the remedial tutoring program that was developed based on their findings has now helped more than five million children in India. Their 2011 book, Poor Economics: A Radical Rethinking of the Way to Fight Global Poverty discusses several of their successful projects and they are releasing a new book next month, Good Economics for Hard Times, that further explores how economics can tackle many of the most challenging social and political problems of our times.
Equally importantly, Duflo and her colleagues have helped popularize their methods among other developmental economists. In 2003, she co-founded the Poverty Action Lab at MIT, which is dedicated to "reducing poverty by ensuring that policy is informed by scientific evidence." The Poverty Action Lab has brought together hundreds of poverty researchers from around the world, and encouraged them to focus on practical interventions, rather than strictly theoretical questions. The Nobel win is a reflection of how influential they have been in reshaping the field over the past two decades. "It really reflects the fact that it has become a movement," Duflo said shortly after the award was announced, "a movement that is much larger than us."
Duflo is only the second woman to receive a Nobel Prize in Economics (the first being Dr. Elinor Ostrom in 2009) — a fact that reflects the overall low rate of women in the field. In the US, women make up only 33% of students in economics PhD programs, and in Europe's top 20 university economics departments, only 12.8% of full professors were female as of 2017.  Reflecting on the field's gender imbalance today after the Nobel announcement, Duflo said, "I think the profession is starting to realize the climate and the way we treat each other is not conducive for having more women in the profession... [but] I think it is going to change because there are more women among the younger cohorts, so it's going to improve." She also hopes that she'll be a role model for girls and women by "showing that it is possible for a woman to succeed and be recognized for success.... Hopefully it's onward and forward from now on."
Children's Books About The Fight To End Global Poverty
In Beatrice's Ugandan village, few families have the money to send their children to school — until the day twelve donated goats arrive. Beatrice names her goat Mugisa, which means "lucky gift", and thanks to Beatrice's scrupulous care, Mugisa is soon giving enough milk that Beatrice can afford the school uniform she's been dreaming of. Based on a real story of a family helped by Heifer Project International, and with a portion of proceeds going to support the work of the charity, this book is a celebration of special relationships with animals and a great way to show your children the impact of charitable giving.