Delta's WING program aims to encourage more girls to consider careers in aviation; only 6% of commercial pilots currently are women.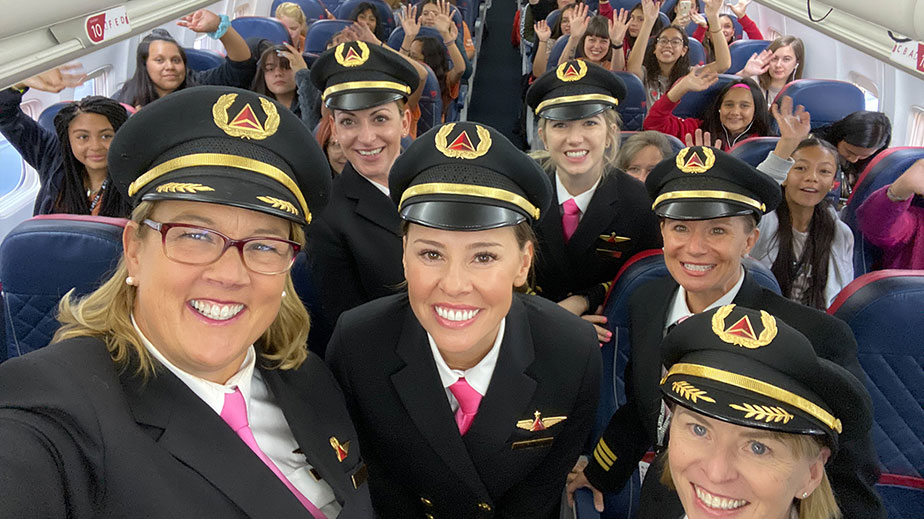 A very special flight designed to inspire future women in aviation flew 120 girls to NASA in celebration of International Girls in Aviation Day! Delta's fifth annual Women Inspiring our Next Generation, or WING, flight was planned and orchestrated by an all-female crew, and even the ramp agents, boarding agents, and operators in the control tower were women. The company hopes that it can help "diversify a male-dominated industry" by encouraging teen girls to consider careers in aviation fields. "We know representation matters. At Delta, we believe you have to see it to be it," says Beth Poole, Delta's general manager of pilot development. "We're taking ownership to improve gender diversity by exposing girls at a young age and providing a pipeline so that 10 years from now, they will be the pilots in the Delta cockpit inspiring generations of women who follow."
The WING flights were started in 2015 as part of an effort to boost the number of female pilots. Federal Aviation Administration data from 2018 shows that, while the number of women pilots has increased since they started collecting data in 2004, they still make up only 7% of all licensed pilots and 6.4 % of commercial pilots. "We thought what better way [to promote the field] than to put them on an airplane, take them somewhere, and introduce them to the world itself," explains Poole. In its first five years, over 600 girls between the ages of 12 and 18 have participated in the program.
This year's flight included 120 girls selected from Salt Lake City schools that have STEM or aviation programs. They flew from Salt Lake City to Houston, where they toured NASA's Mission Control Center and the Johnson Space Center. They also had the opportunity to have lunch with Jeanette Epps, a NASA astronaut and aerospace engineer, who passed on some advice about perseverance to the would-be aviators and astronauts. "Things don't happen overnight," she told the students, "It's all consistency over time and making sure you do good work — and also, making sure that you do something that you really love."
The unique experience made an impact on the girls. "I never would have thought I would have had this experience," marveled 16-year-old Karyanna. "It's such an exciting time to be in STEM. There's so much left for us to discover." And with Delta's advocacy for women in aviation — including 100% pay parity for frontline employees and "Best Workplace for Women" awards from Great Place To Work and Fortune — they're realizing that careers in the skies are more welcoming than they thought. "It didn't seem realistic to go after a career in aviation," said 17-year-old Katelyn, "but today I realized, 'Hey, I can do this too.'"
Inspiring Books About female Pilots
Young Amelia Earhart dreamed of flying like a bird, so as an adult, she decided to learn how to fly a plane! Female pilots were few and far between, but Amelia wanted to prove that women could fly just as well as men. First, she set a female world record by flying at 14,000 feet; then, she flew across the Atlantic and Pacific oceans; and finally, she decided to try flying all around the whole world. This board book from the Little People, BIG DREAMS series will inspire and empower the littlest readers.