After surviving thirty years of domestic violence, Grandma Gatewood became a record-setting hiking pioneer who helped to save the Appalachian Trail from ruin.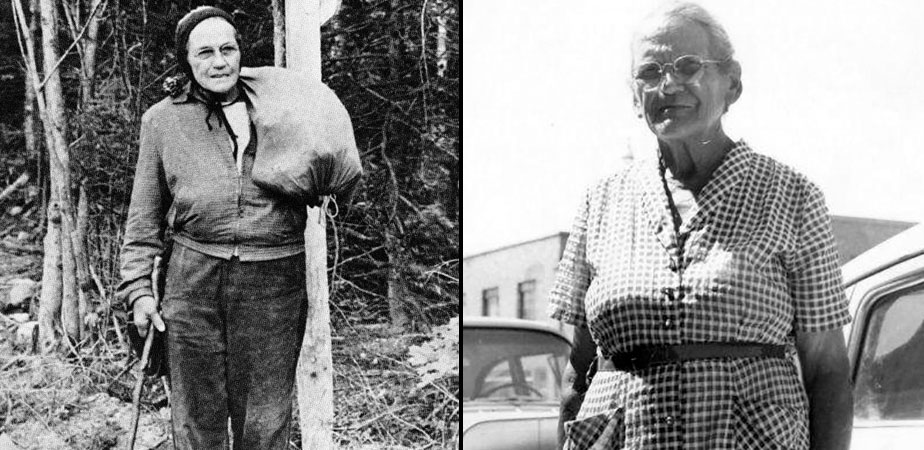 In 1955, at the age of 67, Emma Rowena Gatewood became the first woman to solo hike the entire 2,190 mile (3,524 km) Appalachian Trail — wearing Keds sneakers and carrying an army blanket, a raincoat, a shower curtain, and a change of clothes in a homemade bag which she slung over one shoulder. For food, she foraged for wild plants, as well as carried dried meat, cheese, nuts, and dried fruit. The mother of 11 and grandmother of 23, Gatewood is now considered a pioneer of ultra-light hiking and one of the first high-profile ambassadors of the Appalachian Trail (AT). Her resilience and determination have inspired generations of hikers, whether they're walking a local state trail or tackling the full AT. "I would never have started this trip if I had known how tough it was," Gatewood observed after her hike, "but I couldn't and I wouldn't quit."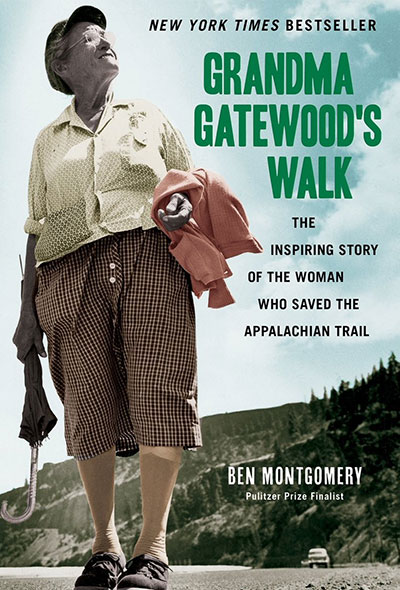 People might not have been surprised by Gatewood's perseverance if they had known what she survived to get there. She was born in Gallia County, Ohio on October 25, 1887 into a poor family of 15 children, and her father, a Civil War amputee, was a heavy drinker. At the age of 19, she married a 27-year-old named P. C. Gatewood, a brutal man who regularly beat her. On occasion she would escape into the woods, and slowly the wilderness became a refuge for her. She fled her marriage once, but returned after she couldn't bear to stay away from her children.
In 1939, after her husband broke her teeth and cracked one of her ribs, Gatewood fought back by throwing a sack of flour at him — and a sheriff's deputy arrested her. Fortunately, the mayor of the small West Virginia town where they lived intervened after he saw her battered face. After thirty years in a violent marriage, she successfully received a divorce, which was extremely uncommon at the time, and raised her last three children alone. "She was free," says Bette Lou Higgins, producer of Trail Magic, a documentary about Gatewood. "She didn't have to answer to anyone."
Gatewood's children were grown in 1949 when she read a story about the Appalachian Trail in National Geographic magazine. She was intrigued by the idea that no woman had hiked the full length solo. Her daughter Rowena later remembered her saying, "If those men can do it, I can do it." On her first attempt, leaving from Maine, she broke her glasses and had to be rescued by rangers when she got lost. The second time, she set off from Georgia, carrying only a small sack and wearing Keds sneakers. She ended up wearing through seven pairs of the canvas shoes during her hike.
The hike was more difficult than she expected; much of the trail was in disrepair and badly overgrown. "There were terrible blow downs, burnt-over areas that were never re-marked, gravel and sand washouts, weeds and brush to your neck, and most of the shelters were blown down, burned down or so filthy I chose to sleep out of doors," she said in an interview. "This is no trail. This is a nightmare." Those problems added to the trail's notorious difficulty, including its extreme changes in elevation. "For some fool reason, they always lead you right up over the biggest rock to the top of the biggest mountain they can find," she declared. "I thought it would be a nice lark... It wasn't."
Even with these challenges, Gatewood kept up a pace of 14 miles a day, often walking from sunrise to sunset, and regularly outpacing younger hikers on the trail. In the Southern states, local newspapers started picking up the story of the grandmother who was attempting to hike the trail's full length, and soon the Associated Press wrote a profile on her walk. As word spread, people across the country started following news reports about "Grandma Gatewood," tracking her progress along the trail. "Much of America was pulling for her," says Ben Montgomery, author of the best-selling book Grandma Gatewood's Walk. "[People were] clipping newspaper articles at kitchen tables and watching her traipse across the evening news on television, wondering whether she'd survive, this woman, in so mean a place."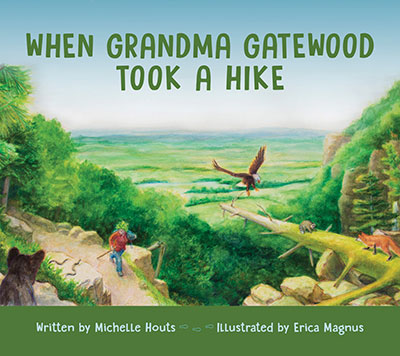 In 1955, after hiking for 146 days, Gatewood successfully became the first woman to complete the entire trail by herself in one season. She later returned to hike the trail again in 1960 and in 1963 at the age of 76, becoming the first person to ever hike the AT three times. She also hiked 2,000 miles (3,200 km) of the Oregon Trail from Missouri to Oregon, averaging 22 miles (35 km) a day, and she was instrumental in establishing the Buckeye Trail in her home state of Ohio. The Appalachian Trail Conference named her the oldest female thru-hiker. Gatewood's highly publicized descriptions of the poor conditions on the trail prompted improvements from the management of the trail; shelters were rebuilt and trails were cleared and re-marked. "Media coverage of her hike led to repairs and restoration of the trail," wrote Diana Reese in The Washington Post. "[She] may, indeed, have saved the trail from falling into ruin."
Grandma Gatewood's various feats inspired people across the country to try hiking some of America's beautiful trails; today, an estimated two million people hike part of the Appalachian Trail every year and nearly 1,000 people a year attempt a thru-hike. She is also considered a pioneer of the ultralight backpacking movement, which emphasizes carrying the lightest and simplest gear possible for any trip. "Stop at local groceries and pick up Vienna sausages... most everything else to eat you can find beside the trail," the 83-year-old Gatewood advised those who wanted to follow in her footsteps. "And by the way those wild onions are not called 'Ramps'... they are 'Rampians' ... a ramp is an inclined plane." She also didn't think much of the latest ultralight hiking gear; instead, the highly practical hiking great-grandmother suggested:  "make a rain cape, and an over the shoulder sling bag, and buy a sturdy pair of Keds tennis shoes."
Books About Grandma Gatewood and Other Mighty Girl Hikers
Three outdoor-loving friends — Wren, El, and Hattie, along with Bean the dog — are going on a hike. It's their "favorite thing to do," but each of them has different talents to bring to bear: Wren brings her sketchbook, while El shows them how to make leaf baskets, and Hattie, the smallest, is the best at using their map to find her way. On their route, they observe the flora and fauna of the Western woodland, labeled in the illustrations; scientific backmatter, including a glossary, encourages kids to imagine what they might discover in their own backyards. This picture book is a tribute to friendship, exploration, and adventures in the great outdoors.