Mighty Girls shined at this year's premiere science and engineering competition for middle school students!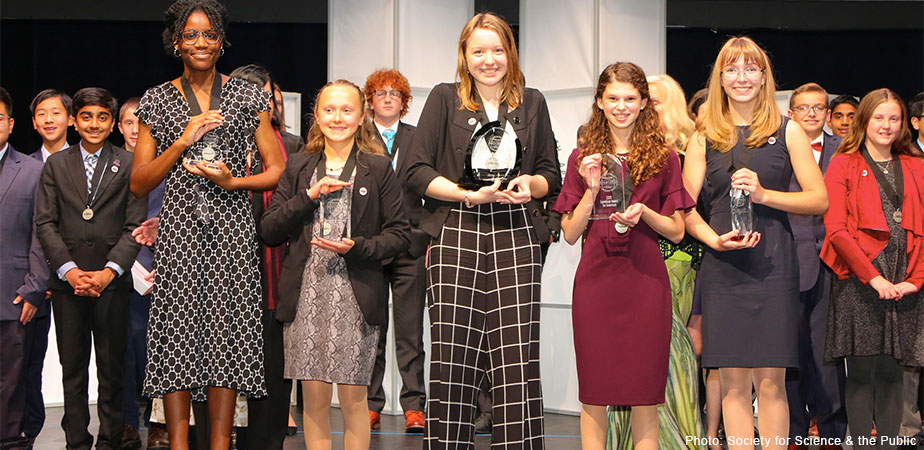 When the winners were announced at this year's Broadcom MASTERS Competition, America's premiere science and engineering competition for middle school students, the stage looked a little different than previous years — for the first time ever, all of the top prize winners were girls! 14-year-old Alaina Gassler won the top award, the $25,000 Samueli Foundation Prize, while 14-year-olds Rachel Bergey, Sidor Clare, Alexis MacAvoy, and Lauren Ejiaga each took home $10,000 prizes. "With so many challenges in our world, Alaina and her fellow Broadcom MASTERS finalists make me optimistic," says Maya Ajmera, President and CEO of the Society for Science & the Public, which runs the competition, and Publisher of Science News. "I am proud to lead an organization that is inspiring so many young people, especially girls, to continue to innovate."
The Broadcom MASTERS — which stands for Math, Applied Science, Technology, and Engineering for Rising Stars — was founded in 2011 and aims to encourage middle school students to see how their personal passions can lead to career pathways in STEM. The competition is open to students in 6th, 7th, and 8th grades; science fairs affiliated with the Society for Science & the Public nominate the top 10% of their participants, who then apply for the chance to join the national competition. This year, there was a pool of 2,348 applicants; 30 finalists were chosen, including 18 girls and 12 boys — the first time the finalists have been majority female as well.
In this blog post, we introduce you to these clever and creative Mighty Girls and their incredible projects. Their initiatives include reducing the size of blind spots in cars, creating new methods for protecting trees from an invasive insect species, studying how to build bricks on Mars, inventing a water filter that can remove heavy metals, and researching how increased ultraviolet light from ozone depletion affects plant growth. Their innovation and curiosity is sure to inspire science-loving kids everywhere!
To encourage your Mighty Girl to see herself as a scientist, just like these competition winners, check out our blog post Ignite Her Curiosity: The Best Books to Inspire Science-Loving Mighty Girls.
Meet The Winners of the 2019 Broadcom MASTERS
Alaina Gassler: Making Vehicles Safer By Removing Blind Spots
Alaina Gassler's mother hates driving their Jeep Grand Cherokee: the large A-pillar design around the windshield, which provides protection in a rollover crash, also impedes her view with blind spots. The problem piqued the curiosity of the 14-year-old from West Grove, Pennsylvania: "I started to think about how blind spots are a huge problem in all cars," she says. Alaina knew that her solution had to be inexpensive, easily accessible, and work in different lighting conditions. She created a mount for a webcam that could be installed on the passenger side A-pillar, and 3D printed a part that allowed a projector to display the image at close range inside the car. Her invention won the $25,000 Samueli Foundation Prize, but she's not done yet: she's already got plans to create a new prototype with an LCD screen, which is easier to see in bright light. "There's so many car accidents and injuries and deaths that could have been prevented," she says. "Since we can't take [the pillar] out of cars, I decided to get rid of it without getting rid of it."
 
Rachel Bergey: Trapping Invasive Insects to Protect Trees and Agriculture
In Rachel Bergey's home in Harleysville, Pennsylvania, spotted lanternflies are a huge problem: "thousands of them have invaded my family's maple trees," she says. The invasive species, which is originally from Asia, damages trees and threatens over $18 billion worth of agricultural crops in Pennsylvania alone. One trap currently in use is sticky tape, but tape needs frequent replacement, doesn't always catch the spotted lanternflies, and it can hurt helpful insects and even birds. As an alternative, Rachel came up with a trap made of a tinfoil dome with a tunnel that leads to insect netting: once the spotted lanternflies are inside, they can't get out. When she tested it, "the tinfoil and netting trap... caught 103 percent more spotted lanternflies and 94 percent less other insects" than tape. Rachel won the $10,000 Lemelson Award for an invention that shows a promising solution to a real-world problem with her trap. She tells other young scientists to remember that most of science is hard work: "You don't have to be super smart to be a scientist," she says. "You just have to be observant... Hard work pays off."
  
Sidor Clare: Making Bricks on Mars
Like many kids today, Sidor Clare is imagining a future Mars mission but one of her questions was how to build structures when the astronauts arrived. "Astronauts need sturdy building materials," the Sandy, Utah native points out, "and it takes 9 months and a ton of money to ship materials to Mars." She and her partner Kassie Holt decided to  find a binding agent that would allow people to make bricks with regolith, Martian soil. The girls used Mars Global Simulant MGS-1, a soil mix that imitates the chemical and mechanical properties of regolith, and tried different binders, including polyester resin, polystyrene, and recycled high density polyethylene, or HDPE. The resin brick was the strongest — so strong that they had to use construction equipment to test it: "Our Mars resin brick can withstand more pressure than concrete." Sidor won the $10,000 Marconi/Samueli Award for Innovation, which recognizes a young inventor with vision and promise. "A lot of people want to go to Mars," she says, "and I wanted to help further that exploration."
 
Lauren Ejiaga: Studying The Effects of Ozone Depletion
"I was always fascinated by nature," Lauren Ejiaga says, so when she learned about how the thinning of the ozone layer let more ultraviolet rays through the atmosphere, she wondered how that change was affecting plant growth. The aspiring doctor from New Orleans, Louisiana decided to analyze the effects of increased UV radiation on plants, particularly UVB rays. She grew pansies in hollow growing cases that she built from plastic pipes and connectors. Each case had a filter that filtered UVA ray, UVB rays, or neither. She found that plants that got UVA radiation only lost 14% of their chlorophyll, the pigment that allows plants to photosynthesize, compared to her control group, while plants that got UVB radiation only lost 61% of their chlorophyll. "[Ozone depletion] affects us in more ways than what we know," she concludes. Lauren won the $10,000 STEM Talent Award, sponsored by DoD STEM, which celebrates leadership and technical ability in STEM. She hopes to show other students that you can do science with minimal resources. "[You] don't really need a bunch of fancy gadgets or whatever to prove that something's happening," she says. "They can do it in their home, their backyard. If they want to do a topic, they can go for it."
 
Alexis MacAvoy: Designing Low-Cost, Eco-Friendly Water Filters
Alexis MacAvoy's home in Hillsborough, California is near San Francisco Bay, where efforts to clean up heavy metals in the water have cost millions of dollars — a cost that could have been avoided if people had filtered their wastewater. But even today, she says, "80% of the industrial wastewater isn't filtered whatsoever." Activated carbon filters can effectively remove these heavy metals, and Alexis wondered if it was possible to make these filters using biowaste like coconut shells or sawdust. After testing several materials, she created filters using sawdust and walnut shells, ground to a specific mesh size and treated with sodium bicarbonate and fluoride; these filters absorbed up to 30 times more copper than a commercial filter! Alexis won the $10,000 Robert Wood Johnson Foundation Award for Health Advancement for her work to make it easier to keep our water clean. She hopes her win will raise public awareness of the multiple benefits of water filtration: "preserving ecosystems so that no further damage is conducted can actually benefit our health as well."
Children's Books Celebrating Science-Loving Mighty Girls
Mary spends so much time tinkering in her lab that she doesn't have any friends... so when she's feeling lonely one day, she invents the Sheepinator! Mary's new pet sheep — and her amazing invention — catch her classmates' eyes, and she decides to maintain these new connections by bringing all the other kids sheep, too. But when her plan goes a bit sideways, her newfound friends are ready and willing to help! Author Sue Fleiss' clever reimagining of the classic poem combine beautifully with Petros Bouloubasis' wacky illustrations to create an appealing combination of science and friendship.