Caitlin Kirby wore a skirt made out of 17 rejection letters to her dissertation defense.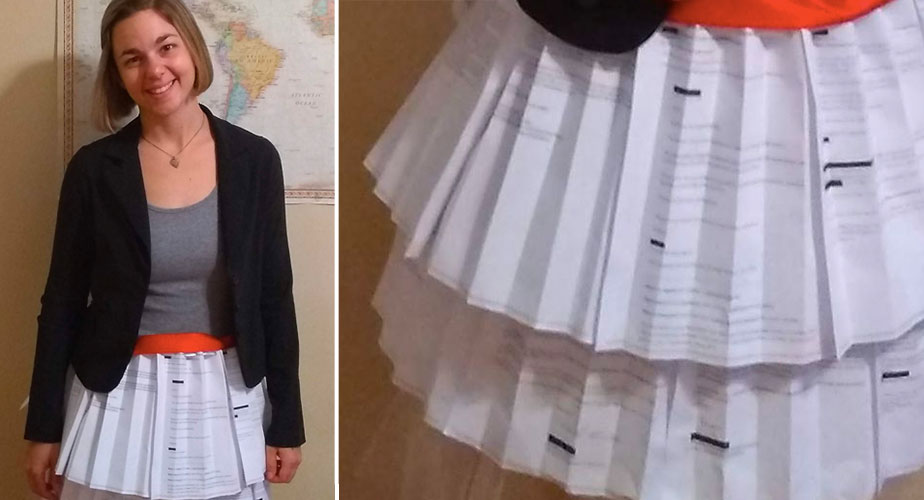 At her dissertation defense last month, Caitlin Kirby wore a one-of-a-kind, handmade skirt — made out of 17 rejection letters that she had received over the last five years! The 28-year-old Michigan State University grad student, who has spent the last 4 1/2 years working towards her PhD in environmental science and policy, says that the rejection letters had come from other PhD programs, scholarships and academic journals. Kirby says that she created and wore the skirt "in the spirit of acknowledging & normalizing failure in the process," observing that "the dissertation presentation is in this narrative form, where … it looks like everything went smoothly in my process from start to finish. So I wanted something in my presentation that shows that really isn't how it goes. There are a lot of roadblocks along the way."
To find the letters, Kirby searched her email for keywords like "unfortunately" and "we regret to inform you." Looking back, she observes that those rejections taught her as much as her successes. Rejections for smaller grants, for example, taught her to write better proposals, which eventually led to a Fulbright Scholar grant to research urban agriculture in Germany. Her PhD advisor, Dr. Julie Libarkin, who heads the university's Geocognition Laboratory, seconds the importance of failure: "Science is all about going in directions that turn out to be dead ends and then having to turn around and start over," she told the Philadelphia Inquirer. "[Kirby] embraces trying and failing and trying until you achieve a success — which is sort of what we do in the lab. It's all about failure."
Learning to recognize failure as a normal step on the road to future success is a particularly important lesson for girls and women. As discussed in our article, Growing Grit: 7 Ways to Raise a Resilient Mighty Girl, research has found that girls are more likely than boys to suffer from perfectionism and struggle with a loss of confidence when they make even small mistakes. Cultivating resiliency in girls is essential to countering these tendencies; as Rachel Simmons, author of Enough As She Is, asserts: "What we want is for girls to have is the capacity to move through a setback without beating themselves up."
For Kirby, the process of making the skirt proved cathartic. "Sitting down and spending time with your rejection letters to make a craft out of them is kind of therapeutic," she observed in an interview with the Washington Post. "When I put them together, they didn't really seem as painful anymore."  The original idea for creating the skirt was inspired both by seeing photographs of other students wearing graduation dresses they had made from academic posters and by the character of Leslie Knope in Parks and Recreation, who made a wedding dress out of articles written about her. "Somewhere along the way, I decided that doing the rejection letters would be an interesting twist on that," says Kirby. She printed out the letters and made accordion folds at the top, then punched holes and strung them together with white ribbon attached them to tulle.
Her defense committee loved the unique skirt and her courage in wearing it, and so did many people online after she shared a photo of it on Twitter. "It definitely resonated with people more than I expected," she says. Now that her dissertation defense is done, Kirby is heading to Dortmund, Germany with the funding from the Fulbright grant, where she will work at the Research Institute for Urban and Regional Development for eight months, after which her PhD will be official. "I'm sure there will be a lot more rejection letters [to come]," she observes. "This doesn't mean that I'm totally okay with all rejections now. It's still just as painful when it comes across through my email." Thanks to her experience, Kirby told the Lansing State Journal that she knows she can overcome those rejections and even has an idea for taking them in stride: "Maybe I'll make a longer skirt," she says with a smile.
Books To Help Build Kids' Resiliency at Every Age
Wendy and Wade are Woggleball stars, and they love winning — so when they suffer a disappointing loss, they feel ready to quit. Fortunately, their grandpa encourages them, reminding them that "What you learn from your loss can bring victory!" Best-selling author and motivational teacher John C. Maxwell adapts the life lessons in Sometimes You Win — Sometimes You Learn for young readers in this picture book that encourages a positive attitude to failure and the persistence necessary to achieve your goals.