Saleha Jabeen was commissioned as a second lieutenant by the Air Force Chief of Chaplains, who said, "Any time we advance religious freedoms, it's a win for all persons of faith."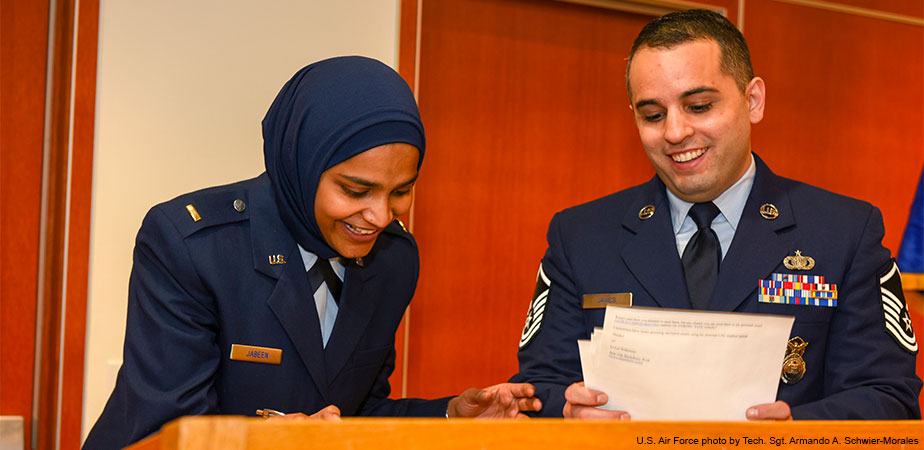 In a ceremony filled with family, friends, and mentors, Saleha Jabeen made history by becoming the first female Muslim chaplain in the history of the U.S. military! At the December ceremony in Chicago, Jabeen was commissioned as a second lieutenant by the Air Force Chief of Chaplains, Major General Steven Schaick. "Any time we advance religious freedoms, it's a win for all persons of faith," asserted Schaick. "The fact is America is a place where the Constitution guarantees your freedom to embrace or abstain from religious ideals, and the Chaplain Corps, which Jabeen just entered, exists to ensure every Airman has a religious freedom advocate.... I could not be more proud of our Air Force for being willing to commission and embrace the first female Imam in the Department of Defense."
A female chaplain is already a rare sight in the military; in November 2019, the Office of the Secretary of Defense reported that there were 161 female chaplains in all service branches, including the Coast Guard, compared to 2,647 male ones. Military chaplains are religious ministry professionals who support the spiritual needs of military personnel and their families, and while Muslim chaplains have served in the U.S. military since 1993, there has never been a female Imam. As the first woman to ever serve in this capacity, Jabeen received the Ecclesiastical Endorsement from the Islamic Society of North America.
When the Indian-born Jabeen first came to the US fourteen years ago, a military career was not in her plans: "I thought I would study and make an impact in the corporate world," she recalls. After her brother joined the Army, however, she gained a new appreciation for military service and the impact she could have there. "It was because of his dedication and getting to see his military career that I recognized the importance of the chaplaincy in the armed forces," she says. "I saw that when one member gets deployed, all of their family members join them."
After graduating from the Catholic Theological Union in 2014, where she was the first Muslim woman chosen as valedictorian by her graduating class, Jabeen served in the U.S. Army Reserve from 2016 to 2018.  As a chaplain candidate, she expects to complete officer training this summer at Maxwell Air Force Base in Montgomery, Alabama, after which she will be assigned her first duty station.
Jabeen says she is looking forward to representing her faith — and helping those in need, in particular, women in the service. "Having a female chaplain is crucial to honor the gender-specific needs of all the female service members in general," she explains. "It is specifically important for female Muslim service members to have a female Chaplain to accompany and to fulfill their needs, in the very practical aspects of religious and cultural sensitivities, as they seek help in moments of vulnerability." And, to anyone contemplating being the first to break a barrier, Jabeen offers this encouraging advice: "When other people look at what I have done, I want them to know that God has a plan for you and to go out there and be the best version of yourself and accomplish the mission you were specifically designed to complete. Don't let anyone or anything stop you and when they try — be kind, be generous, be resilient and don't quit."
Books About Trailblazing Muslim Women & Women in the Military
The kids in this book declare, "Our moms are superheroes." Why? Well, because she flies to the rescue in her helicopter, trains a bomb-sniffing dog, or saves lives in the medical complex. Some moms build tall buildings, or get everything exactly where it needs to go. The fun illustrations and simple text make this a fun read to remind children of military moms just how special their job is — or to teach children who aren't familiar with the military about the many jobs that soldiers do. For a companion to this book featuring military dads, check out Hero Dad.