By Lili Sandler, A Mighty Girl Senior Research Intern
As we prepare for Earth Day, we're excited to share a selection of ecologically-focused toys, kits, and gear for the young environmentalist in your life. Whether she's interested in science, prefers artistic pursuits, enjoys a game or puzzle, or shows her Earth pride by choosing reusable products, we at A Mighty Girl are thrilled to support every girls' dedication to protecting the Earth. And, for those children who aren't yet sure what it means to 'go green,' there are plenty of toys and games to help them learn about protecting the environment -- all while having fun!
For the first part of our Earth Day series on environmental-themed stories, visit our post on Ten Mighty Girl Books to Inspire Young Environmentalists.
SCIENCE, GONE GREEN!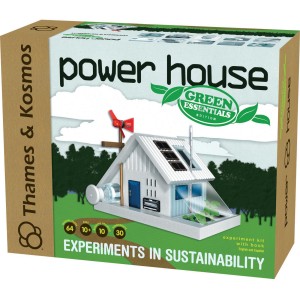 If you haven't yet heard of Snap Circuits, you're in for a treat. Consistently very highly-rated by parents and teachers alike, Snap Circuits are like Legos in that they're plastic shapes that snap together, but unlike Legos, the goal is to create an electrical circuit or device. With the Snap Circuits Alternative Energy Kit, young electrical engineers can experiment with creating 125 project focused on learning about electricity and alternative energy. Highly recommended for ages 8 and up, Snap Circuits are sure to be a hit!
With the Power House: Green Essentials Edition, young environmentalists can learn all about alternative energy, sustainable living, and replenishing resources by building energy-related models and conducting experiments. Projects include, but are not limited to: a greenhouse, a wind turbine, a hydrometer, a lemon battery, and the power house itself. Recommended for ages 10 and up, this kit also includes a diary with entries from a young group of explorers on an island who are learning to live a sustainable existence.
If your Mighty Girl is interested in solar energy, look no further than the Physics Solar Workshop. By building several different vehicles and machines, she can learn all about harnessing the power of the sun to operate them. Includes a 64-page book with instructions for how to build a solar-powered truck, car, drawbridge, airplane, and much more! Recommended for ages 8 and up, this kit received the Parents' Choice Silver Honor.
Learning how to live a more sustainable lifestyle is an essential part of an eco-friendly perspective. With the Sustainable Earth Lab, Mighty Girls can explore the topics of renewable energies, natural resource usage, climate change prevention, waste and water management, and energy conservation through hands-on experiments. These experiments include: constructing a miniature water treatment plant; creating recycled paper and plastic; exploring the greenhouse effect; and becoming an "energy detective". Recommended for ages 8 - 12, this kit is fun and educational!
For more options, you can also browse our entire selection of eco-friendly science and math toys.
ENVIRO-CRAFTINESS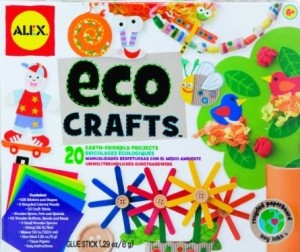 With the Alex brand Eco Crafts Kit, children can create fun craft projects with the eco-friendly supplies included within. An instruction guide is also included, but Mighty Girls are sure to find inspiration from things like buttons, beans, ribbon, tissue paper, stickers and more. Recommended for ages 6 - 10, this kit is sure to keep kids busy for hours!
Where craftiness meets environmental science, you'll find the Paper Recycling Kit from Green Creativity! Mighty Girls can make their very own paper with different patterns and textures, and can create bookmarks, greeting cards, a notebook, and more. Recommended for ages 5 - 12, this is a great kit!
For more eco-craft options, visit our eco-friendly arts and crafts section.
ECO-THEMED GAMES, PUZZLES, AND TOYS
The Life on Earth Matching Game, like all Eeboo products, is both beautifully illustrated and loads of fun. Like other matching games, it includes pairs of tiles, but in this version the pictures on the tiles celebrate the richness of life on Earth by showcasing flora and fauna from around the world. Recommended for ages 5 - 8, this is a fun family game.
If you have a puzzle fan in your life, she's sure to love the eco-friendly 1,000-piece puzzle of the Tree of Life. This puzzle is 100% recyclable, printed with vegetable-based inks, and is certified by the Forest Stewardship Council. Recommended for ages 11 and up, this puzzle is great for a rainy day, or a fun project to share with your Mighty Girl.
Looking for a dollhouse that promotes an ecological lifestyle? Look no further than the Plan Toys Eco Home! Made from non-toxic, natural materials such as organic rubberwood, this home comes with solar panels, wind turbines, and a living roof. Also included are two people, furniture, and an electric scooter. Recommended for ages 3 - 6, what better way to teach children about living "green" than through play!
And, of course, we have lots more eco-friendly games, puzzles, and imaginative toys for you to check out.
LIVING GREEN, EVERY DAY
For kids who want to incorporate caring for the environment into their day-to-day life, their lunch might be the best place to start! With a reusable lunch bag, and aluminum water bottle, stainless steel containers, reusable snack bags, and reusable sandwich bags, your Mighty Girl will be mighty green as she eats her lunch!
Living an ecologically-friendly lifestyle is more important than ever before. As the saying goes, Make Every Day Earth Day!
More Ways to Go Green!