Augusta Fells Savage became the first African American woman to open her own art gallery in America.
In 1939, a new art gallery opened in Harlem in New York City. It was called the Salon of Contemporary Negro Art, and it was the brainchild of Augusta Fells Savage, a talented sculptor who had faced obstacles due to her sex and race at every turn. Savage was the first African American woman to open her own art gallery in America, and she hoped her Salon would give black artists a place to exhibit their work, free from the prejudice that kept them — and her — out of the mainstream art world. "We do not ask any special favors as artists because of our race," she said to the 500 people who attended the gallery's opening. "We only want to present to you our works and ask you to judge them on their merits."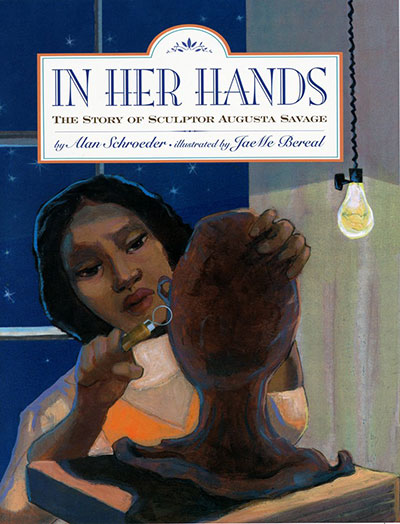 Savage was born on February 29, 1892 in Green Cove Springs, Florida, and from an early age her fingers yearned to sculpt. "From the time I can first recall the rain falling on the red clay in Florida. I wanted to make things," she recalled. "When my brothers and sisters were making mud pies, I would be making ducks and chickens with the mud." But her father, a Methodist minister with a conservative interpretation of the Biblical prohibition against graven images, punished her for her creations: "My father licked me four or five times a week, and [he] almost whipped all the art out of me." Fortunately, she persevered, and her high school principal encouraged her artistic talents by allowing her to teach a clay modeling class.
After two early marriages — her first at the age of 15 — Savage decided to pursue her love of art by moving to New York City. In 1921, she was admitted to The Cooper Union School for the Advancement of Science and Art, a scholarship-based school, selected ahead of 142 men on the waiting list. The school's board was so impressed by her work that they even granted her a stipend to cover room and board after she lost her job as an apartment caretaker.
Still, she often came face to face with prejudice. In 1923, she was accepted to a summer art program sponsored by the French government at the Fontainebleau School of Fine Arts, but her acceptance was retracted after it became clear she was black. "It would not be wise to have a colored student," said a letter from the admissions committee, "as complications would arise, and the student would suffer most from these complications." Savage publicized this injustice by writing letters to newspapers in both America and Europe, which made headlines on both sides of the Atlantic. While she did not get to study at Fontainebleau, one supportive committee member, sculptor Hermon Atkins MacNeil, invited her to study with him privately.
After completing her studies, Savage worked in steam laundries in Manhattan to support herself and her family, while continuing to sculpt. She received her first commission, a bust of W.E.B. DuBois for the Harlem Library, which led to more commissions including busts of other black leaders such as Marcus Garvey and William Pickens. Her 1929 bust of a young black boy entitled Gamin, which was voted most popular in an exhibition at the time of 200 works by black artists, cemented Savage's reputation as an influential artist of the Harlem Renaissance. Today, Gamin is on permanent display at the Smithsonian American Art Museum.
In 1934, Savage became the first African-American artist elected to the National Association of Women Painters and Sculptors. She established the Savage Studio of Arts and Crafts in Harlem, open to anyone who wanted to learn to paint, draw, or sculpt. Among her young students were several who went on to become nationally-known artists including abstract painter Norman Lewis, figurative painter Jacob Lawrence, and portrait artist Gwendolyn Knight.
Savage was commissioned by Board of Design for the 1939 New York World's Fair to create a piece inspired by the song "Lift Every Voice and Sing," which is often referred to as the "black national anthem." Her 16-foot tall sculpture, The Harp, reimagined a standing harp using twelve standing African American youth as its strings, with an arm and hand as its sounding board. Over 5 million people came to see The Harp, and it was used in both a World's Fair postcard and a small replica souvenir. However, Savage did not have the funds to transport or store the piece, so it was destroyed when the fair was over.
In fact, little of Savage's work survives today. Because she couldn't afford bronze, she often had to make her sculptures out of plaster; most of these have crumbled over time. Other works, like The Harp, were destroyed because they could not be moved or stored, while some of her work has simply disappeared. In 1988, the Schomburg Center in Harlem held a retrospective of her work, but could only locate 19 pieces. Throughout her career, Savage fought to help African American artists publicize their work. "She was keen on creating an infrastructure for black artists," says Wendy NE Ikemoto, curator at the New York Historical Society. "She put a lot of thought and energy into creating these intellectual spaces and networks for the work of black artists."
In addition to the students she fostered during the Harlem Renaissance, Savage devoted much of her later life to teaching children and summer art camps, mostly in Saugerties, New York. When she died of cancer in March 26, 1962, she was almost forgotten, but her impact as an artist and teacher is far better appreciated today. Ultimately, her greatest wish was to inspire young artists: "I have created nothing really beautiful, really lasting," she once said, "but if I can inspire one of these youngsters to develop the talent I know they possess, then my monument will be in their work."
Books About Trailblazing Women in Art and Sculpture
In Little Leaders: Bold Women in Black History, Vashti Harrison introduced school-aged kids to inspiring role models they probably won't meet in their history books. Now, in this detailed board book, she adapts 18 of her profiles for preschool readers! With simple text and her trademark illustrations that throw back to classic mid-century children's literature, she shows kids a variety of heroes and role models in every field — including sculptor Augusta Savage, who both created her own spellbinding art and taught other artists to express themselves. Harrison is also the author of another board book, Think Big, Little One, which shares the story of women creators from around the world.
Buy:
The Book Depository
(Unavailable)