"'My Best Friend' is about the instant heart connection between two girls who meet for the first time."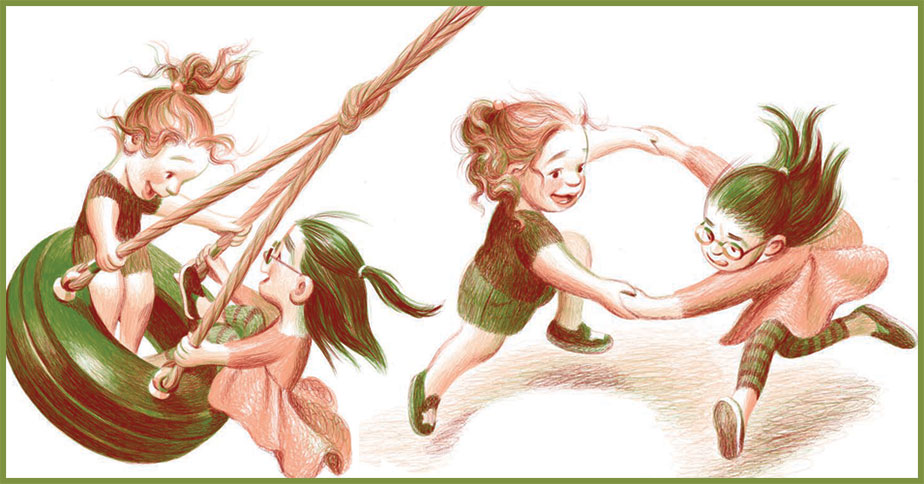 There are few joys as simple and as profound as a child's first friendship! In the course of a few hours — without even necessarily learning one another's names — two young children can forge a close connection that is unique to early childhood. These instant and joyful friendships are powerful moments in a child's life; Publishers Weekly aptly describes them as the "giddy infatuation when a child first meets another and feels an instant bond."
The new picture book My Best Friend, by bestselling author Julie Fogliano and Caldecott Honor winning illustrator Jillian Tamaki, captures the heady moment when a child meets a peer and first experiences this instant bond unlike any other. This gorgeously illustrated new book follows two young girls over the course of one glorious afternoon outdoors as the pair laugh, play imaginary games (including pretending to be a pickle!), and explore together. The enchanting, child-like text is complemented by whimsical, energetic artwork showing the pair in near constant motion. Together, they beautifully depict the wonder of first friendships and that special time when many children first discover the joy of finding your own 'best friend.'
A Mighty Girl spoke to both Julie and Jillian about their experiences collaborating on this stunning new book, how they captured this unique type of childhood friendship, and what children's books mean to them.
Our Interview With Author Julie Fogliano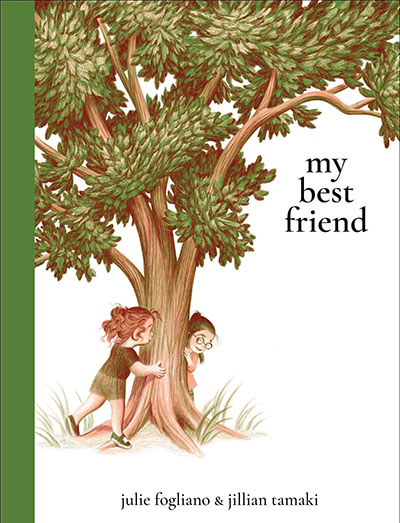 Julie Fogliano, who lives in the Hudson Valley in New York, is a New York Times bestselling author whose picture books have been translated into more than ten languages. Her titles include And Then It's Spring, If You Want To See A Whale, Just In Case You Want To Fly, A House That Once Was, If I Was the Sunshine, When's My Birthday?, and the poetry collection When Green Becomes Tomatoes.
Can you start off by describing your new picture book My Best Friend for our readers? 
My Best Friend is about the instant heart connection between two girls who meet for the first time.
The book does such an incredible job of capturing this almost magical form of friendship only found among very young children — one that is full of innocence, openness, and joy. What drew you to writing a picture book about this unique type of friendship? 
Once I became a mom, I was amazed by the way my kids were immediately able to make friends with someone they've never met before. When my daughter was 4, she came home from camp saying "I made a best friend!!" When I asked her what her new friend's name was, she looked at me like I was ridiculous and said "Mom, I have no idea."
Book reviewer Elizabeth Bird once wrote that no one is better than you at "placing a finger on the pulse of childhood (a.k.a. the ways in which children interpret the world around them)." She also calls you the modern-day successor of Margaret Wise Brown, the author of such timeless children's classics as Goodnight Moon and The Runaway Bunny. Many picture book writers strive to capture a child's voice but, more often than not, it still reads like an adult mimicking a child. Your writing, in contrast, sounds like you're tapping directly into a four-year-old's brain. How do you achieve this? 
Oh boy, that is unbelievably flattering... thank you. Well, there are a two things at play here. First of all, I spend A LOT of time around kids. Like all of my time. And I have always been tuned into their language. Honestly, I've always been a little jealous of it. They are so free with the way they speak. There's no nonsense, no pretense... if they don't know the right word for something, they make it up! They're not bound by grammar, or fear of judgement.  As adults, our brains edit what our hearts want to say... kids don't have that problem.
The other piece, is that my early childhood is very much at the forefront of my memory. I think I loved being a kid so much, I never really boxed it up and filed it away.  Sometimes, something will trigger a childhood memory in such a real way that I can totally feel exactly how I felt in that moment. When I wrote My Best Friend, I was doing my best to capture one of those moments while it still felt real.
In the dedication, you write: "for my sissy, my first best friend." Can you tell us a little about your 'sissy' and your first experience of friendship as a child? 
It took me a very long time to realize that my sister was my very first (and very best) best friend. I wasn't always the nicest big sister in the world, But, that never stopped her from being the most loyal and adoring little sister. So, even though this book is based on my childhood (non-sister) best friend... the love and joy and silliness that my sister and I shared as kids was most definitely at the heart of this book.
My first experience of friendship as a child was with my friend Min. She moved in across the street when I was around 4, and it was instant love. We were totally inseparable for years (and we are still close friends). For the first couple of years of our friendship, Min and I didn't speak the same language. She had just moved from Korea and I was from Brooklyn. But, the funny thing is, I didn't even notice! We were very busy... running, hiding, swimming, making potions and picnics and giggling our tiny heads off. Honestly, we were too busy to talk!
Finally, can you share a few of your favorite picture books starring Mighty Girls? 
Oh there are just so many... but the current favorites my daughter and I have been reading are: Sophie's Squash, Miss Rumphius, Stand Tall Molly Lou Melon and ALL of the Frances books.
Our Interview With Illustrator Jillian Tamaki
Jillian Tamaki is a cartoonist and illustrator who lives in Toronto, Canada. She and her cousin Mariko Tamaki are co-creators of the teen graphic novels Skim and This One Summer, which won a Caldecott Honor — making it the first graphic novel to be recognized by the Caldecott committee. Tamaki is also the author of SuperMutant Magic Academy, a webcomic that has been collected in a published volume, and the picture books They Say Blue and Our Little Kitchen.
The artwork in My Best Friend is truly stunning and bursting with the energy of these two children. Can you describe your artistic process in creating the book? 
Thank you! I make all my books the same way, generally. I start with very rough drawings to get the broad strokes down. At this stage, they're little more than stick figures. I then flesh it all out a little bit, then discuss with editors and the author. We might have some changes at that point. Then I do the final artwork which usually is the most time consuming part of the process. I made the images completely digitally, on an iPad and in Photoshop.
The book includes a lot of expressive close-ups of the two girls, as well as gorgeous depictions of nature. Why did you choose this particular style to bring these girls to life? 
I always take my guide from the story itself. Julie's script is full of energy and playfulness and movement. The two children dart about, listening and laughing and swinging and crying and devising new games. They go in and out of a make-believe world. The natural world has a part to play, but I always wanted the focus to be the dynamic between the two kids. It's almost like a cocoon. In terms of style, I just wanted to make sure the images could impart all those things I just mentioned and feel warm, cozy, expressive. And be fun to make! I think that always translates somehow into the energy of the pieces themselves.
Green and pink are very dominant throughout the book. Why did you select this color scheme? 
There are only 4 colors in this book! Light yellow, pink, green, and dark red. Any subtleties were made by layering those basic colors. No particular reason why, it could have been 4 different colors entirely. But it seemed to me warm and lively but also calm.
Is there anything else you'd like to share about your new book? 
I loved working with Julie's words! Collaborations are so wonderful because they expand your concept of what's possible.
To wrap up, can you share a few of your favorite picture books starring Mighty Girls?
Picture books: My Papi Has A Motorcycle by Isabel Quintero and Zeke Peña, The Paper Bag Princess by Robert Munsch, anything by Julie Morstad!
 A little older: The Sky is Falling by Kit Pearson, Half World by Hiromi Goto, The Marlys comics by Lynda Barry.