A Mighty Girl's top tips for parents on keeping kids engaged at home while observing social distancing.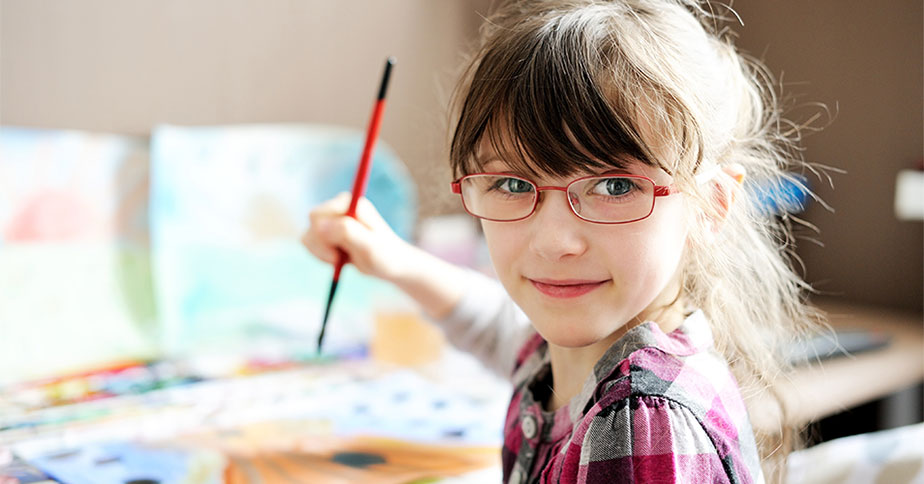 With schools closing, events cancelled, and many companies urging employees to work from home to prevent the spread of COVID-19, parents are facing an unexpected challenge. Since many of these closures overlap school March breaks, kids may not have homework to do — and even if they do, the lack of school and extracurricular activities will leave them with extra time on their hands. But that doesn't mean that parents can rely on their usual school holiday activities like playdates, playgrounds, and museum visits: as Dr. Asaf Bitton writes in Social Distancing: This Is Not A Snow Day, "even if you choose only one friend to have over, you are creating new links and possibilities for the type of transmission that all of our school/work/public event closures are trying to prevent.... We need to all do our part during these times, even if it means some discomfort for a while."
With that in mind, we've put together a list of activities that can help keep kids occupied without relying solely on screen time! Many of the ideas we list are self-directed projects that will help keep kids' learning skills sharp; others will give them a chance to explore new interests or learn new skills with the extra time they have off school. Because many parents will be working from home, we've also included possibilities that kids can do by themselves so they can "work" while you work side by side. To make it easy to get started, we've included links that will allow you to get supplies and information you need online, avoiding unnecessary outings to stores during the social distancing period. We hope that these activities will provide a unique chance for kids to explore opportunities they might not get during a typical school day so they will hopefully look back on this period as a time of fun and exploration and not one of fear and anxiety.
As you plan activities for your kids, don't forget to take time to talk to them about coronavirus and why social distancing is so important. The National Association of School Psychologists has created a parent resource with tips about having this conversation in an age-appropriate way. They encourage parents to speak as calmly as possible about the situation, and let kids know that you are available to answer questions, soothe worries, and give them the reassurance they need, while still giving them accurate information (including honest answers about what we don't yet know about COVID-19.) And if your kids are feeling worried or anxious, you can also find age-appropriate books and guides to help them learn to manage their worries in our blog post When You Worry Too Much: 25 Books to Help Kids Overcome Anxiety, Worry, and Fear.
Most importantly, remind them that measures like social distancing and school closures, while they can be scary, are part of what adults are doing to prevent people from getting sick. By using the tips in this blog post to keep their distance from others, kids are doing their part to ensure that we protect everyone in our community.
60 Activities To Keep Kids Busy During Social Distancing
Keep In Touch — Virtually
Just because you can't visit Grandma or your best friend doesn't mean you can't stay in contact! Kids of all ages can keep in touch with grandparents or other family members, or catch up with their friends, using video chat options like Skype, FaceTime, WhatsApp, and more. You could even organize a regular "virtual playdate" with your child's friends. Staying it touch with older relatives is also an important way to keep their spirits up during this period of social isolation; after all, a video chat with a grandchild is a great way to brighten up anyone's day!
Read Mighty Girl Books
Lots of time at home together provides a great opportunity for parents and kids to dig into A Mighty Girl's collection of over 4,000 girl-empowering titles for toddlers to teens! You can explore our book collection's 200+ categories, which include everything from book genres to a variety of interests to different social issues (mouse over 'books' on our main menu bar to view a category directory). Once you've selected a category, you can use our filters to narrow your selection even further, sorting by age range, award-winning titles, and more. With lots of family togetherness time right now, this is also a great time to start a daily ritual of reading together, even with older kids. You can find many books perfect for reading a chapter or two at a time in our collection of the Top Read Aloud Books Starring Mighty Girls.
Collect Food and Hygiene Supplies From Home To Donate
With businesses closing, many people are going to need to lean on food banks to get them through — so now is the perfect time to teach her about sharing with her community! Go through your house for non-perishable foods that you can donate; check your local food bank to find out what items they need most. And don't forget hygiene supplies: menstrual pads, toilet paper, laundry detergent, toothpaste and more will be in serious need over the coming weeks. Food banks also need cash donation so they can buy needed items in bulk so it's a great opportunity to talk to kids about making financial donations to charity as well.
Try An All-in-One Craft Kit
Crafts are a great way to keep minds and hands occupied, but to maintain social distancing, you'll want to avoid making supply runs to craft stores. An all-in-one craft kit is the perfect solution: everything you need for your kids to try out a new skill, from watercolors to weaving to building a birdhouse, is included in the kit. You can find a selection of high-quality kits on everything from creating your own comic book to sewing little monsters to making your own candles in our blog post on the Top 60 Arts and Crafts Toys for Mighty Girls, or browse our entire Craft Kit Collection for even more options.
Set Up A Virtual Book Club
Just because you can't meet in person doesn't mean you can't enjoy discussing good books! With a little coordination, you can arrange for a group of kids to read the same book each week, and then "meet" online — using methods like a video chat, a group text, or an email chain — to discuss their thoughts. On A Mighty Girl, you can find a book club organizing guide and book club reading lists of Mighty Girl books perfect for reading with book clubs in four different age ranges.  On each featured book's A Mighty Girl page, you'll also find a way to easily order a book online or download it if it's available electronically.
Interview Grandparents or Other Family Elders
Grandparents and other elders have plenty of intriguing stories to offer today's kids — including first-person accounts about what it was like living through historic moments of the 20th century and what life was like when they were kids. Set up an interview date by phone or video chat (which could also be recorded if you choose), and she'll be amazed what she'll learn! Brainstorm a list of interview questions (for a little help, here's a list of potential interview questions). Or get kids this Grandfather's Journal or this Grandmother's Journal full of prompts they can use to guide the interview and later give to their grandparent as a gift.
Discover Inspiring Women of History
There's no better time to learn more about trailblazing women in history! In our History / Biography Collection, you can find hundreds of books for children and teens about remarkable women throughout history that are sortable by reader age and theme. You can also discover our favorite new releases from the past year in our blog post New Mighty Girl Books for Women's History Month 2020. (While you're at it, stock your own bookshelf with 70 New Biographies for Adult Readers for Women's History Month.) You can even bring women's history into the playroom with the toys and games recommended in our blog post Empowered Play: Teaching Women's History With Toys and Games.
Learn To Code
Programming skills will be useful in almost any field — and kids love getting to code their first Hello World! Even young kids can learn the basics of programming logic with simple, screen-free games, while tweens and teens can try real-life coding or even program robots they build themselves. For programming toys, kits, and books to encourage her interest in coding at any age, visit our blog post Code Like A Mighty Girl.
Visit The World's Great Museums From Your Living Room
You don't have to travel to take a tour of some of the world's best museums! Check out the online tours at Google Arts and Culture and you'll find museums and galleries from all over the world. These virtual tours will introduce kids to beautiful works of art and the artists who created them. And if these tours spark a newfound love of visual art, make sure you check out the vast collection of high-resolution files of public domain artwork from the Paris Museums. You can also find many books to introduce kids to female artists, whose works have too often been neglected in traditional collections, in our Creative Arts book collection.
Make A First Period Kit
If your Mighty Girl is a tween, take some time to help her build a first period kit packed with everything she needs in case she starts her period at school or camp. Our blog post DIY Period Power includes a step-by-step guide to building a first period kit, including product recommendations you can order online. Don't forget to order her a puberty guide as well, and you can learn about several great options in our blog post A Time of Change: Talking with Tweens and Teens About Their Bodies.
Become A Local Naturalist
You'll be amazed at the plants and animals you can find in your own neighborhood! Get her researching local nature online or in books, then go out on a nature walk and see what you can find or simply explore the nature in your own backyard! Don't forget a pair of binoculars so she can birdwatch. You can find more science toys and gear to make outdoor exploration fun, visit our blog post Exploring Her World: 25 Science Toys and Kits for Outdoor Discovery.
Get Hands On With Science
STEM-loving kids will relish the chance to explore their scientific interests! A good science toy or kit can help her teach herself scientific concepts, and doing it hands-on helps kids retain information (and is way more fun!) You can find a selection of our favorite science toys in our blog post The Gift of Curiosity: The Top 50 Science Toys for Mighty Girls, or browse our full selection of Hands On Science / Kits.
Send Cards And Letters
If your kids' know a family member, friend, or neighbor who will be feeling nervous and isolated, sending a card or letter can be a real pick-me-up! Grab a pen or a pencil and write a thoughtful note that you can pop in the mail or drop off on a doorstep. Or, to extend the project, she can make her own cards and put a truly personalized touch on what she sends.
Take On The Challenge of a Major Model Build
Building a complex model requires lots of time and attention, and is a wonderful way to focus kids' (older tweens and up) and adults' attention away from stressful current events. Among our favorites are the Miniature 3D Bookshop, the 859-piece LEGO Ideas Pop-Up Book, the Wooden Clock Puzzle, the Wooden Marble Run Puzzle Kit, and the Wooden Vitascope Movie Projector Kit.
Get Active Indoors
Are the kids jumping off the walls? To help kids burn off extra energy anytime or if you live in a place where it's difficult to go outside right now with social distancing, you can find many toys perfect for energetic kids in our Indoor Active Play section or learn about our favorites in our blog post 40 Toys and Games for Indoor Active Play.
Celebrate the 100th Anniversary of the 19th Amendment
In honor of the upcoming anniversary of America's 19th Amendment, why not learn more about women's historic fight for the vote? Kids are often astounded to learn how controversial the idea of women voting was for much of our nation's history. You can find our favorite books for both kids and adults about the heroic women who fought for women's suffrage in our blog post How Women Won The Vote: The Best Books About the U.S. Suffrage Movement for Kids and Adults, or visit the Library of Congress' online exhibit Shall Not Be Denied: Women Fight For The Vote to learn more.
Build Her Financial Smarts
Money management is rarely taught at school but you can use this time to help her build her financial savvy by getting her thinking about how she uses her money! Younger kids can use "family dollars" similar to the classroom money used by teachers, earning them for helping around the house and spending them on special privileges. Older kids can start diving into saving or investing their allowance. And make sure you talk about the importance of sharing with your community: take the opportunity to look at local organizations that will need financial support during the shutdowns, from hospitals to food pantries to arts groups that have to cancel concerts and shows. A divided bank like the Moonjar Moneybox with separate compartments for saving, spending, and giving is a great way to help kids visualize these difference categories. You can find more tips for building kids' financial savvy in our blog post 30 Resources to Teach Kids Financial Literacy.
Do A Spring Cleaning And Purge
If your house is feeling a bit overstuffed, now is the perfect time to clean and purge things you don't use any more. Encourage kids to set aside toys, books, and other items from bedrooms or playrooms for donation later this year. Then, get them cleaning, dusting, and scrubbing so their rooms feel fresh and clean for spring. Tweens can check out A Smart Girl's Guide: Getting It Together for tips on organizing their space and stuff.
Start Reading A New Book Series
Forget binging TV shows — why not binge a terrific book series! If your Mighty Girl has been waiting to have time to read a whole series, this is her chance. You can find our favorite girl-empowering box sets and collections for all ages from toddlers to teens in our blog post The Whole Story: Book Box Sets Starring Mighty Girls.
Get Cooking
This extra time at home is a chance for kids to learn a few kitchen skills that will serve them well their whole lives! Get kids cooking or baking with the supplies you already have on hand. Younger kids will need supervision but can still help with prep, measuring, and mixing, especially with kid-sized kitchen tools like these ones from Curious Chef. Tweens can check out a book like A Smart Girl's Guide: Cooking and make something all by themselves!  And, of course, as many kids are at home with parents, it's a great time to have them help with everyday meal prep too.
Start A Journal
Journaling is the perfect combination of writing practice and fun while kids are out of school! Whether she writes in a notebook or on a computer, it will encourage her to explore her internal life, her dreams for the future, and much more. You can find some of our favorite options — some blank and some full of thought-provoking questions and prompts — in our blog post Telling Her Own Story: Top 10 Empowering Journals for Mighty Girls.
Play Board Games — Alone or Together
Extra time at home can mean more family game time! Kids can try solo games for independent play, or group games when siblings or parents are able to join in. If you have a mixed-age group, consider picking a cooperative game, which encourage kids to work together towards a goal. Or, check out our full Games Collection for classic board games, solo puzzle games, and more.
Go To The (Virtual) Opera
After canceling live performances, the Met Opera is streaming a series of free performances on its website. This is an excellent, no-cost opportunity for kids (and parents) to discover beloved works of art like Carmen, La Bohème, and La Traviata, all of which are airing this week. Take a little time before the show to learn the story, and then settle in for a world-class performance in your own living room.
Learn A New Language
If she's always wanted to learn Spanish, Japanese, Navajo, or Arabic — or maybe something even more unusual, like High Valyrian or Klingon! — then this is her chance. Using sites like Duolingo, she can easily practice a wide variety of languages from her computer, phone, or tablet.
Have A Backyard Campout
In many places, it's warm enough to pitch a tent and enjoy a night in the great outdoors — even if it's just in your backyard! Set up the tent in the morning and kids can enjoy a day outdoors, playing and reading in the tent and eating picnic lunch and snacks. Then, at night, the whole family can sleep there together.
Become A Playwright
If she loves theater, let her know she can debut her first work in your living room! Kids can write a short one-person show, or if they have willing siblings, they can write one that incorporates multiple roles. Encourage them to rehearse and perform their play. You can even record it and send it to grandparents and other family and friends. And to bring a fun and educational element into it, you could give her a few finger puppets based on famous women from history to make up plays about or reenact real moments from history.
Go For A Bike Ride (Or Scooter, or Skateboard...)
Get on a roll with bikes, scooters, skateboards, and more! While it's important to avoid playground equipment, which is frequently touched and hard to sanitize, riding your own wheels allows kids to get out some energy, enjoy the fresh air, and still maintain social distancing. For younger kids who need supervision, parents can plan a family ride, while older kids can go on their own — just remind them to keep the recommended distance away from other riders. For a selection of outdoor play toys and equipment that will keep kids entertained for hours, visit our Outdoor Play section.
Write Your Own Stories
Get her creative juices flowing and encourage her to write the story she's always dreamed of reading! Get her some writing prompt games like Rory's Story Cubes or the other storytelling sets in our Reading & Literacy section to help her get started. Or, for some writing advice for older kids, check out Writing Magic by best-selling author Gail Carson Levine for ages 8 to 12, Spilling Ink for ages 9 to 14, or Dear Ally: How Do You Write A Book? by best-selling author Ally Carter for ages 13 and up.
Learn Basic Car Maintenance
Take the opportunity to get into the garage and get her familiar with the family vehicle! Even if she's years from getting her license, she can learn how to check fluid levels, examine tires for wear, and change a flat — all skills that will be useful when she's driving herself. Plus, she might just discover mechanical aptitudes that get her started on a new hobby or future career.
Make A Dream Board
With a little extra time on her hands, she'll have plenty of time to think about her future — and a dream board can represent that vision for herself! Kids can gather photos, clippings, and other items that represent the life they're dreaming of, then put them together into a display piece they can see everyday.  And if she needs some guidance for her big dreams, she can check out a guide like Take 5 For Your Dreams for ages 12 and up.
Prepare Your Garden For Spring
It won't be long before buds will start popping up into the spring sunlight, so why not get things ready now? Kids can help clear fallen leaves and weeds, prune plants that need a trim before the growing season, and start seeds indoors for planting later. If you haven't chosen this year's plants, get them to put together an online order of the flowers, fruits, and veggies you'll enjoy this year! You can also find kid-sized gardening gear and a few kits for indoor gardening in our Gardening section.
Watch A Mighty Girl Movie
Give family movie night a little girl power with our collection of nearly 300 Mighty Girl movies and TV shows! From superhero action to family favorites to inspiring documentaries about incredible women, you'll find a wide selection to choose from. Watch for fun, or with films about women in history or ones that tackle different social issues, have a family discussion afterward to explore relevant themes and what kids' learned from the film.
Learn A New Card Game
It's amazing the fun you can have with a simple deck of cards. Kids can check out the website Pagat for rules for hundreds of solitaire and group card games they can try using a standard card deck. Or, check out our full collection of Card Games for games that use innovative decks as part of their gameplay.
Dig Into Geology
Do you have a budding rock hound in the family? She doesn't have to be climbing a rock face in order to learn more about geology! You can check out fun geology games like Rock On or start her rock collection with National Geographic's Rock and Mineral Starter Kit.
Discover Fabric Crafts
Whether they're sewing, felting, weaving, or crocheting, there are fabric crafts suitable for almost any age! These crafts are fun (and useful) for kids, and they help build fine motor skills, too. You can find a selection of kits perfect for beginners, including many all-in-one sets that come with all the supplies needed to complete the project, in our Fabric Crafts Collection.
Build Something Big
Now is the perfect time to pull out building and engineering toys and let kids loose! Whether they love building with bricks like LEGO, making a giant marble run, or learning the principals behind robotics, kids can use their extra time to build something really big. To give them inspiration, or if you want to add to their toy box, you can find building toys for all ages in our blog post Building Her Dreams: Building & Engineering Toys for Mighty Girls.
Let Dress-Up Inspire Imaginative Play
It only takes a few good dress-up pieces to inspire hours of creative play! You can create a dress-up trunk with stuff from around the house (scarves and costume jewelry are particularly appealing to many kids) or stock it with costume sets like this My First Career Gear Dress-Up Set for ages 3 to 6 or the DC Superhero Trio Set for ages 3 to 8. Or, for selection of hundreds of costumes and costume accessories, featuring historic characters, superheroes, career costumes, and more browse our Costumes / Dress-Up Collection.
Break Out A Big Puzzle
Putting a puzzle together as a family can be a great bonding activity! With extra time available, you can break out big puzzles — 500 or 1,000 pieces, or more — to work on. For puzzle options for all ages, visit our Puzzle Collection.
Have A Poetry Recital
Poetry lovers can show off their favorite verses by memorizing and presenting poetry to the family! Kids can write their own verse, or they can draw from over 40,000 poems on the Poetry Foundation website. Whether she's reciting "Mary Had A Little Lamb" or "Phenomenal Woman," she'll also build an appreciation for lyrical writing and artistic self-expression.
Practice Home Care Skills
Someday, she'll be an adult with her own space — so get her practicing what it takes to take care of a house or apartment! She can learn to do laundry, sweep floors, or care for pets, all with the knowledge that it's helping her prepare for independent life. WebMD has a list of age appropriate chores you can reference as you're picking kids' tasks for the day.
Get Playful With Math
She'll keep her math skills sharp by turning math into a game! In our blog post Add It Up! Top 35 Math Toys for Mighty Girls, we share a selection of toys and games for all ages that keep them counting, patterning, matching, and more. Or, she can incorporate similar ideas using items she has at home, sorting toys by color, calculating her allowance, and more.
Make A Physical — Or Digital — Scrapbook or Photo Album
Do you have a box of photos or a full online album you've been meaning to organize? If you have physical photos or a photo printer, kids can create scrapbook pages or fill an album with their favorites. If your photos are digital, you can order prints to be delivered in the mail, or create an album online with Google Photos or other photo services. You could even order a photo book that you can enjoy long after school closures are done.
Play Your Favorite Musical Instrument
You'll want to keep up with your scales and other practice during your break, but it's also a chance to play for fun! Try a piece you've been wanting to play, or maybe even try a brand new instrument. You can find a selection of simple instruments and music toys in our Music / Instruments Collection or find ways to make simple instruments at home online.
Go On A Virtual Zoo Visit
Check out the animal cams provided by many American zoos and aquariums for a unique peek at the lives of these amazing creatures! Among the live feeds running right now are jellyfish, beluga whales, sea lions, and African penguins at the Georgia Aquarium; giraffes, gorillas, elephants, leafcutter ants, and rhinos at the Houston Zoo; both underwater and oceanside cameras at exhibits at the Monterey Bay Aquarium; orangutans, tigers, condors, and koalas at the San Diego Zoo; and pandas at Zoo Atlanta.
Become A Geography Whiz
Understand your place in the world by learning more about maps and geography! You can find lots of maps, geography puzzles, and more in our Geography Collection, and encourage her to think about where she has traveled in the past — or where she'd like to go in the future. Or, get her hands-on with the topic and get her to draw a map of her neighborhood, complete with the landmarks that matter most to her!
Get Out The Art Supplies
For the next few weeks, she can draw, paint, and mold whatever strikes her fancy! Get her some new media to work with, like pastels, watercolors, or oven-dry clay, or pull out a coloring book based on her favorite character or book. You can find plenty of inspiration in our Drawing / Painting Toy Collection. As well, fans of Mo Willems, who is currently Artist-in-Residence at The John F. Kennedy Center for the Performing Arts, can check out his new Lunch Doodles video series to keep them creating.
Try Some Basic Woodworking
Using basic tools is a tremendously useful skill, and it's easy to learn with the help of some simple woodworking kits! By building a birdhouse, a wooden car, and more, kids will develop practical skills they can put to use as adults. Visit our collection of Woodworking Kits for kid-friendly tools and projects to try.
Do-It-Yourself Scavenger Hunt
There's a reason scavenger hunts are such a classic activity! For younger kids, choose items that are easy to find, like "something red"; for older kids, you can make the list more challenging — or get her doing a "book scavenger hunt" where she needs to find and read different genres of books from your shelf. Or, for a variation that keeps her busy while you're working, get her to create a list of items you have to find when you're taking a break!
Learn About The Stars and Space
Would-be astronauts and astronomers can dig into NASA's online resources to learn more about space, stars, and upcoming missions. You can even see Mars from Curiosity's point of view with Access Mars With Google! Or, just take a telescope or star map outside at night. You can find our favorite toys, gear, and books for space-loving girls in our blog post Reach For The Stars: Books & Toys to Inspire Space-Loving Girls.
Enjoy A Family Spa Day
You could all probably use a little stress relief, so why not set up an at-home spa day together? Siblings, or parents and kids, can take turns giving each other foot scrubs or facials, or painting finger and toe nails. And if you don't have products, she can start by making them — there are plenty of recipes online for scrubs, face masks, and more made with common household ingredients.
Sing And Dance
It only takes one for a song and dance party — which is also a great way to get out some extra energy! Crank up her favorite tunes and she can sing and dance her heart out. You can even consider getting her a karaoke microphone or a kid's karaoke machine to keep her singing for hours.
Explore Online Learning
Has your Mighty Girl always wanted to learn storytelling, coding, anatomy, or something else that isn't covered in her school's curriculum? Online learning academies can help her do it! With sites like Khan Academy, Mystery Science, and Codecademy, she can pursue these interests online, any time, free of charge. She can also check out TEDEd for a selection of videos, perfect for students, that explore topics from Viking runes to the physics of opera.
Break Out The Crosswords and Sudoku
Puzzles like crosswords, word searches, and sudoku help kids keep their brains busy! There are plenty of online printable options for all ages, but you can also check out our Activity Book Collection for possibilities. You can also check out fun variants like Colorku or Bananagrams to mix things up!
Spend Family Time Together
Take advantage of the closures to enjoy some time as a family! Pick out a good book to read aloud together, set up a family game time, or just enjoy long conversations over snacks or meals. This is a chance for something precious: extra time to savor the luxury of being with the people you love.
With so much uncertainty, this is a difficult time for everyone, but for kids, it can also be an opportunity to explore new interests, learn important skills, and deepen bonds with those people closest to them. If she's feeling anxious, these activities will give her a chance to focus her mind on something interesting and fun, rather than her worries. And when schools reopen and extracurriculars begin again, she won't remember this as a time of fear or boredom: instead, she'll think of it as a time of excitement and freedom — and know that, no matter what happens, her family is there to support her through it all.