"The ability to offer help is one of our greatest gifts," says Becky Hoeffler.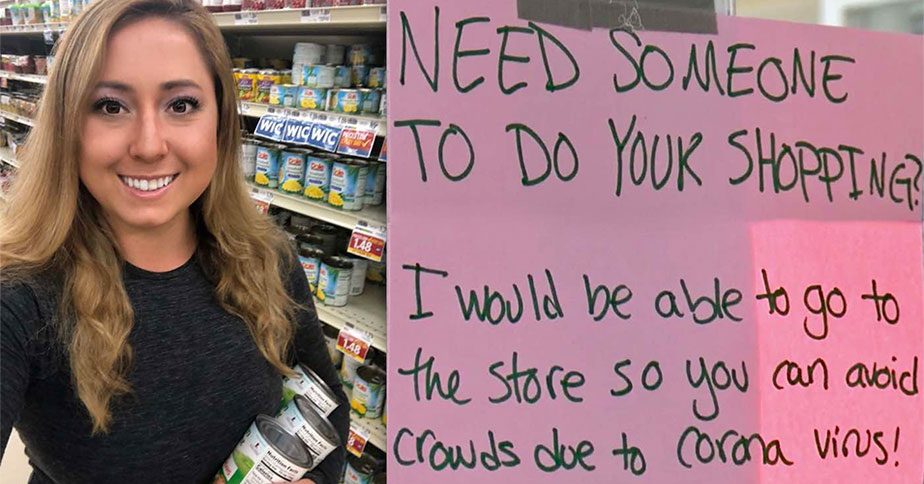 A Durham, North Carolina woman has stepped up to help elderly neighbors stay safe during the coronavirus threat by getting their groceries! Becky Hoeffler, a Duke University employee who's currently working from home due to the virus, was inspired to start her project when she called to check in on her grandfather. "He told me, 'I'm on my way to the grocery store' and I was just kind of concerned because he's 91 and I thought, 'is there a reason you have to go to the grocery store?... So that's what made me think, maybe I can go grocery shopping for others since I do live in a community that has several senior citizen neighbors." Since then, Hoeffler has helped several of her at-risk neighbors avoid crowded stores by getting their groceries on her lunch break. "I think utilizing people power is one of the best ways that we can combat the virus," she says. As Hoeffler told A Mighty Girl, "The ability to offer help is one of our greatest gifts."
The coronavirus is especially risky for the elderly and people of all ages with underlying health issues that can weaken their immune systems. With people at high risk being encouraged to stay at home, such as the request by California Governor Gavin Newsom yesterday that everyone over the age of 65 in the state stay at home, many elderly and at-risk people will be isolated in their homes, potentially for several weeks. Last week, a woman in Bend, Oregon shared a story online about an encounter that illustrates the stress and hardship that many of the people most at risk are experiencing.
Rebeccea Mehra wrote on Twitter that she was walking through a grocery store parking lot when an elderly woman called to her from her car. She recounts that the woman was nearly in tears as she explained to her through a crack in her window that she and her husband were in their 80s and afraid to go into the store due to the virus. The woman said that they had been sitting in the car for 45 minutes, hoping to ask someone for assistance. Happy to help out, Mehra took a $100 bill and a hand-written grocery list from the grateful couple, brought their groceries, and put them and the change in their trunk. When she shared her experience online, she reflected, "I know it's a time of hysteria and nerves, but offer to help anyone you can. Not everyone has people to turn to."
If you'd like to make a similar offer to at-risk people in your community, there are a few tips to keep in mind. Make sure that you wash your hands before picking up and delivering the food; Hoeffler also wears gloves while collecting food at the store as an added precaution. It's also best to leave grocery deliveries outside the door, rather than going into someone's home. And if you chat with the person while making the delivery, do so outside and observe social distancing by leaving at least six feet between you and the person you're helping. If possible, collect grocery lists by phone, text, email, or online, rather than in person, to minimize contact, and take electronic funds transfers rather than collecting cash. If you don't know which of your neighbors might need help, you can reach out in different ways; Hoeffler, for example, posted flyers in her neighborhood since not everyone is digitally connected and is using a local Facebook group to let more people know about her offer of shopping assistance. People offering help elsewhere are also using sites such NextDoor and neighborhood email lists.
"Am I excited that I'm probably going to get a sweet loaf of banana bread from my neighbor, Patti, because of this, yes," joked Hoeffler during an interview with CBS17. "[But] I think being able to help people and being able to help your neighbor is one of the most American things that you can do."
Books About Helping Neighbors, Kindness, and Community Service
Beloved author Amy Krouse Rosenthal takes the phrase "to plant a kiss" and makes it literal when the Little Miss of this book plants a real kiss in the ground. After tending it carefully — lots of sunshine and water — a glittering sprout grows. Now Little Miss is going to share the kiss she planted with the whole wide world! This beautiful conceptual book about kindness, generosity, and love is a reminder that simple gestures can grow far beyond the giver — and that anyone can be the one to start something that leads to "eternal bliss."