A Mighty Girl's top picks of e-books about extraordinary women that are available for under $5!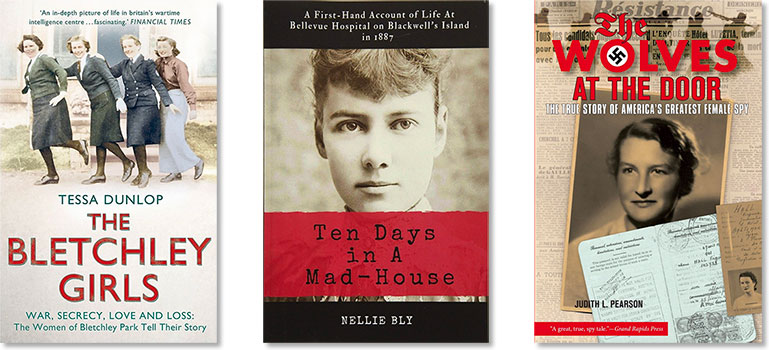 While staying at home to avoid the spread of the coronavirus, many adults are taking advantage of the extra time to catch up on their reading! But with many libraries and bookstores closed, it's not necessarily easy to get new titles to add to your "to read" pile. E-books are the perfect solution: they are quick to receive, so within minutes, you can be enjoying your next read!
To help fill your e-reader with new titles, we've put together a list of some of our favorite biographies, memoirs, and historical fiction for adult readers, all of which are available as e-books for under $5! From stories of daring spies to autobiographies from famous authors to books that explore the workings of the human mind, these titles are sure to pique your interest and encourage you to dive deeper into the fascinating stories of women that often go untold.
If you're looking for e-book titles for younger readers, visit our blog post 30 Free and Cheap Mighty Girl E-Books for Tweens.
Note: The prices listed below are for physical copies of each title. Please click the "Buy at Amazon" button to view the pricing for the Kindle/e-book edition. E-book prices are under $5 on Amazon.com as of April 13, 2020; prices may change with time and may differ on Amazon.ca or Amazon.co.uk.
Free and Cheap E-Books For Adult Readers
As Britain's war effort ramped up, 8 million women went to work... and 7,000 of them were chosen for a very secret duty at Bletchley Park. Although there had always been a few women in Bletchley's code breaking units, by the end of the war they would outnumber the men three to one. Their work was monotonous and meticulous, and the enormous, complex machines they used heralded today's computer age. In this book, Tessa Dunlop captures the stories of fifteen of the surviving Bletchley Girls. In their own voices, their stories seem very different, but they are united by their service to their country, which is only now coming to light. It's a unique portrait of the celebrated code breakers and their role in Britain's victory.