The 55-year-old Girl Scout leader was scheduled to run in this year's Boston Marathon; after it was postponed due to the pandemic, Tandy Wilson decided to use her training to lift the spirits of the girls in her troop by visiting each one at home.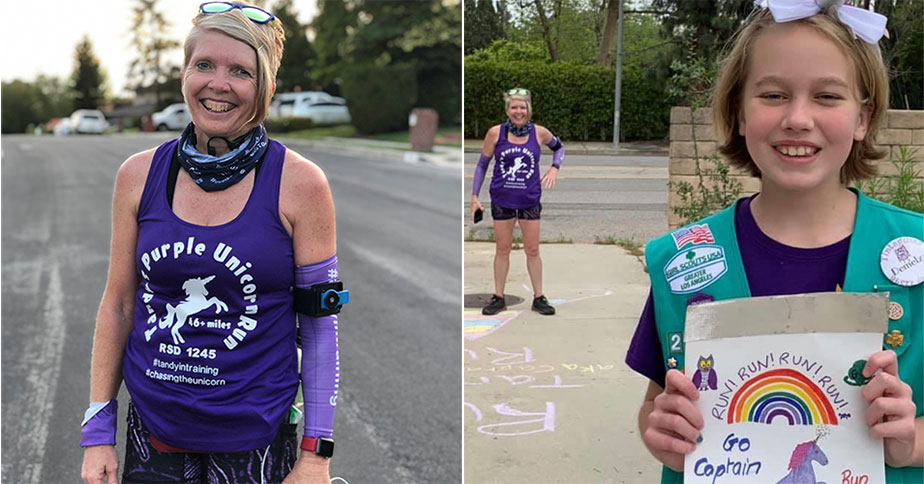 Tandy Wilson had been training for years to qualify for the 2020 Boston Marathon — so after the coronavirus led to the historic marathon's first postponement in 124 years, the long-time Girl Scout leader decided to put all of her marathon preparation to good use by lifting the spirits of the girls in her troop! The 55-year-old troop leader laid out a 46-mile route across the San Fernando Valley in California — 20 miles longer than a marathon — that allowed her to run past the homes of all 52 of her Girl Scouts over 11 hours. Calling it "Tandy's Purple Unicorn Run" after the troop's official color and the Boston Marathon's mascot, Wilson stopped at each girl's house to chat while observing social distancing, take safe-distance selfies, and leave them each a Purple Unicorn Sticker celebrating the troop and her run. "I'm so excited just to see all of them," she said before setting off on the 46-mile run. "Seeing them. That's what's going to keep me going."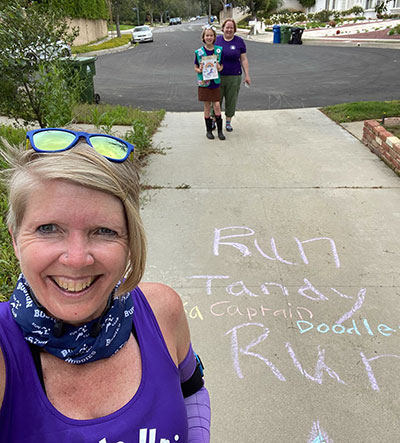 Prior to last week's run, the last time Wilson saw any of her scouts from Troop 22346 Tintaguias was during the LA Marathon in March when a group of girls came out to cheer her on. Since then, due to social distancing and shelter-in-place requirements, she's only had virtual contact with the girls, including a virtual weekly troop meeting. The troop, which includes ages from Daisy (kindergarten and grade one) to Ambassador (grades eleven and twelve), has been a part of the Girl Scouts of Greater Los Angeles for over 50 years.
Wilson is a long-distance running veteran, having run 14 marathons over the past five years, but she knew this 46-mile run would still be a big challenge. She planned out a route that passed the homes of all 52 scouts using a delivery company app that minimizes mileage between stops. Using that order of houses, she created a final 'pedestrian' route using Google Maps to schedule her pace and expected stops, which also helped her "pit crew" follow her with water and other supplies. The resulting plan ensured that the homes she visited were no more than two miles apart along the route.
Wilson set April 20 — the date originally scheduled for this year's Boston Marathon — as the date for her run and told the girls that they could watch her progress using a running app. As she approached, girls would come out to their front lawns or driveways to greet her. When Wilson planned the run, she originally thought it would take 8.5 hours but, because she wanted to talk with each of her scouts for at least a few minutes, she ended up spending 11 hours on the road. Of  course, to this Girl Scout leader of over 20 years who is known as "Captain Doodles" to her scouts, every step of the Purple Unicorn Run was worth it to connect with the girls who had been isolating at home for weeks — and her scouts agreed! As 11-year-old Maya Magana, who greeted her troop leader on her family's lawn, exclaimed, "I feel so happy and inspired. She is an amazing leader and I know she is doing it for us."
Children's Books and Resources Celebrating Girl Scouts and running
Anna's excited: today she's going for her first run with Mom! Together, they tie up their shoes and head out. Anna is excited to see a bunny on the side of the road — maybe she can even beat it to the corner. She gets to chat with neighbors and smell sweet flowers. She also learns how to persevere when the run gets tough! When her first run is over, Anna has discovered the joy of running — especially with someone she loves. This charming picture book celebrates active living and the pleasures of the great outdoors.