The 22-year-old Nobel Peace Prize laureate shared photos of the celebration on Twitter, writing that it's "hard to express my joy and gratitude right now."
22-year-old Nobel Peace Prize laureate Malala Yousafzai has graduated from Oxford University! The world-famous girls' education advocate, who survived an assassination attempt by the Taliban eight years ago, shared her good news on Twitter, posting pictures from the celebration which included a "trashing," an Oxford tradition in which new graduates are covered with foam, confetti, and food. She wrote that it's "hard to express my joy and gratitude right now as I completed my Philosophy, Politics and Economics degree at Oxford."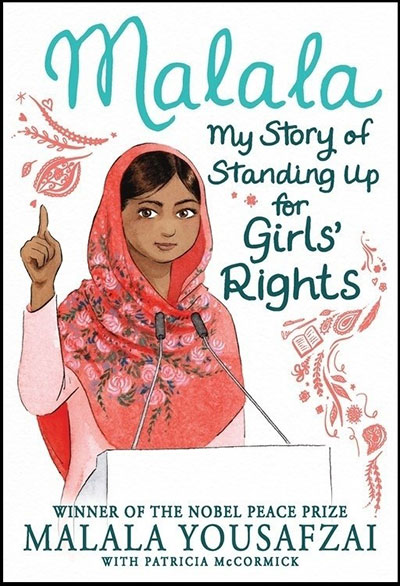 Born in the Swat Valley in Pakistan in 1997, Malala began writing an anonymous blog about girls' struggle for educational access for the BBC at age 11. She was attacked by the Taliban on the bus home from school in retaliation for speaking out against their suppression of girls' education. After being shot in the head, she was airlifted with her family to Queen Elizabeth Hospital in Birmingham, UK. The teenager eventually recovered, attended high school in Britain while continuing her activism on behalf of girls worldwide.
She founded the Malala Fund to tackle the barriers that keep girls out of school, and spoke frequently around the world about the power of girls' education. She also wrote a book about her experiences, I Am Malala (which has been adapted into a young readers edition for ages 10 and up). "The extremists are afraid of books and pens," she declared. "The power of education frightens them. They are afraid of women. The power of the voice of women frightens them."
In 2014, Malala received a tremendous honor when she became the youngest person ever to win the Nobel Peace Prize. At the same time, she pursued her own dreams of education and was accepted into Oxford University, where she was part of the first Oxford class where women outnumbered their male peers.
She joined the prestigious Philosophy, Politics and Economics program, a demanding course, which has produced many notable graduates, including authors, politicians, and activists. While Malala envisioned becoming prime minister of Pakistan in her youth, she's not yet announced what her next career steps will be. For the time being, however, like many recent graduates, she has a few immediate plans now that her coursework is completed: "For now, it will be Netflix, reading and sleep."
Books About Malala's Life And Work
As a child, Malala Yousafzai dreamed of having a magic pencil -- the kind that could erase the smell of garbage or even let her sleep in an extra hour! But as she got older, she realized that there were bigger problems in the world than she saw before... and that there were more important things to wish for. Most importantly, she realized that her pencil could be magic: the power of her words could make her own dreams come true and help her fight for the millions of other children like her who desperately wished for an education. Yousafzai's first picture book is uplifting and inspiring, with vibrant illustrations from Kerascoët.